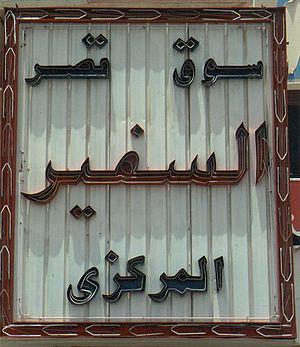 Image via Wikipedia
Arabic Language is an extraordinary incredible language. Even if not all people may find Arabic as a must language to learn, still, there are those who really appreciate the distinctive beauty that this language possesses. Are you one of these people then?
Arabic language is not just spoken, nor learned, only is Saudi Arabia. As we all know, Arabic language was spread out across the Mediterranean boundaries, which makes Egypt one of the countries who recognizes this language. Moreover, Egypt is also a suitable choice for learning Arabic language. Cairo, known to be a city with thousand minarets, is one of Egypt's pride as a prosperous city. It is located near the famous Nile River where the power of God was demonstrated through Moses, as what the bible has detailed.
Now, focusing on the Arabic language context, we have our recommended foreign language school in Cairo Egypt that is sure to provide you the quality Arabic language learning that you, as a learner, is looking forward to. It is situated n El Sahafeyeen, across the bridge from Zamalek, about 15 minutes from downtown of Cairo. Our school aims to equip you with the necessary skills that you need as far as Arabic learning is concerned. They have understood that this language is not as easy to learn compared to other foreign languages. When you learn Arabic at language school in Cairo, the learning will be made easier for you to comprehend.
It is undeniably true that most of the residences in Cairo are speaking local Egyptian Arabic; so what makes it a suitable choice for Arabic language learning?
Arabic has actually been the city's main idiom. For the past years, Cairo has been the center of education and educational services in Egypt and the whole Arab world. The city has established educational schools and higher learning institutes pertains the success of Arabic language learning among learners in general. Its excellence and quality has been proven for years. So where else would you choose to go when you are interested to learn Arabic language?
Don't hesitate to come to Egypt when you want to learn Arabic in language school. We assure you that you have chosen the right destination for such desired learning.