My doubles partner was playing net on the deuce side. First point of the game. My first serve hit the net. My second serve barely made it to the net. It almost bounced before it hit the net. I felt this stab in my stomach. This was a new feeling. "What is going on?" We moved to the ad court. Again repeat, my first serve hit the net. This time the second serve did bounce before it hit the net. Now I was in a full blown choke, unchartered territory. I had never experienced a choke. I rose up through the ranks so fast in juniors that maybe this prevented choking. I never had any coaching on choking. Maybe pros don't teach that lesson for fear they may produce a choke. Don't want to put that idea in your head. I sure understand. I have been a player and pro. Help!
My partner walked back to the baseline, "What's wrong? Is something wrong?" We had been partners for 3 years. She was even my roommate. She had earned the right to ask me anything. We had logged a lot of hours together. She was a rock during my boyfriend crisis. She knew my game almost as well as me.
"I don't know. It's like my serve has left my body. It's like I never knew how to serve. I wish I was a million miles from here in maybe in China." Comic relief. Maybe if we laughed, this would shake out of me.
We looked like the catcher had walked out to the mound to tell the pitcher what pitch to throw next.
Well, we got through the match. I don't remember if we won or lost. Pretty sure we lost. First thing I did was call the local tennis pro at the country club in Tallahassee and schedule a lesson first thing in the morning. Some things are more important than class. Our next match was in four days. I needed a private, just me, secret tennis lesson. Not my coach, not my partner, not the team, just one-on-one-focus-only-on-me coaching.
You see a tennis lesson is really both therapy and mechanical. It's kind of like going to get a haircut. Yes, you get a change on the outside but you also gain something on the inside. All you have to do is sit in a beauty salon or barber shop for an hour or so to hear and see this is true. Well, a tennis lesson is exactly the same thing. I needed help on the outside, my serve. And I sure as sure can be, needed help on the inside. Your mind is the strongest stroke you have so you better sharpen it every day.
After my lesson, I spent the next four days with two baskets of balls serving. Just me, a tennis ball, and the court. Tennis can be a lonely sport. The serve is just like the free throw in basketball. You don't need team practice to excel at the free throw. How many games have you watched that hinged on that played just off the bench? Just you and the ball. Get it in the box. Get it in the basket.
Nationals were the first week of June. By May I had a completely new serve. No longer the natural serve I was born with. A new, very mechanical serve, but most importantly, a serve that went in. A serve that I could count on. A serve that did not make butterflies circle inside my stomach. I was thankful and once again confident. Even though a female serve was not as an offensive weapon so much as today you still had to get it in that box. That darn box. When your serve is going great that box is huge. When you keep missing your first serve and have to say a prayer and toss your ball twice then that box is about the size of your fingernail.
When you ever have felt a choke on any stroke it can creep back into your game at any time. Anything can trigger the choke. The wind. That crush who just walked up to watch. The last call. Your opponent's ponytail. Anything. The most famous coach in the world just stopped to watch your next point. The wind blows your toss. The sun makes you see black spots. Your racquet all of the sudden weighs a thousand pounds. You have forgotten everything you ever learned about tennis. Your hair won't do right. Your outfit is too tight. Your mind is the most powerful stroke in your toolbox.
Stop, you have to say "STOP !" You have to laser focus on your feelings. You have to control your eyes. Only look at your feet walking to next point. Don't look at your opponent. Get ready before your opponent. Get in ready position and stare your opponent down. Stop jumping up and down. Get to receive position before he or she gets to the baseline to serve. Get to the baseline first if you are the server. Only bounce the ball 3 times. Too much time to think. Don't let your mind think. Tennis is automatic. Your arm has muscle memory. These are ways to get in control of your feelings and stop a choke. These are ways to control the match. Control how fast or slow the match goes. Control the match the way you want to play. Every player has a rhythm.
Now you are back in the game. You are settled down. It may or may not happen again but for now you are saved. This is the anatomy of the choke.
The tough players learn this, grasp this, excel. Those that crumble and don't learn the art of bouncing back drop out. Losing matches is not the only factor to not continuing your sport. Losing matches and not learning anything from the loss is a factor to not continuing. This goes into your next non-tennis career as well. Failure is how we learn and winning is how we want to keep learning. Winning is the reinforcement to keep on going. I didn't like to fly but every weekend I buckled down and buckled up and got on that plane one more time, one more town.

SUBSCRIBE TO OUR AWESOMENESS
and never miss a post, announcement or giveaway!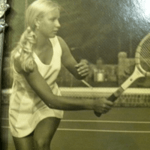 Mary Ellen Wilkinson
MaryEllen Wilkinson is a former No. 1 junior tennis player from South Carolina where she became the first female from her state to receive a tennis scholarship to Florida State University on the heels of Title IX. She was MVP all 4 years (1974-78) and studied Marketing and Real Estate. MaryEllen has worked as a professional tennis player, a club tennis pro, hotel manager for Hyatt Hotels, and worked the 1980 Winter Olympic Games in Lake Placid, NY, where she was just 4 rows from the ice when the US beat Russia. She also worked for Capital Sports at the US Open the very first time it was held at Flushing Meadows. Her successful business career includes being a top selling real estate agent, building The Magnolia Inn, and managing apartment conversions and luxury furnished rentals. She is also a popular speaker, a cancer survivor, and just Mom to 3 successful young adults. Her main focus now is to write a little of what she learned along the way.