As I mentioned in a previous post the other cakes I'd made for my cake day were whoopie pies. This was the very first time I'd ever made them so my team mates at work were very much my guinea pigs (willing might I add!).
What you will need:
125g of unsalted butter or margarine
200g of Caster sugar
1 large egg (beaten)
350g Plain flour
1 tsp bicarbonate of soda
1/2 tsp salt
225ml butter milk
(You can also use food colouring to change the colour of the pies but I used 2 heaped tablespoons of cocoa power instead)
Equipment needed:
1 whoopie pie tin (greased) (you can buy these on amazon for about £5)
mixing bowl
palette knife 
electric mixer or whisk
This recipe I found was from the cake decorating magazine please find the link in my blogroll. 
1. First you will need to preheat your oven to gas mark 4/180 degrees Celsius/350 degrees Fahrenheit. Lightly grease your whoopie pie tin  and set to one side.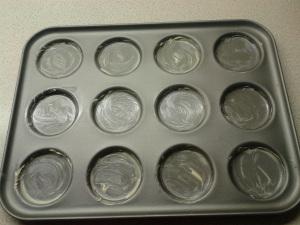 2. Next cream the butter and sugar until it is nice and fluffy. add the beaten egg and stir together.
3. You will need to add the plain flour, bicarbonate of soda, and salt into the mixture a little bit at a time, and fold in each time. (I also added the cocoa powder in at this point sifting it together with the other ingredients but this is optional)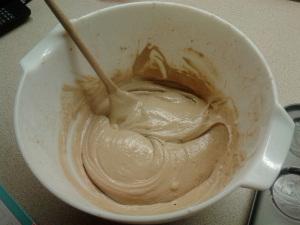 4. The buttermilk will need to be added next and mixed until it is a smooth batter, you can add 1-2 tsp of warm water if the mixture needs to be loosened up.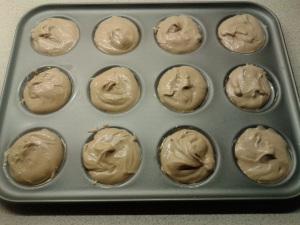 5. It is now time to divide the mixture into the tin, (you will not need a lot in each pie section) and bake in the oven for about 10-15 minutes or when a cake tester comes out clean. This makes about 24 halves or 12 whoopie pies.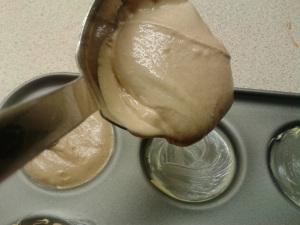 Handy tip: When transferring the batter to the tin I used a soup ladle as I found it easier to pour as it is quite a shallow tin and easy to overfill.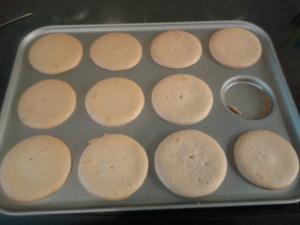 6. Once baked nicely in the oven leave to cool for about a minute. Don't try to take them out of the tin as soon as they come out of the oven. Using a palette knife ease the pies from the tin and place on a cooling rack to fully cool before icing them.
7. For the icing I used chocolate butter cream, but you could use plain butter cream or even marshmallow fluff. If you are using the butter cream, you will need a large star shaped nozzle to pipe onto one half of the pie then sandwich together with the other half, once finished enjoy with a nice cup of tea or coffee. Yum!
The finished result!
They turned out okay considering it was my first attempt!