A staple of my diet is protein bars.  Since I forgo meat about 98% of the time, I try to include a good dosage of non-meat protein at every meal.  For lunch, this usually means chomping on a protein bar.
The only bad thing about my protein bar habit is that the store brought versions get expensive fast.  The bars range anywhere from $1-$2 a piece, meaning I spend $7-$14 a week on protein bars alone—about 10% of our grocery budget.
Realizing that my Cliff bar addiction was sending my grocery budget over the proverbial cliff's edge, I decided to try to create my own homemade protein bar.  Since there's mixed research about protein powders and their health effects, I decided to forgo protein powders in this recipe.  Instead, I relied on protein rich ingredients like quinoa, pepitas, and peanut butter.
I used peanut flour in the recipe below but if you can't find any feel free to use 1/4 cup whole wheat flour and 1/2 cup peanut butter instead.  And if you don't like peanut butter feel free to sub in your favorite nut butter.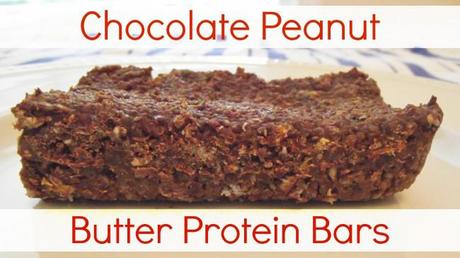 Ingredients:
1 cup quinoa
1/2 cup dried figs (I use the Trader Joe's Black Mission variety)
1/4 cup pepitas
1 teaspoon vanilla
1 cup rolled oats
3/4 cup peanut flour
3/4 cup whole wheat flour
3/4 cup chocolate chips
2 tablespoons agave nectar
2 tablespoons chia seeds
3/4 cup almond milk
2 cups water
Method:
Preheat your oven to 350 degrees.
Add quinoa and water to rice cooker and set on the boil/simmer setting for 5 minutes.  If you don't have a rice cooker, you can also do this on a stove top—just add quinoa and water to a pan, bring to a boil, and allow to simmer with lid on for 5 minutes.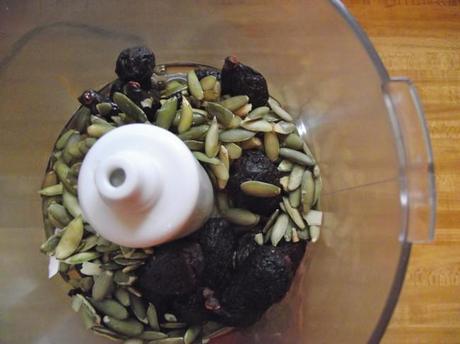 While the quinoa is cooking, add the figs, pepitas, vanilla, and agave to a food processor.  Give the food processor a whirl until the ingredients fully combined.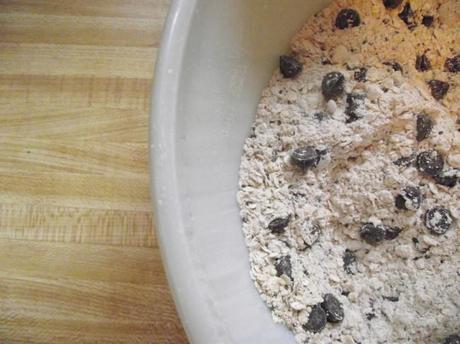 In a large bowl, add whole wheat flour, peanut flour, rolled oats, chocolate chips, chia seeds, and fig mixture.
Once your quinoa is finished cooking, add it to the large bowl and stir the ingredients until the chocolate chips have melted.
Now add your almond milk in slowly.  You want to add just enough almond milk to make your mixture come together but not so much that it becomes watery (it may take more or less than 3/4 cup almond milk—just use your best judgment).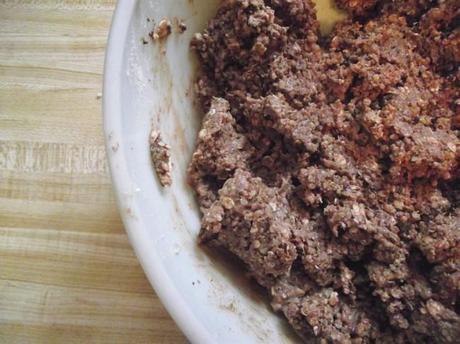 Mix until everything is combined and the mixture starts to pull away from the edge of your bowl.
Add the mixture to an 11 X 17 baking pan.
Stick the pan in the oven to bake for 15 minutes.
Pull the pan out of the oven and slice your energy bars before they cool (I typically cut them into 12 pieces).  If you try to do this after they cool, the bars won't come out of the pan very easily.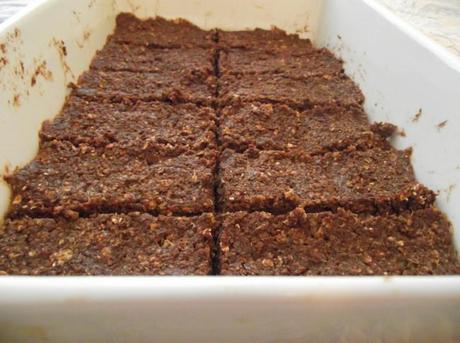 Allow the bars to cool completely.  Then remove them from the pan.
I wrap each bar individually in saran wrap and stick them in the refrigerator.  They usually last for about 10 days or so.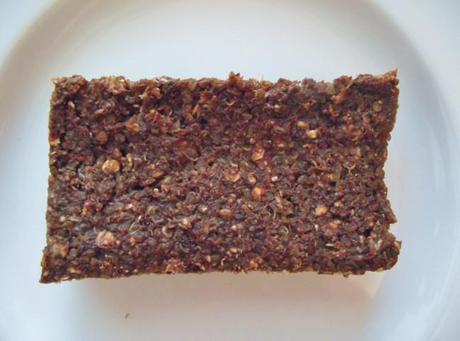 Each bar clocks in at 235 calories and 8.5 grams of protein (about 17% of my daily protein requirement).
Even though these bars aren't incredibly sweet, I find that I actually like them more than the store bought sugar spiked kind.  There's something really satisfying about knowing exactly what ingredients are in your food and why they are there.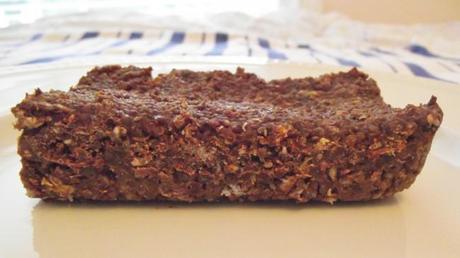 But really the reason I like them more is because they are insanely good.
Do you have a favorite protein bar recipe?