This unique, healthy and rich treat is made usually during Easter celebrations. But this homemade chocolate, orange and almond filled cake is a great delight for every occasion. If you do not like the same old traditional fruit cake then try the Simnel cake…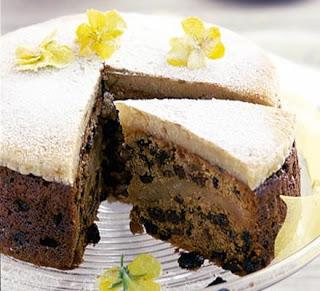 Ingredients to make the cake: -
·

  
250 grams of salted butter
·

  
400 grams of flour
·

  
500 grams of caste sugar (golden)
·

  
100 grams of orange flavoured chocolate or you can use 100 grams of plain chocolate with 2 teaspoons of orange extract. (if you want a natural way to make this recipe then use fresh orange juice which you make at home by yourself)
·

  
25 grams of cocoa powder
·

  
1 teaspoon of bicarbonate of soda
·

  
2 medium eggs
·

  
280 ml tub buttermilk
·

  
Zest and juice of one orange
For the marzipan you need: -
·

  
85 grams of caster sugar
·

  
100 grams of icing sugar
·

  
50 grams of cocoa powder
·

  
one egg, plus one yolk (beaten)
·

  
200 grams of almonds
For the icing: -
·

  
500 gram tubs of mascarpone
·

  
250 grams of butter
·

  
250 grams of icing sugar
·

  
Zest of 2 oranges plus juice (100ml)
Method to make the cake: -
Pre-heat the oven to 180 degrees. 
Grease 2 baking tins
Over medium flame, put butter and chocolate in a small pan and keep stirring until it melts well. Remove from flame and mix in flour, sugar, bicarbonate soda and cocoa. Add a pinch of salt to the bowl. 
In another bowl, whisk the eggs, orange zest and juice and buttermilk together. Scrap in the chocolate and egg mix into the dry ingredients and add 150 ml of boiling hot water into this container. Now whisk all these together using an electric whisk until there are no lumps in the batter and it is smooth.
Divide this mix into the tins and bake for 40 to 45 min. Set them aside to cool. 
In the meantime, prepare the marzipan. Put in sugars, ground almonds and cocoa in a container. In the middle of the mix, put the egg and egg yolk and mix it really well with a cutlery knife. Wrap this in cling film and keep it aside. 
Now for the frosting, beat together the mascarpone and butter together. Add in the sugar, zest and juice and continue beating. 
Assemble the cake by splitting in into half and placing frosting insides the cake. Spread it evenly and place the cakes on one another. Put a little frosting on the top as well. Roll the marzipan on cocoa and make it into a circle. Place this carefully on top of the cake. Use the frosting to stick them well and your cake is done!
You can preserve this cake for about a week or two if you keep it in the fridge. If you are too lazy to bake, then you can
order cakes online
.
But, if you are a fan of cooking and baking, you should give this recipe a chance.