Chocolate mousse angel dessert with only three ingredients! Yes, this is the kind of dessert that can be premade, tucked in your refrigerator, then served when you're ready!
What's so great about this recipe is that you're using super shortcuts. In other words, you're combining some products and reinventing them into something entirely new and delicious. Now, sometimes we have to have shortcuts and conveniences in life. So, when you don't have time to work yourself into a tizzy about a 'from scratch' dessert, then this could be your go to!
I promise your food seekers will love this chocolate mousse angel dessert. And, you'll accomplish your goal of bringing smiles and happy bellies at the table!
Here's another quickie dessert that is very similar to this one, but has a twist with Dole Sunshine frozen fruit!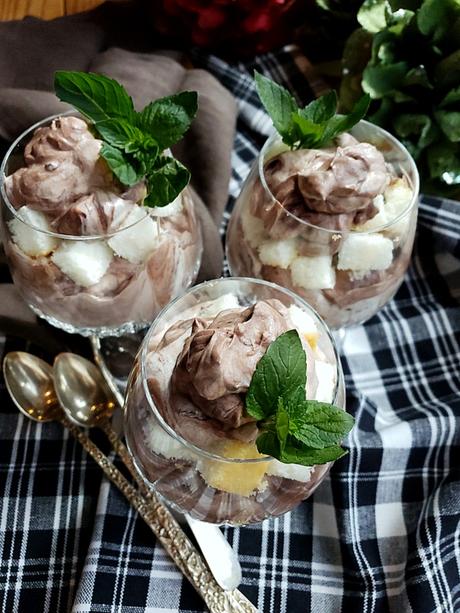 Ingredients
3 containers pre-made refrigerated chocolate pudding, Jello or Hersheys Snack Pack, 4-pack
2 cups Whipped Topping, Reddi Whip, can substitute Cool Whip
2 ½ cup angel food cake, cut in small bites, deli pre-made cake
GARNISH: Fresh Mint
Instructions
Notes