Why have I never made Rice Krispie Treats with Cocoa Krispies before? These Chocolate Mint Rice Krispie Treats are SO good...this is the beginning of something new; there will be more variations to come!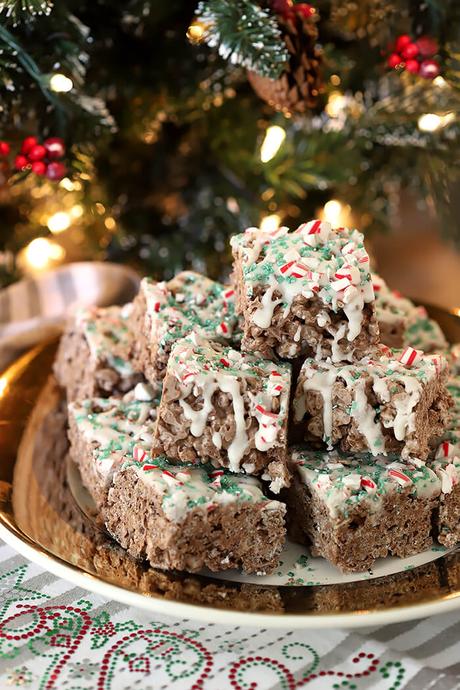 OK, yes. These look so very Christmasy and yes Christmas was two days ago. BUT but but...I ran out of time. It's that simple. So let me share a little tidbit with you about blogging. Most bloggers create an editorial calendar, they schedule their work out months in advance. They're making turkeys in the summer and treats like this no later than October. So I messed up.
Or did I? Truth is I started a blog to keep a catalogue of our favorite dishes. When I did that 25 some years ago, it was a recipe, nothing else and I added it a day or so after I was happy with a result.
I have always said that this diary of our favorites were the things that my friends and family love. And trust me, they do not love turkey in summer or treats that look like Christmas over the 4th of July! So I stay on my own course. If I make it and love it, I take photos, write a story and post it. And sometimes I get caught in a time bind.
This Maple Roasted Turkey with Bacon and Sage? It's our favorite turkey, covered in bacon and basted with maple syrup. Did I make it in the summer or early fall. Nope, I made it on Thanksgiving and I was lucky enough to have the people here indulge me and let me take photos while they waited.
And then I waited a whole year to publish it! Not exactly ideal and I was reminded of it when I missed the mark on these fantastic Chocolate Mint Rice Krispie Treats made with Cocoa Krispies.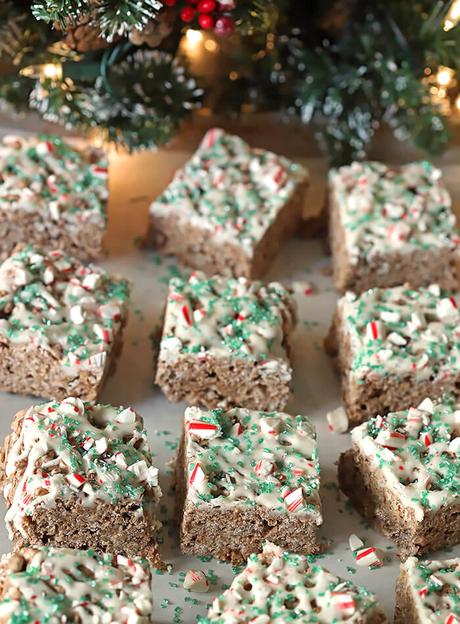 So this time I took two 'unofficial' polls. One on Facebook and one on Twitter. Do I or don't I? The answer was a whole bunch of resounding 'DO IT's!' So I am. 🙂
The truth is, that minus the red candy canes that are smashed for garnishing the tops, it's a treat made with Cocoa Krispies that has some Mint Chocolate Chips melted into the mixture; even the green sparking sugar still works.
I admit, I do love playing with Rice Krispie Treats. I have a good friend who lives across the street and she really tries to stick to a gluten free diet. She doesn't have celiac disease, her problems are more thyroid related and not severe. But if she indulges too much it manifests in an odd manner; her knuckles get red and scratchy.
So I try to make something that is fun and delicious that everyone will love but that I can also give to her without any guilt on either of our parts. Win-win!
I've done a pretty good job too with a nice variety of Rice Kripsie treats since we both moved here about the same time 7 years ago. Still this was the first year I tried something with Cocoa Krispies and it will not be the last...what a difference they make when looking for a chocolate flavor! Can you imagine Salted Caramel and Chocolate Rice Krispies? I can, they are up next!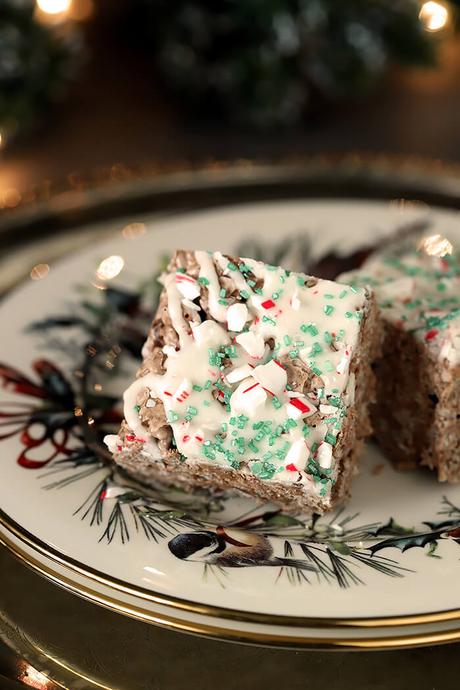 If for some reason you have a crew that doesn't love mint, simple add a cup of either semi-sweet or milk chocolate chips instead. That chocolate does make them more delectable. Or add peanut butter chips, or caramel chips...or whatever your heart desires. How about toffee pieces; oh yes, I have to try that too!
One note? In lieu of having a full bag of marshmallows, my cupboard only had half a bag but did have a new jar of marshmallow fluff. So I went sleuthing on the internet and found that it's quite often used for Rice Krispie Treats.
Several articles alluded to the difference in the end result and as a result I decided to blend both, adding some of the regular mini marshmallows to the recipe. I have to say the end result was the best I've had; the best of both worlds I guess. If you don't have both or if you have a bag of marshmallows but no fluff...go with what you have.
But remember this important tip; something I learned a long time ago. Go slow. Heat up your butter and marshmallows on medium heat, no matter the tendency to rush the process a bit by making your burner hotter. I wondered why so often my concoctions turned out so hard and one day I decided to do some research.
Uh oh...all my fault. That higher heat was doing it. Once I gave myself a couple of extra minutes, kept the heat lower to do the job, the end result of my Rice Krispie Treats was far superior. Find that five minutes, so worth it. You want chewy, not hard rock, right?
If you would like to indulge in more Rice Krispie Treats; I have several we love. Try one or all of them!
PIN IT! Chocolate Mint Rice Krispie Treats