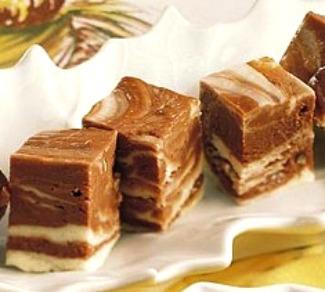 Source: Pillsbury
There are a handful of words that make me utterly giddy…fudge is one. The very word implies rich, creamy deliciousness guaranteed to satisfy the most hard-to-please sweet tooth. This marble fudge recipe will have its recipients swooning over its nutty, chocolaty marshmallow medley. And the gorgeous marble swirls make this yummy treat an eye-pleasing one, to boot. This fudge recipe is perfect for a crowd or a go-to bite-sized treat straight out of the freezer.
For maximum dessert bliss, pair with a glass of cold milk…
Ingredients
6 cups sugar
1 can (12 ounces) evaporated milk
1 cup butter or margarine
1 package (8 ounces) cream cheese, softened
2 jars (7 ounces each) marshmallow creme or 1 package (10 1/2 ounces) miniature marshmallows
1 tablespoon vanilla
1 package (12 ounces) white baking chips (2 cups)
1 cup milk chocolate chips
1 package (6 ounces) semisweet chocolate chips (1 cup)
2 tablespoons baking cocoa
½ cup chopped nuts, if desired
Directions
Butter rectangular pan, 13x9x2 inches, or line with aluminum foil, leaving 1 inch of foil overhanging at 2 opposite sides of pan. Heat sugar, milk, butter and cream cheese to boiling in 6-quart Dutch oven over medium-high heat and cook 6 to 8 minutes, stirring constantly. Reduce heat to medium. Cook about 10 minutes, stirring occasionally, to 225º on candy thermometer; remove from heat.
Quickly stir in marshmallow creme and vanilla. Pour 4 cups hot marshmallow mixture over white baking chips in large bowl; stir to mix. Stir milk chocolate chips, semisweet chocolate chips, cocoa and nuts into remaining marshmallow mixture.
Pour one-third of the white mixture into pan, spreading evenly. Quickly pour one-third of the chocolate mixture over top, spreading evenly. Repeat twice. Swirl knife greased with butter through mixtures for marbled design. Cool until set.
Refrigerate uncovered about 3 hours or until set. Cut into 12 rows by 8 rows with knife greased with butter. Store covered in refrigerator.