This Chocolate Malt Mocha Crunch Ice Cream is a luscious chocolate ice cream flavored with chocolate malt and coffee, with crunchy malt balls and a chocolate ganache swirl! No ice cream machine required.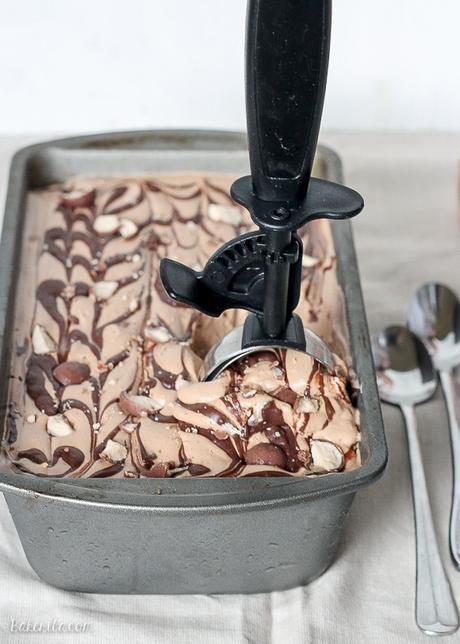 Homemade ice cream seems like a total pain. Making the custard, tempering eggs, waiting for things to cool, hoping things don't curdle…it gets too time consuming and stressful. Ice cream should be fun! What if I told you I made this ice cream from start to finish (excluding freezing time, of course) in about 10 minutes?
It's true. If you have a mixer to whip cream and a way to melt chocolate, you've got a way to make ice cream. This recipe uses a base of sweetened condensed milk folded in with whipped cream. The result makes a luscious, creamy, soft ice cream that you won't be able to stop eating.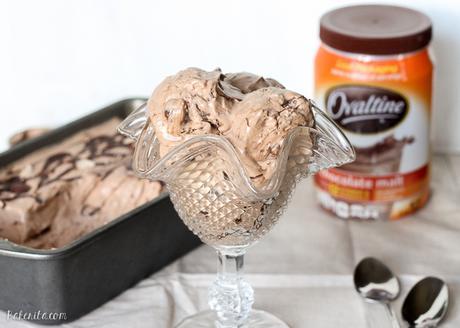 To make this malted and mochalicious, I added dark chocolate (keep it dark – the sweetened condensed milk adds enough sweetness!), chocolate malt powder, and some instant coffee. I dissolved the instant coffee in a little bit of hot heavy cream.
After the base ice cream is made (so easy! so creamy!), fold in some chopped up malted milk balls. Be careful chopping them up – they have a tendency to roll everywhere. Then the ice cream gets layered into the pan, alternating with a drizzle of chocolate ganache. It's good stuff.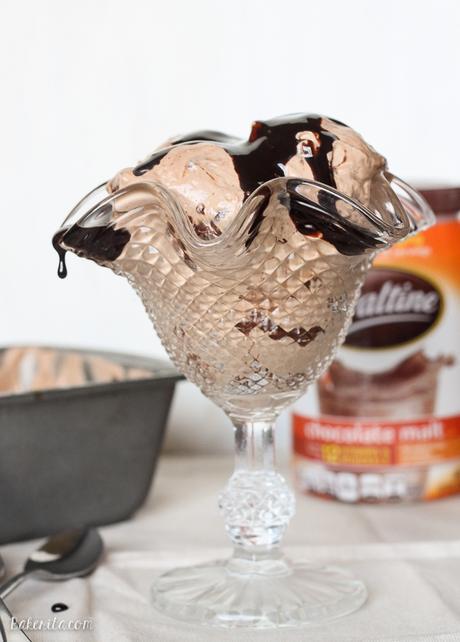 After the ice cream gets frozen, you're left with an ice cream that stays soft and creamy, tastes incredible, has crunchy malt ball nuggets, and is swirled with creamy chocolate ganache. Texture and flavor parties are happening in your mouth when you eat them. Be like me and top it with chocolate sauce for extra delicious. Bonus points if you add whipped cream too.
It's April guys! This is spring. That means it's ice cream time. Enjoy!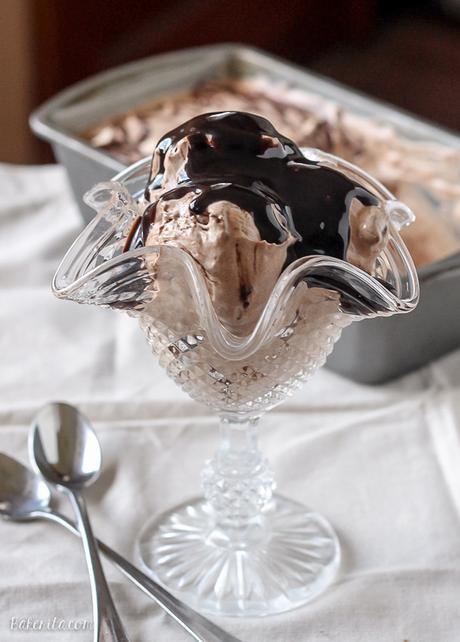 Chocolate Malt Mocha Crunch Ice Cream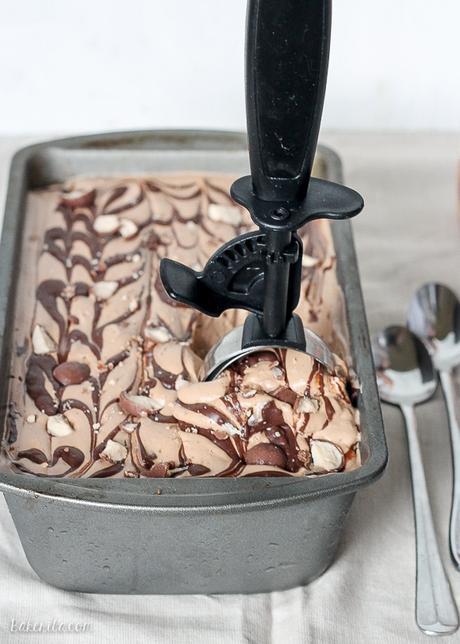 Save
Print
Author:
Rachel Conners
Ingredients For the ice cream
2 cups + 2 tablespoons heavy whipping cream
1 (14 oz.) can sweetened condensed milk
3 oz. dark chocolate, melted
¼ cup chocolate malt powder
2 teaspoons instant coffee
1 cup malted milk balls, chopped
For the ganache
½ cup chocolate chips
2 tablespoons heavy cream
Directions For the ganache
Combine chocolate chips and heavy cream in a microwaveable bowl. Microwave for 30 seconds, stir. Microwave in 15 second increments, stirring in between until smooth. Put into a small Ziploc bag to use for drizzling. Set aside while you prepare the ice cream.
For the ice cream
In a small microwavable bowl, microwave 2 tablespoons of heavy cream for 30 seconds, or until hot to the touch. Add in the instant coffee and stir to dissolve. Set aside to cool slightly.
Whip the heavy whipping cream to medium-soft peaks in a stand mixer. In a separate bowl, combine melted chocolate, chocolate malt powder, dissolved instant coffee, and sweetened condensed milk. Stir until ingredients are completely incorporated. Fold in whipped cream until completely combined. Fold in malted milk balls.
Scoop a quarter of mixture into Tupperware container where you'll be keeping the ice cream (I used a 9"x5" loaf pan and it fit perfectly). Snip the corner of the Ziploc bag filled with chocolate mixture and drizzle over ice cream. Add another quarter of the ice cream mixture and repeat with chocolate drizzle until all ice cream and chocolate is added. Freeze for four hours or until firm.
3.2.2925  


Hungry for more? Check out some of my similar recipes!
Chocolate Ice Cream with Peanut Butter Cookie Dough &…

Chubby Hubby Fudge

Death By Chocolate Mini Cheesecakes

Chocolate Malt Ball Cookies

White Chocolate Oreo Ice Cream

Red Velvet Oreo Cookies with Cream Cheese Filling