There's a little back story to this recipe which was inspired by a good friend of mine. She recently left Australia where she has been living for the past few years, and where chocolate hot cross buns are readily available, and a few hints were dropped about creating a similar recipe... I suspect that since she'll be making her way to Cape Town in the next few weeks (and has confessed to being addicted to these) that she was actually being very serious! Well of course I accepted the challenge and thought these would be a gorgeous treat to enjoy at Easter.
A few notes on the recipe: I did try to make chocolate crosses by adding cocoa to my paste mix, however they came out of the oven looking rather gray which I didn't find appealing so I've stuck with white crosses.  You'll notice that I've used fairly large chocolate chunks but you could always chops yours smaller if you prefer. Also, if you don't have a baking tin that's exactly the right size don't panic - I ended up using a roasting tray instead and found it worked just fine!
As far as baked goods go these chocolatey buns do require a little effort - but they're absolutely worth it. Have a lovely Easter everyone!
_________________________
CHOCOLATE HOT CROSS BUNS
Makes 12 buns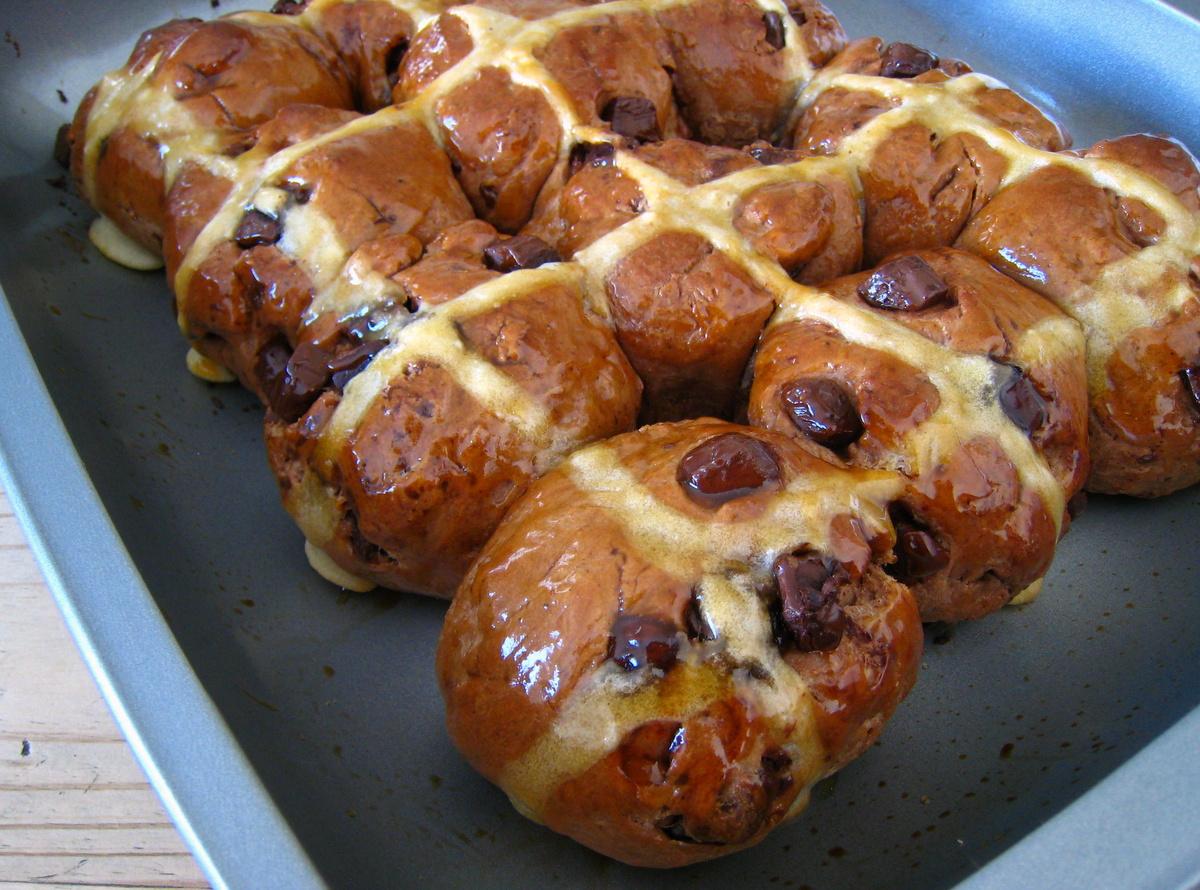 350ml milk
3/4 cup castor sugar
10g instant dry yeast
4 cups plain flour
1 teaspoon fine salt
4 teaspoons mixed spice
3 tablespoons cocoa
60g butter
1 large egg
150g dark chocolate, chopped
Paste:
1/2 cup flour
6 tablespoons water 
Glaze:
3 tablespoons apricot jam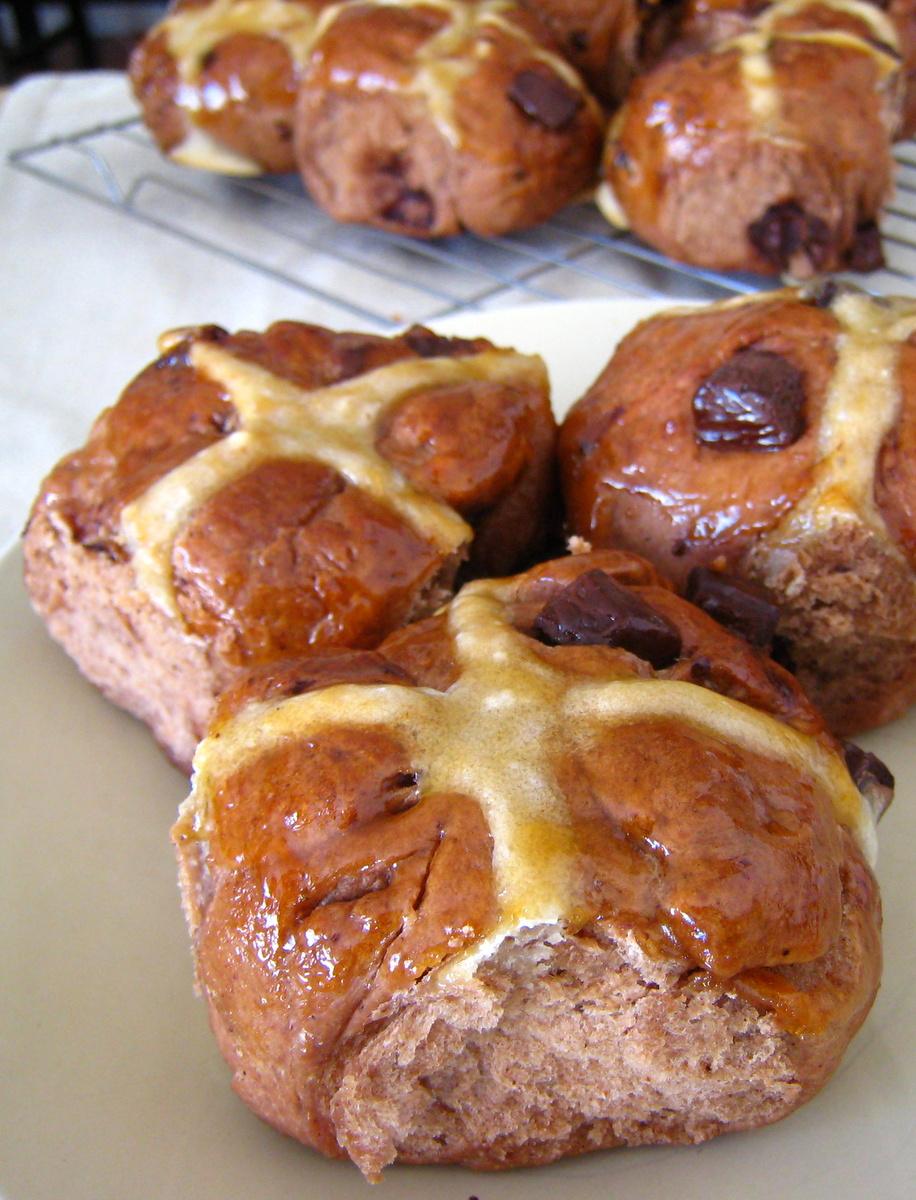 Step 1.) Warm the
milk
then stir in 1 tablespoon of the
castor sugar
. Add the
yeast
, stir for a few seconds then set aside for 10 minutes until the yeast is frothy. 
Step 2.) Meanwhile sift the
flour
, remaining
castor sugar
,
salt
,
mixed spice
and
cocoa
into a bowl. 
Step 3.) Melt the
butter
and add to the yeast mixture. Add the
egg
 then whisk everything lightly with a fork. 
Step 4.) Make a well in the center of the dry ingredients and add the milk mixture. Stir with a wooden spoon until everything is combined.
Step 5.) Tip the mixture onto a lightly floured surface, then knead for 10 minutes until the dough is soft and springy. If the dough gets sticky you can always add a little more flour as you go. Knead in the
chocolate
chunks. 
Step 6.) Put the dough back in the bowl, cover with plastic wrap and leave in a warm place for about an hour or until the dough has doubled in size. 
Step 7.) Tip the dough out again and knock it down with your fists. Grease a baking tin (roughly 20 x 23cm) and divide the dough into 12 pieces. Roll each piece into a ball and arrange them in the tray. Cover again and leave to rise for 30 minutes. 
Step 8.) Meanwhile preheat your oven to 200
°C and prepare the paste by mixing the flour and water until smooth. 
Step 9.) Using a piping bag or a small plastic bag with the end snipped off, pipe the flour paste over the tops of the buns to form crosses. Place the tray in the oven and bake for 15-20 minutes. You'll know the buns are done when they sound hollow when tapped on the base. 
Step 10.) Melt the apricot jam in the microwave or a saucepan, and brush over the hot buns. Serve fresh from the oven with butter or jam or, my favourite, toasted.