I did have this in the M&Ms chocolate cake post but I thought it made it too long so I've decided to separate it and put it in a new post.
I love making chocolate ganache its definitely one of my favourites and its so versatile as well you can use it in a number of recipes.
Making Chocolate Ganache
What you will need:
300ml of double cream
200g of milk chocolate (I usually just use the supermarkets value range, it's normally priced at about 30p for 100g. I don't use cooking chocolate)
Equipment needed: 
A heavy based saucepan and a spoon.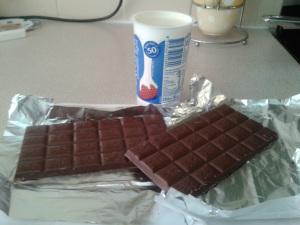 1. Break the chocolate into little pieces, add them and the cream to the saucepan.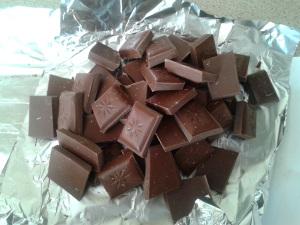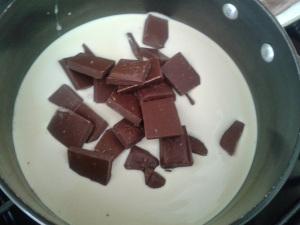 2. Heat the chocolate and the cream together bringing them to the boil, you need to keep stirring to ensure that the cream and chocolate mixture doesn't stick to the bottom or sides and burn. Once it has been brought to the boil turn down the heat and simmer stirring constantly until it starts to thicken.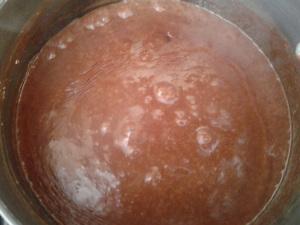 6. Once its thick enough remove from the heat and leave it to cool completely, when it cool enough it can be refrigerated until your ready to use it too ice the cake or its great as a sweet pastry pie filling.
Quick Recipe Idea!
Looking for something delicious but quick and simple to make? I have the perfect solution.
What you will need is a packet of 24 pre-baked mini sweet pastry cases (these can be bought at the supermarket for about £1.99) a punnet of strawberries, cut in half and chocolate ganache (please see recipe above).
1. Lay out your pastry cases on a tray after leaving the chocolate ganache to cool slightly for a couple of minutes fill each case with a tablespoon of chocolate and then place a half of strawberry on each.
2. Place in the fridge for about 1 hour for the ganache to set and voila! A simple recipe but delicious dessert perfect for nibbles at a party or just to scoff all yourself (that's probably what I would do

)