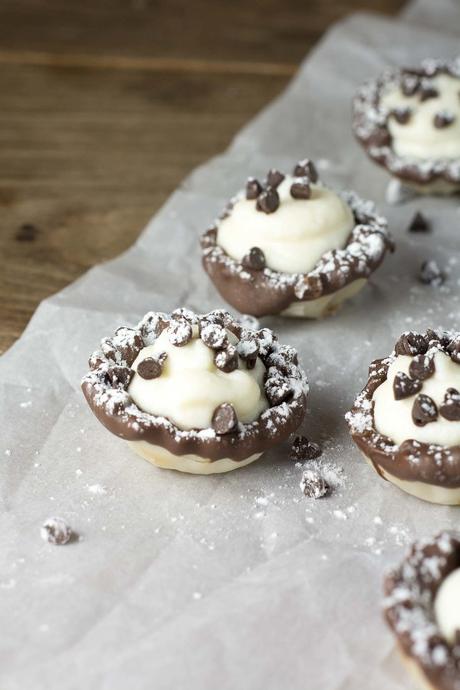 I don't like to leave my house on New Year's Eve. I like to hunker down with my family, watch TV, eat some YUM food and make a cocktail or two with my husband. The thought of venturing out and dealing with crowds just doesn't do it for me anymore - although I'm not sure it ever did.
I love to pick a bunch of one-bite appetizers and desserts for our evening, and these cannoli cups will definitely be on the list this year. They are light, crispy, dipped in chocolate and I guarantee that they'll disappear in no time.
A traditional cannoli is made with a ricotta and cream filling and squeezed into a crisp pastry shell. These make easy work of the complicated recipe with a sweetened ricotta filling piped into a chocolate dipped fillo shell. Athens Mini Fillo Shells have come to the rescue again!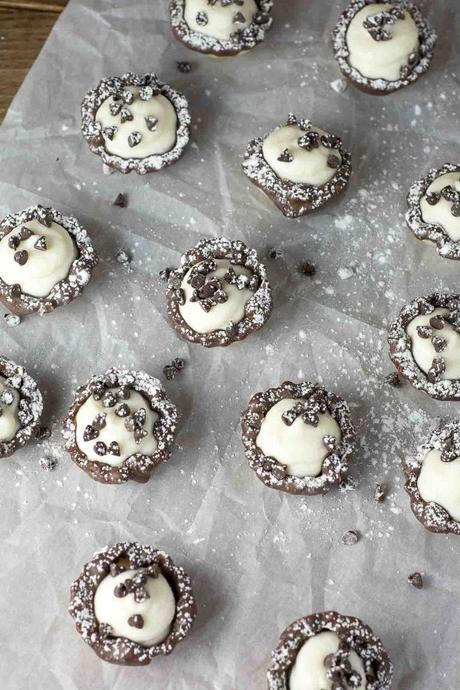 I know you're all aware of my love affair with Athens Mini Fillo Shells - remember the Jalapeno Popper Bites, the Apple Crumb Sundaes and the Cream Cheese and Pepper Jelly Shells? They're all delicious recipes and all are made easier with the help of Athens Mini Fillo Shells. I love that you store them in the freezer and they're ready to go in minutes.
But this recipe - it might be my favorite yet. The crispy shells are dipped in chocolate, the quick filling is piped in and they're dusted with mini chips and powdered sugar. The delightful crackle of the crisp shell isn't lost when filled, dipped and refrigerated, so it's a perfect make-ahead dessert.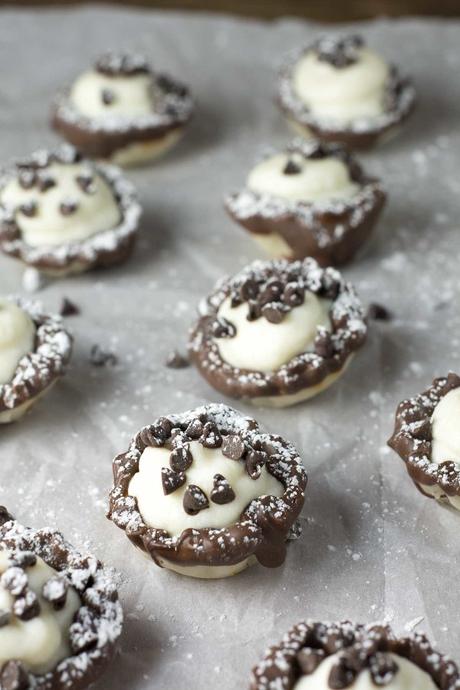 The filling isn't too sweet, but it's sweet enough that you know that it's meant to be a dessert. The bitterness of the chocolate cuts the creamines of the filling, and believe me, you are going to love the texture.
The other bonus? These literally go together in a few minutes. The shells bake for just about 5 minutes. The chocolate takes about a minute to melt. The filling is THREE ingredients, and you just have to stir it together. I made the whole thing in 15 minutes today. I also ate all of them in 15 minute.
Ok, not really. But I was totally on pace. I stopped after two.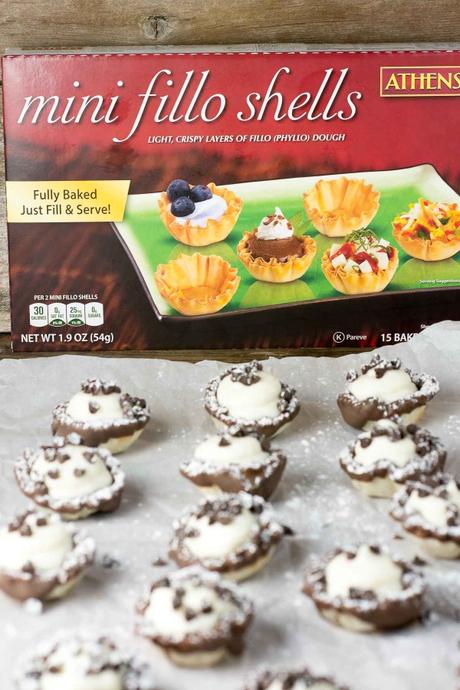 Be sure to check out Athens Foods or Phyllo.com for more recipe ideas. You can find these mini shells in the freezer section at your grocery store - I'd recommend buying extra and keeping them in your freezer for an unexpected party. They really are lifesavers!
Have you tried Fillo Shells before? What is your favorite way to serve them? Let me know, I'm always looking for new ideas!
Chocolate Dipped Cannoli Cups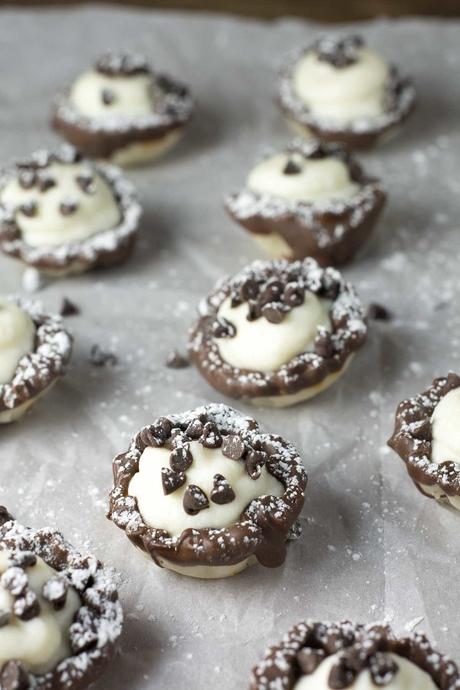 leave a comment your way - using facebook or disqus: