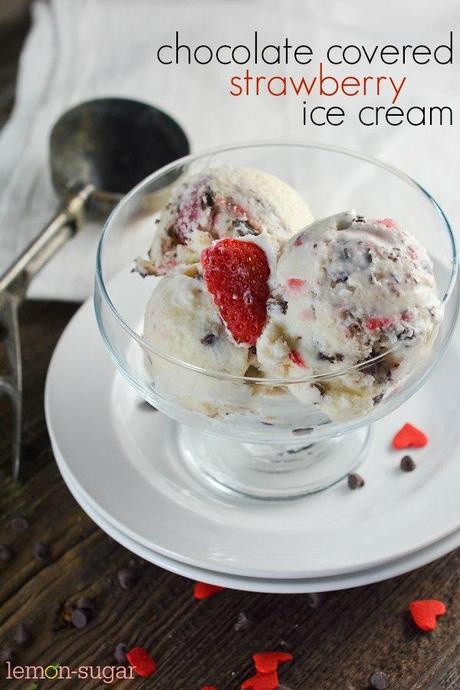 So, relevant but irrelevant: last week I cleaned out my refrigerator. Like, REALLY cleaned it out. I took everything out, scrubbed it, sanitized it, threw away, organized, and made everything pretty and bright. In my cleaning frenzy, I uncovered four pounds of strawberries that we purchased the weekend before at the Farmer's Market. The strawberries were clinging to life, on the edge of questionable, so I chopped them up and was racking my brain for strawberry recipes.
I made a strawberry cake (that recipe is coming soon, too), a strawberry syrup reduction, and my girls ate a good pounds-worth right out of the bowl, but I still had a few left to use.
Then it happened. Chocolate covered strawberry ice cream happened.
I don't know why.
But it's good. It's goooooooooooooood.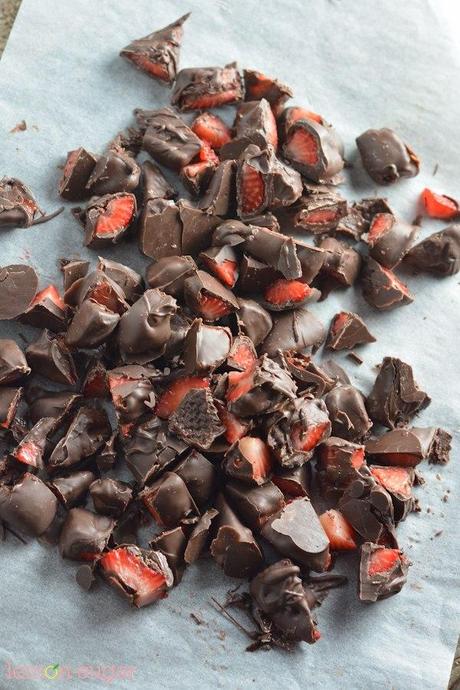 These are the things that happen when you have four pounds of strawberries to use, I guess.
My girls are BIG fans of chocolate covered strawberries, so they were terribly excited about this whole endeavor. I don't know how many times I shoo'd them out of the kitchen, but I'd guess it was somewhere in the seventy-bazillion range. :/
My first effort didn't really work. It tasted fine, but my challenge was that if the strawberries were too big, they would freeze and end up like little ice cubes in your ice cream - they were too cold, and the wrong texture. I had to make them smaller. Even then, It took a couple of batches to get it just right, but I think you'll love the result.
And yeah, I had to buy more strawberries. (My world = trying to use up extra strawberries so you end up needing more strawberries.)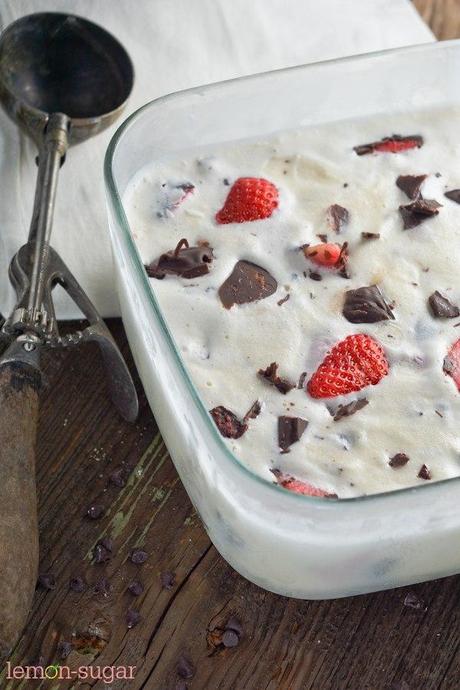 ANYWAY, the strawberries need to be small - no bigger than half-inch pieces. I accomplished this by dipping bigger pieces to make it easy and then chopping the hardened, dipped berries into the size I needed.
Plus, I love the pops of red that appear in the ice cream. So pretty.
When you add the strawberries to your ice-cream maker, some of the chocolate will break off, and that's ok. And some of the strawberries will break into smaller pieces. That's ok too.
There's really nothing about this ice cream that isn't ok.
Especially when you drizzle hot fudge over the top. Are you kidding me? Look at it - this is homemade ice cream at it's very, very best.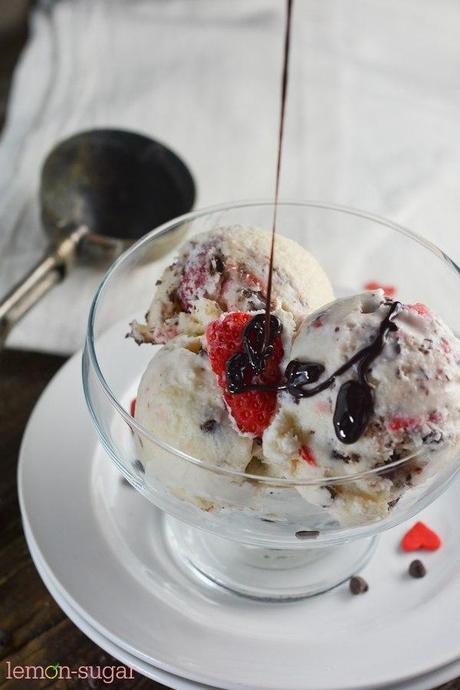 I used my favorite vanilla ice cream recipe - it's easy, super-duper easy, and the perfect combination of creamy, silky, and vanilla-y. If you don't have an ice cream maker, you have to get one. I have a 2-quart Cuisinart that does a great job and we use it all of the time, it's one of those kitchen gadgets that was worth the investment.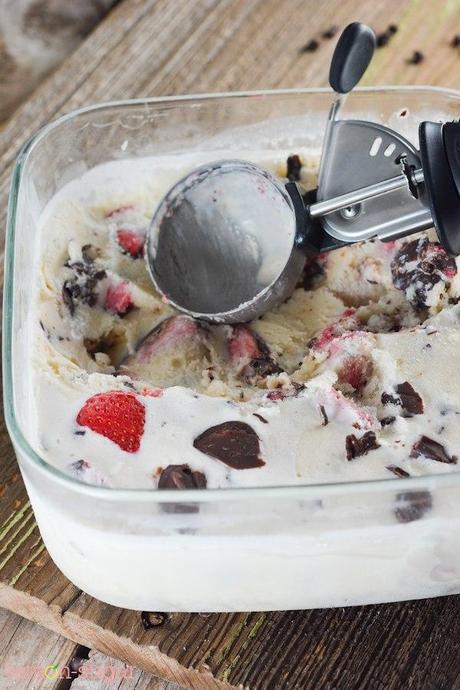 This would make a fun Valentine's Day dessert, but don't save it for that. This is a year-round, can't lose recipe and I hope you give it a try!
Oh, and if you want an awesome hot fudge recipe, click here. One of my favorites!