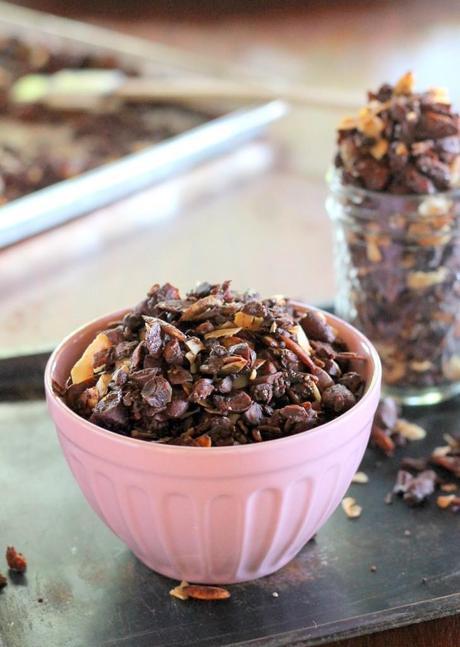 I'm a major granola freak. I could eat yogurt with granola and berries for breakfast (and probably lunch) every single day and be a very happy girl. Sometimes, it's dessert. And it definitely screams to be grabbed by the handful as a snack. However, granola calories do add up, and sometimes it can just be sooo darn high in sugar, which is why I prefer to make my own (one of my favorites is this Coconut Macadamia Nut Granola).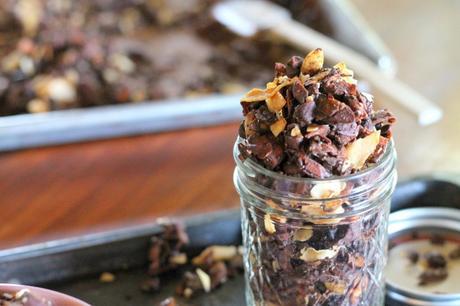 While Internet surfing as I do, I stumbled across this gorgeous recipe for grain-free chocolate granola and I immediately wanted to try it! I loved the idea of replacing all of the oats in a typical granola with nuts for a protein-rich, low-carb breakfast. While this Paleo granola definitely not low in calories, it leaves you full until lunch and tastes awesome…uh, what with chocolate and coconut can taste anything but?! I took some liberties with the recipes to incorporate some more coconut and give it my own little twists, and I love the way that it turned out.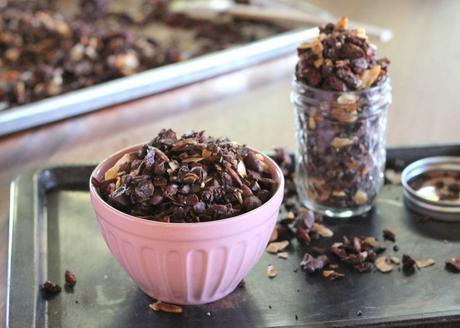 It's a major plus that it's so versatile as well! You can adapt the recipe to use the nuts and seeds that you have on hand, and use your own flavorings if you'd like. Skip the coconut, add dried fruit, or stir in your favorite nut butter – the options are varied, so feel free to tailor to your own tastes!
The recipe absolutely begs for changes to be made, so go ahead and try out some different flavors. Granola is pretty hard to mess up, so don't be nervous about playing around with the recipe. Enjoy! Xoxo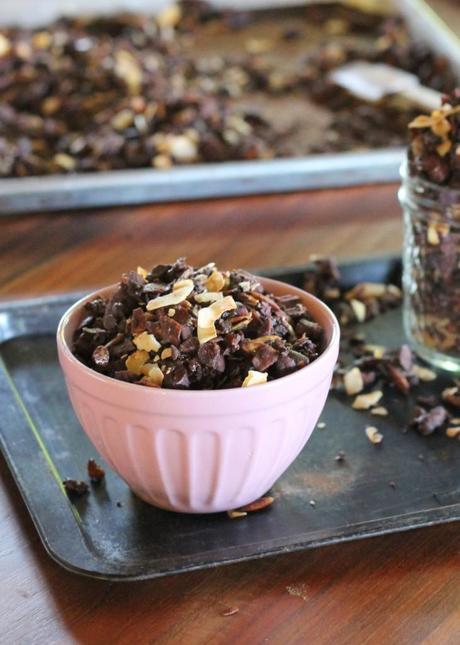 Print

Chocolate Coconut Paleo Granola
Ingredients
2 cups raw almonds (or a mixture of your favorite nuts)
1 cup pumpkin seeds (pepitas)
1 cup (60g) flaked coconut, unsweetened
2 tablespoons chia seeds
3 tablespoons (15g) cocoa powder
1/4 cup (60g) honey (or maple, to keep vegan)
1/3 cup coconut oil (70g)
2 teaspoons vanilla extract
1/2 teaspoon sea salt
1/4 cup dark chocolate, chopped
Instructions
Soak almonds and pepitas in water with a pinch of salt overnight or for about 8 hours. Soaking the nuts first removes the enzyme inhibitors, making them easier to digest.
Preheat the oven to 250 degrees F.
Drain and rinse the nuts and dry them with a cloth towel. Chop the nuts into small pieces and chunks, or place the nuts in the bowl of a food processor and pulse briefly until just coarsely chopped. I chopped them so that not all of the nuts were the same size for variety, but do whichever you'd like!
In large bowl, stir together the chopped nuts, flaked coconut, chia seeds, and cocoa powder. Add the honey, melted coconut oil, vanilla extract and sea salt and stir until all of the dry ingredients are completely coated in the wet ingredients.
Place the granola on a Silpat or parchment-lined baking sheet and bake for about 2-1/2 to 3 hours, stirring every half hour.
Let cool slightly, and stir in the chopped dark chocolate. Let cool completely, and enjoy! Store in the refrigerator.
Schema/Recipe SEO Data Markup by ZipList Recipe Plugin2.5
http://www.bakerita.com/chocolate-coconut-paleo-granola/