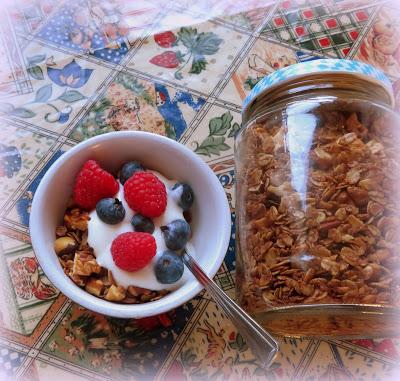 This is a fabulously tasty granola that is high in protein and low in sugars.  I have adapted it from the Fast 800 diet, which is a food plan in which participants follow a low carb, Mediterranean style of eating. It also encompasses intermittent fasting. So most days you follow a low carb, low calorie diet, and two days or so a week, you follow an 800 calorie a day diet.  Whew!  That's pretty low, but it is thought to be quite effective in weight loss and good for people trying to reverse Type 2 Diabetes.
I was keen to try this granola out (from the book
The Fast 800 Recipe Book
) as I have always been a person who eats granola for breakfast.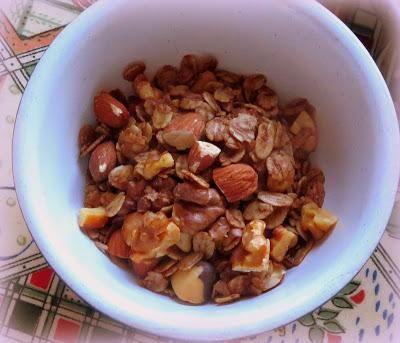 I have been making my own granola since the early 1980's.  It was my good friend Mabel who got me turned onto Granola.  I was a child who grew up with Kellogg's for breakfast.  Usually cornflakes, or rice crispies, sometimes cheerios. My brother favoured Shreddies. My mom
always
made sure she had a box of Shreddies in the cupboard for him when he came home to visit.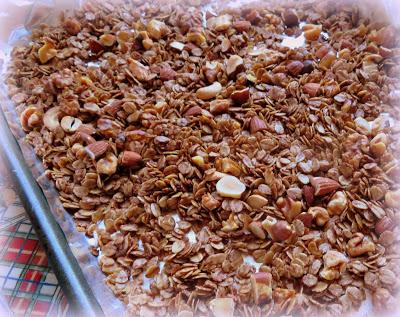 We used to sprinkle sugar all over our cereal.  I know!  Not a practice I have followed for many years now.  Can you imagine a bowl of already sweet cereal with sugar sprinkled on top?  Its no wonder we are sugar addicts!  Sometimes if my mom ran out of cereal before pay day, she would give us buttered bread with sugar sprinkled on top and milk.  We loved it!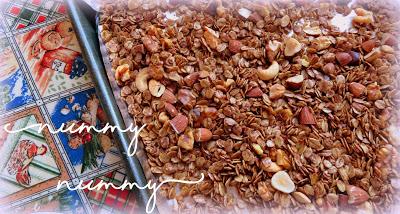 You will be happy to know that this Granola only has 1 TBS of Maple Syrup in it, so its sweetened naturally with something which comes from nature and hasn't been uber-processed  . . .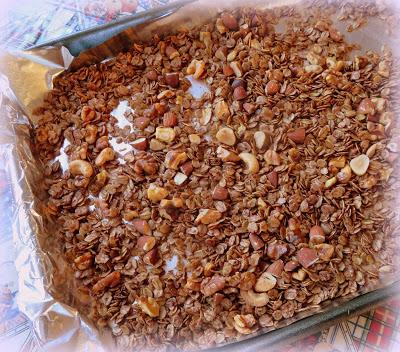 Its half old fashioned large flaked oatmeal and nuts, each in equal weights.  Old Fashioned Oatmeal is low GI, which means it is slowly digested, and causing a lower rise in blood glucose and insulin levels.  Its also high in fiber and good for your heart.  Likewise nuts, whilst higher in fat (but good fats), are also filled with fiber and low GI.  So together a great combination.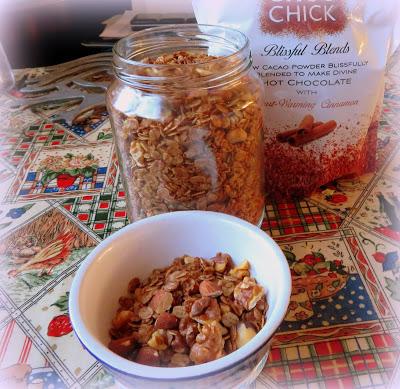 The chocolate comes from the use of cocoa powder.  I used this one, which can also be used to make hot chocolate.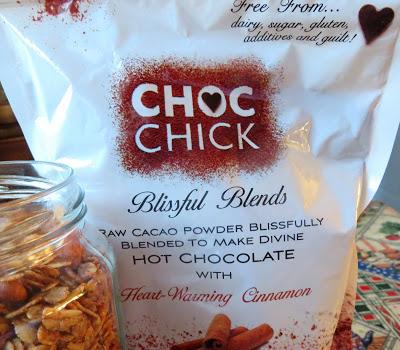 Dairy, sugar and gluten free, it is infused with cinnamon, which is also very good for you and for your heart!  It also helps to lower your blood sugar levels.  There is nothing bad about that!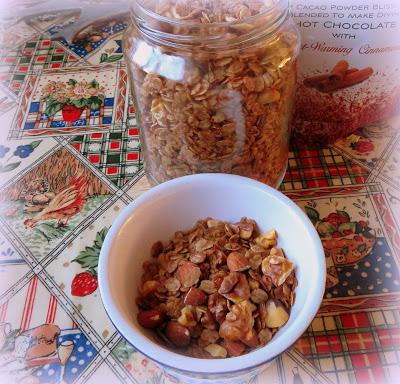 That doesn't mean you should fill up on cinnamon rolls and cinnamon toast however  . . .  there's too much sugar and other stuff in those for them to do your body much good, other than being a once in a blue moon treat . . .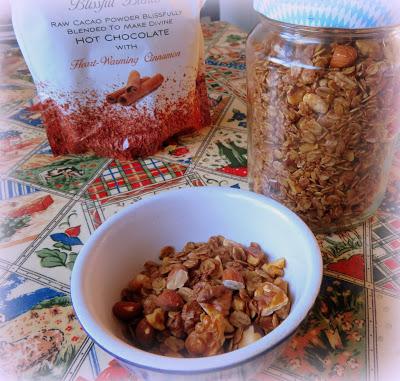 Oh boy . . . . now why on earth did I have to think about cinnamon rolls?   😭😭😭  I'm not doing myself any good.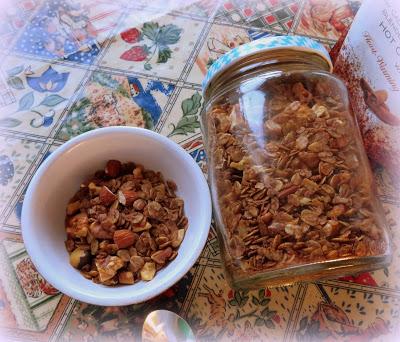 When my children were growing up I often made them
Mom's Quick Cinnamon Rolls
for a bedtime snack.  They loved them.  So did my husband, and I confess, I did also.  The best thing about them was they were not great keepers so you really needed to eat them on the day!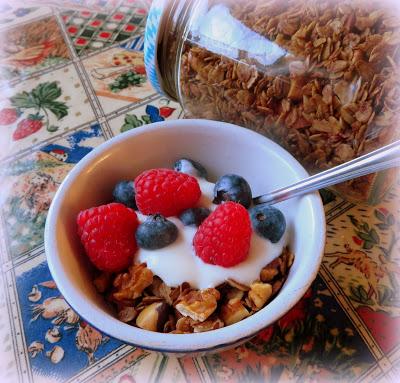 I have been enjoying this granola in a small serving each morning along with some Greek Yogurt and fresh berries.  Raspberries and Blueberries at the moment  . . .  so good.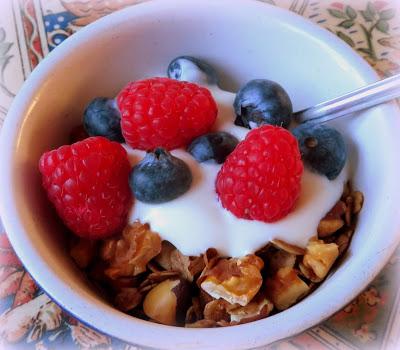 There is the option of going uber-indulgent with this, but not over the top.  Simply grate dark some chocolate over it before you finish baking it and pop it back in the oven until it melts.  Then you just let it sit and cool.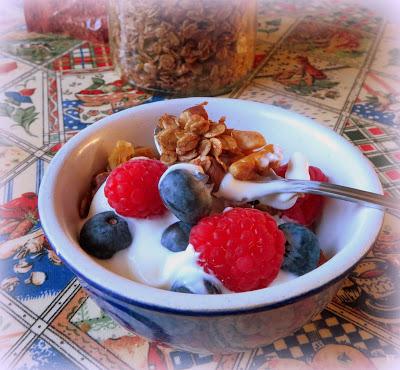 That does sound really scrummy.  Maybe next time.
Yield:
8
Author:
Marie Rayner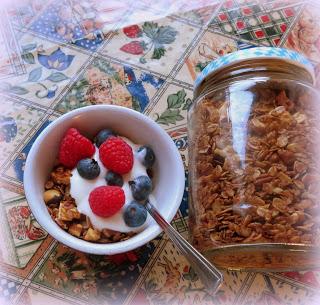 Chocolate Cinnamon Granola
A filling, fiber filled breakfast alternative that is low in sugars and deliciously high in protein and flavor.
prep time:
cook time:
total time:
ingredients:
4 TBS Coconut oil
1 TBS cinnamon cocoa powder
1 TBS pure Maple syrup
200g jumbo rolled oats (2 1/2 cups)
100g mixed nuts (2/3 cup)
instructions:
How to cook Chocolate Cinnamon Granola
Preheat the oven to 170*C/325*F/ gas mark 3. Have a medium baking tray ready.
Roughly chop the nuts. Set aside.
Heat together the coconut oil, cocoa powder (I like to sift it into the oil) and maple syrup, stirring until well amalgamated the the coconut oil has melted thoroughly.
Measure the oats into a bowl. Add the cocoa mixture. Combine well and then spread out onto the baking sheet evenly.
Bake in the preheated oven for about 15 minutes. Remove from the oven, stir and add the chopped nuts.  Stir to combine.  Return to the oven.
Bake for a further 15 minutes. Leave to cool and crisp.  Then store in an airtight container.
NOTES:
For a more luxurious version you can add up to 100g (1 cup) grated dark chocolate to the granola for the last five minutes or so of cook time.  Don't stir it. Let it cool and harden for several hours prior to putting into the jar to store.Created using The Recipes Generator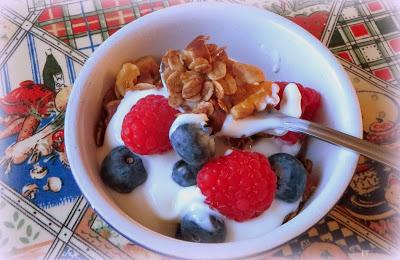 I've been following this food plan for about a week now.  I am afraid to get on the scales.  If I haven't lost any weight, I might be really discouraged.  So I am waiting until I am a few weeks in before I check.  Fingers crossed.   I just keep telling myself, its not forever.  Once I get back down to a reasonable weight, I can treat myself again, once in a while. MY problem is I have been treating myself far too much!