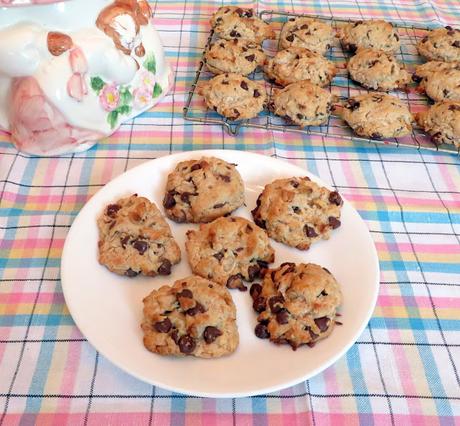 Chocolate Chip Treasure Cookies. The other day I had picked up a bunch of things at the shop to make Magic Cookie Bars. I then spied
this easy recipe
on The Eagle Brand Milk Site for Chocolate Chip Treasure Cookies.
Chocolate Chip Cookies using Eagle brand milk that are amazingly egg free.  These would be the perfect cookies to bake for someone who has an egg allergy.  I was intrigued.  I just had to bake them!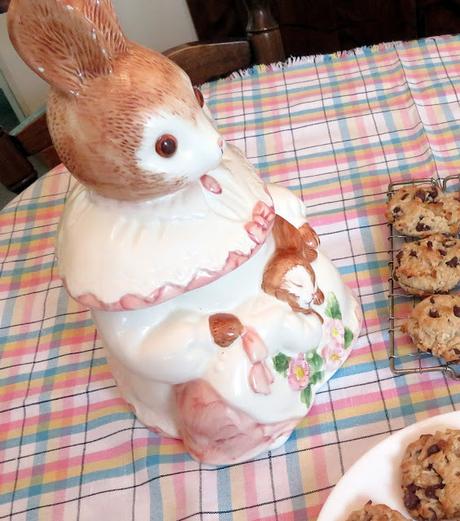 I wanted to show you my sister's mother rabbit, sleeping bunny cookie jar.  She bought it at a yard sale from a man who said it was his mother's.   Its very similar to some other ones we have seen, except it doesn't have glass eyes.  The ones with the glass eyes were produced in the 1970's.
This one is not as bright as those and  is made from ceramic bisque. Its stamped Brazil on the bottom, but we have not been able to find another one like it online anywhere.  I love vintage cookie jars, and have two pig ones.
In any case I decided to use her very pretty jar as a prop with my cookies today. Now back to the cookies.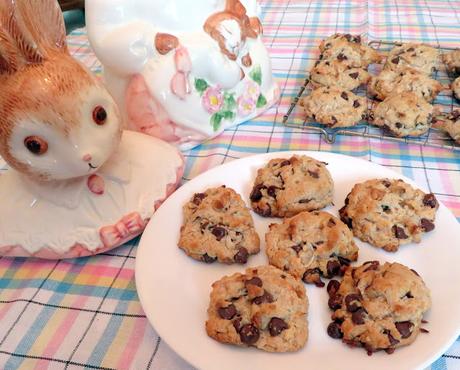 My cookies didn't flatten out like the ones shown on the Eagle Brand Milk page, but I have to say they are incredibly, moreishly delicious!  As well as being very quick and easy to make.
In case you don't know what sweetened condensed milk is I will explain. First of all it is NOT evaporated milk.  
Evaporated milk is milk which has been heat treated to remove 60% of the water. It also comes in a can and has about the same density as cream. In fact I often use it in the place of cream, as it is lower in fat and calories, especially in sauces and stuff.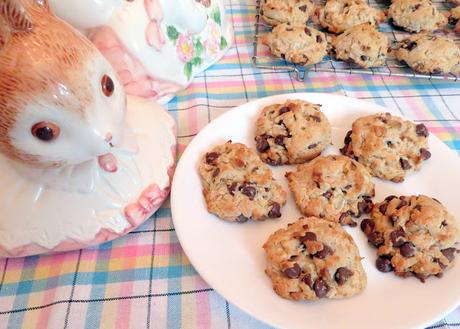 Sweetened Condensed milk is milk that has been treated in much the same way to remove roughly 60% of the water as well, but it has sugar added which makes it a lot thicker and of course much sweeter.  
They are not the same thing and
cannot
be used interchangeably. You can however make your own sweetened condensed milk and I have done so in the past, using regular milk and sugar. You can find a
good recipe to do that here
. 
I also used to make my own when my children were growing up using dry milk powder, butter, boiling water and sugar in a blender. You can
find that recipe here
.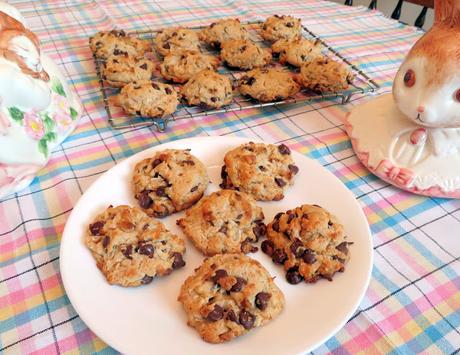 I have made Magic Cookie Bars many times through the years, or Seven Layer Bars, etc.  They have a whole bunch of names. Basically they are a cookie bar that is created by layering things in a baking tin.
Usually graham cracker crumbs, melted butter, sweetened condensed milk, coconut, chocolate chips, nuts, etc. You layer these things in the pan in order,  and then bake them. Like magic they make a cookie bar. Easy to make and easy to eat!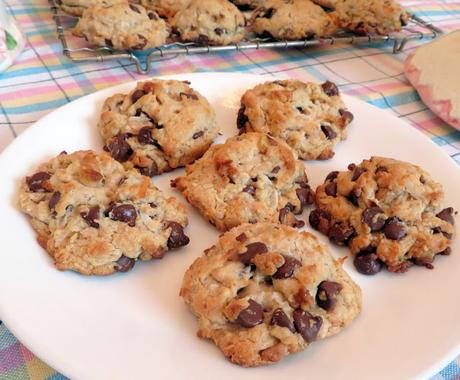 These are just as easy to make. As easy as the bars really.  You need to beat some softened butter and the sweetened condensed milk together first until smooth.  I used my electric hand whisk  to do this. 
You whisk together a small amount of flour and graham cracker crumbs with some baking powder, which then gets stirred in. 
In the UK there is no such thing as graham crackers, but don't despair, you can use an equivalent measure of Digestive biscuit crumbs.  The plain ones, not the chocolate ones. Just blitz them in a food processor until they are the consistency of fine bread crumbs. Easy peasy.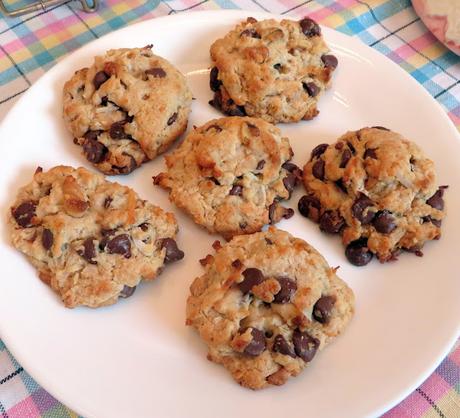 Once you have done that it is only a matter of stirring in the remaining ingredients.  Flaked coconut, chocolate chips and toasted chopped walnuts.
You don't really need to use toasted walnuts, but I always do. Toasting your nuts really enhances their nuttiness.  I do them a bag at a time and keep them in the freezer.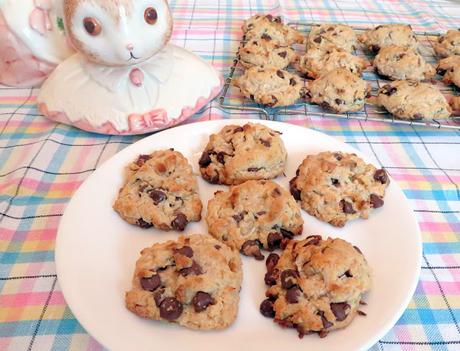 Just spread them out on a large baking sheet in a single layer and pop them into a medium high oven (about 190*C/375*F) and toast them for about 8 to 10 minutes.  They will start to smell really nutty when they are done.
DO let them cool before using them.  And, as I said, you can keep them in the freezer ready to use whenever. No need to thaw.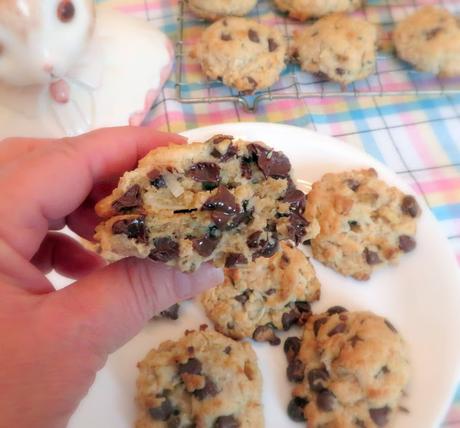 I had to break one open to show you inside. They have a goodly amount of chocolate chips in them. Just look at that melted chocolate. Oh my goodness, so yummy! 
As you can see they are also perfectly cooked inside.  I am not sure why mine did not flatten out. I used a cookie scoop to scoop the batter onto the pans.  Perhaps I should have flattened the balls out more?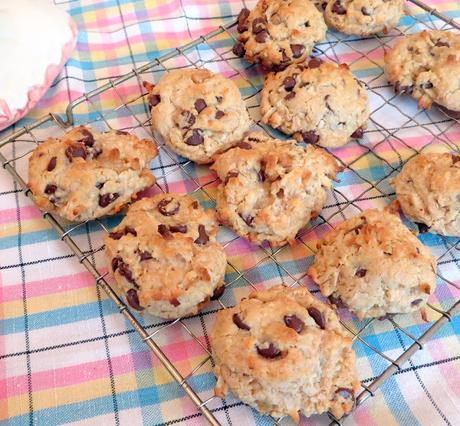 I have seen other people's online and they look flatter also, so its a mystery to me. Nobody mentions flattening them before baking them.
In any case they taste gorgeous regardless of whether they are flat or puffed.  Chewy and crisp at the same time.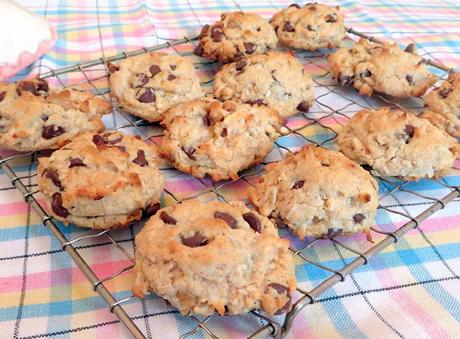 They almost have the consistency of a coconut macaroon, but not quite.  There are oodles of chocolate chips. It used a full bag of them.  I think if I make them again, and I can't think of why I wouldn't, I will use less chocolate chips.
There is a goodly amount of nuts and coconut as well.  These are stuffed full of yumminess. I have seen some people replacing the coconut with oatmeal. One recipe I saw replaced the coconut with 3/4 cup of old fashioned oats (3 ounces).  Apparently the cookies are not quite as chewy when made with the oats.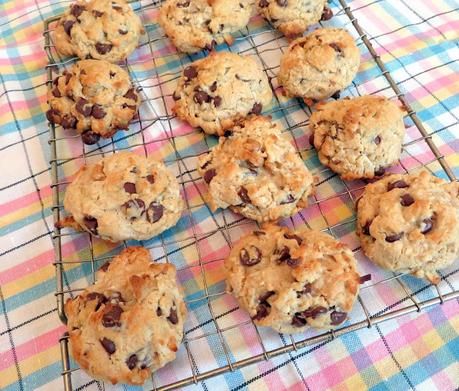 So I guess it all depends on what you are looking for in a cookie. If you are wanting dense, chewy moreishness, use the coconut. If you are wanting flatter, dryer, crisper, use the oats.
One thing is for certain however, and that is that these are one very delicious cookie. Perfect to enjoy with an ice cold glass of milk, or a hot cuppa.  Just plain perfect to enjoy all round!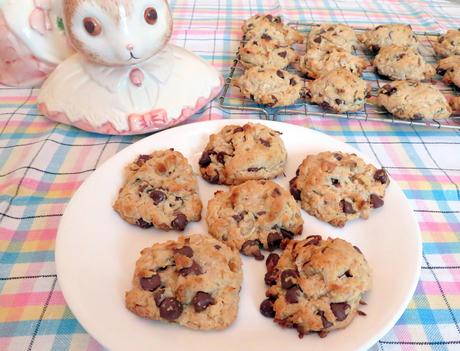 Chocolate Chip Treasure Cookies
Yield:
3 dozen cookies
Author:
Marie Rayner
prep time: 10 Min
cook time: 10 Min
total time: 20 Min
Everything you love about magic cookie bars baked into a delicious cookie!
Ingredients
1 1/2 cups graham cracker crumbs (135g)
1/2 cup all purpose, plain flour (70g)
2 tsp baking powder
1 can (14oz/400g) sweetened condensed milk (Not evaporated milk)
1/2 cup butter, softened (120g)
1 1/3 cup flaked coconut (98g)
2 cups semi sweet chocolate chips (360g)
1 cup chopped toasted walnuts (115g)
Instructions
Preheat the oven to 190*C/375*F/ gas mark 5. Line a couple large baking trays with baking paper. Set aside.
Whisk the graham cracker crumbs, flour, and baking powder together in a bowl.
Beat together the sweetened condensed milk and butter until smooth. Stir in the flour mixture to combine.
Stir in the coconut, chocolate chips and walnuts.
Drop by rounded tablespoons onto the baking sheets, leaving 2 inches in between each.
Bake for 8 to 10 minutes until golden brown. Scoop off onto wire racks to cool completely before storing in an airtight container.
Did you make this recipe?
Tag @marierayner5530 on instagram and hashtag it #EnglishKitchenCreated using
The Recipes Generator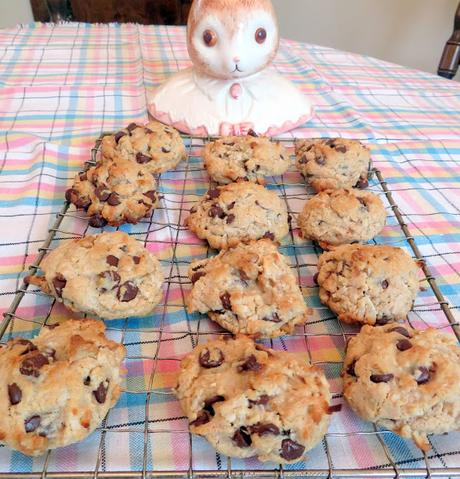 This content (written and photography) is the sole property of The English Kitchen. Any reposting or misuse is not permitted. If you are reading this elsewhere, please know that it is stolen content and you may report it to me at mariealicejoan at aol dot com.