These sweet Chocolate Chip Gluten-Free Sourdough Discard Scones are the perfect use for your gluten-free sourdough discard! They're dairy-free and vegan as well, and make for a delicious breakfast or snack.
Craving savory scones? Try this recipe for Savory Gluten-Free Sourdough Scones!
Hello, sourdough friends new and old! I'm so happy you're here for another gluten-free sourdough recipe. If you've been making gluten-free sourdough bread for any period of time, or even just building your own gluten-free sourdough starter, then you know that sourdough discard is part of the process.
Sourdough discard is the part of your sourdough starter that you remove when you feed your starter to ensure it doesn't get overwhelmingly large. Though it's called the "discard" because you're removing it, I sure don't like to actually discard it, especially not when there are SO many delicious sourdough discard recipes you can make! A few of my favorites are:
And the newest favorite to be added to the list is definitely these Chocolate Chip Gluten-Free Sourdough Discard Scones!
How to make gluten-free sourdough discard scones
The ingredients you'll need to make these scones are as follows:
Blanched Almond Flour
Arrowroot or Tapioca Flour: this starchy flour helps add lightness and crispness to the scones.
Coconut Sugar: feel free to use any granulated sweetener here, but avoid using a liquid sweetener as it will throw off the balance of dry to wet ingredients.
Baking Powder & Salt
Cinnamon: optional, you can substitute other favorite spices if desired or leave it out.
Refined Coconut Oil or Butter: make sure to use coconut oil or vegan butter to keep dairy free.
Gluten-Free Sourdough Discard: see Notes in the recipe card for details on this!
Milk of Choice: I used oat milk, but any milk, dairy-free or not, will work depending on your preferences and needs.
Mix-Ins: I used chocolate chips, but there's tons of options! I suggest some options below.
To make the scones, start by combining all of the dry ingredients in a mixing bowl and whisk together.
Add in the chilled fat of your choice, cut into small pieces. Work it into the dry ingredients using a pastry blender or two forks until it's in pea-sized bits, but not fully incorporated.
Mix together the sourdough discard and milk, and mix into the dry ingredients delicately to bring the dough together. Fold in your mix-ins of choice.
Press the dough into an 8″ circle, refrigerate for an hour, and then cut into wedges. Coat with sugar if desired, and then bake for about 20 minutes or until golden brown. Devour while warm!
Other scone mix-ins you can use
Not a chocolate chip fan? No worries! These other options for adding flavor to your sourdough discard scones are great too, just make sure the amount stays close to ½ cup.
Pecans or other favorite nut, toasted is even better!
Blueberries for sourdough blueberry scones, adding lemon zest would be great here too.
Dried fruit like cranberries or raisins.
Extracts like vanilla, mint, orange, lemon, almond, etc.
Zest of your favorite citrus, like lemon, orange, lime, etc.
Tips for the best scones
Don't overwork the fat! The little bits of coconut oil or butter help add lightness and tenderness to the scones.
Brush with milk and sprinkle with sugar before baking for a crispy, sugary topping.
Don't add too many mix-ins or they won't hold together as well.
Use a kitchen scale for the most accurate results.
If your sourdough discard is super liquid-y, don't add all of the milk at once. Add as needed to bring the scones together.
More fabulous gluten-free scone recipes: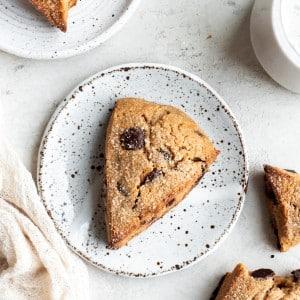 Chocolate Chip Gluten-Free Sourdough Discard Scones