This post may contain affiliate links. Please read my disclosure.
Soft and chewy chocolate chip cookies without brown sugar are simple to make and will totally quench your cookie craving! Dotted with rich dark chocolate chips, in a buttery dough, these cookies have 7 simple ingredients, and only take about 10 minutes of prep!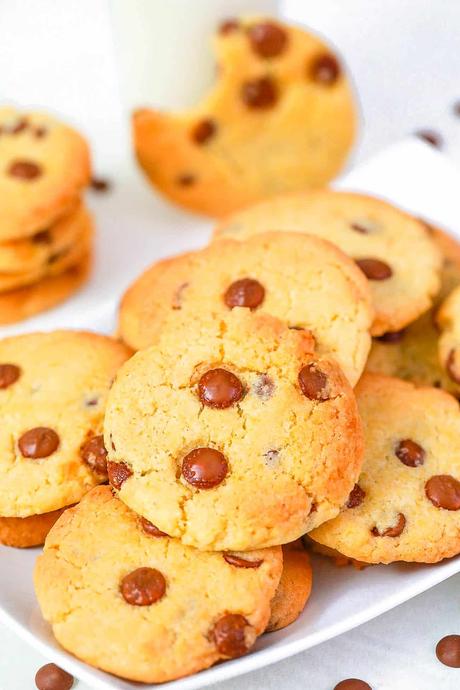 Have you ever had a craving for chocolate chip cookies, and you gather all the ingredients on your counter only to realize that you're missing an important ingredient?
Well, that happened to me recently when I had everything prepped and ready to go, only to find I was out of brown sugar!
The good news is that you can still create a delicious soft, and chewy chocolate chip cookie without brown sugar! All you need is standard granulated sugar. There's so many different ways to make this classic chocolate chip cookie recipe, that you don't have to worry about missing an ingredient. With a few adjustments they will turn out just as delicious!
Latest Recipe Video!
While changing the ingredients typically results in a slightly different consistency, we think these cookies are pretty close to the original version! If you make even more swaps than just the brown sugar, you could end up with a thin and crispy cookie, or a soft and chewy one. Subbing different flours will also result in a different bake.
These cookies are a little more crispy than traditional chocolate chip cookies, since they use white sugar instead of brown, but I promise they won't disappoint! This may just become your favorite chocolate chip cookie recipe yet!
👩🏽‍🍳 Why This Recipe Works
7 basic ingredients
Only 10 minutes of preparation time needed
Bake up soft with crunchy edges
Perfect for dunking in milk!
No Brown Sugar Needed!
Will satisfy your sweet tooth
Best chocolate chip cookie recipe ever!
🥘 Ingredients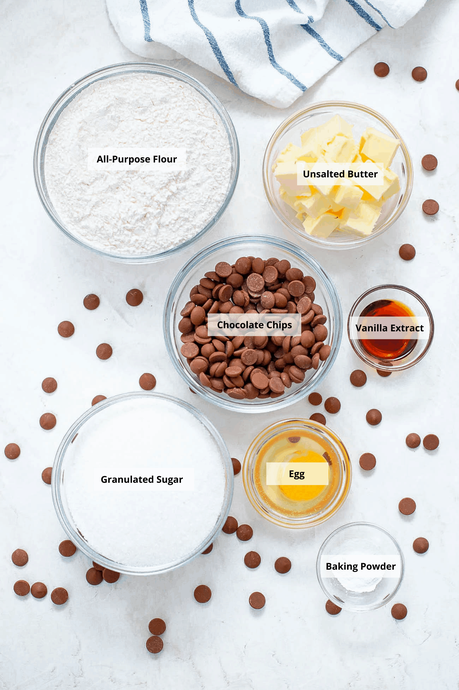 Eggs + Unsalted Butter: Set your butter on the counter at least an hour before you're ready to prepare your cookies so that it can soften and come to room temperature. You will need a 1/2 cup or one stick of butter to cream with the whole egg and sugar.
Granulated Sugar: The original recipe for brown sugar chocolate chip cookies will typically require a mix of brown and white sugar - so that you get both crispy and chewy cookies. However, you can use simple white granulated sugar to make these crispy on the outside, soft on the inside cookies! The key is the adjustment in the other ingredients to compensate for the reduced moisture since you're not using brown sugar!
All-Purpose Flour: This traditional plain flour works so well in these cookies. You can sift the flour, an extra step, to create a fluffier cookie. While I haven't tried this recipe with whole wheat flour or another type of flour, I imagine it would still work with a flour swap!
Baking Powder: Essential for leavening the cookies. When paired with the granulated sugar, baking powder gives the cookies a more cakey feel and keeps them from becoming too crisp. You can also use baking soda, it will make the cookies more crisp on the outside.
Semi-Sweet Chocolate Chips: You can use any type of chocolate chips you prefer, however semi-sweet are classic! You could even add in peanut butter, dark chocolate chunks, white chocolate chips, or butterscotch chips!
Vanilla Extract: Brings out the natural flavors of the other ingredients, and enhances the chocolate flavor!
🍽 Equipment
🔪 Instructions
Prepare: Preheat the oven to 350 degrees Fahrenheit. Line 2 large baking sheets with parchment paper. Set aside.
Beat Butter and Sugar: In a large bowl using a hand mixer (or in the bowl of a stand mixer using a paddle attachment), add the butter and sugar and beat for 1-2 minutes, until light and creamy. Scrape down the sides and bottom of the bowl as needed.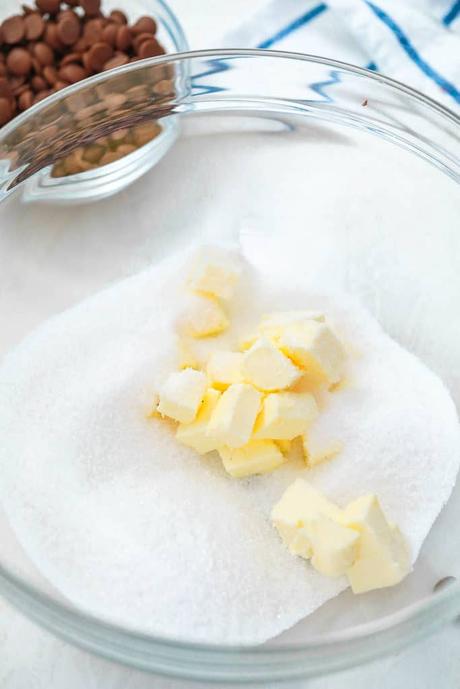 Beat in Egg: With the mixer on low speed, beat the egg and vanilla extract into the butter mixture just until combined.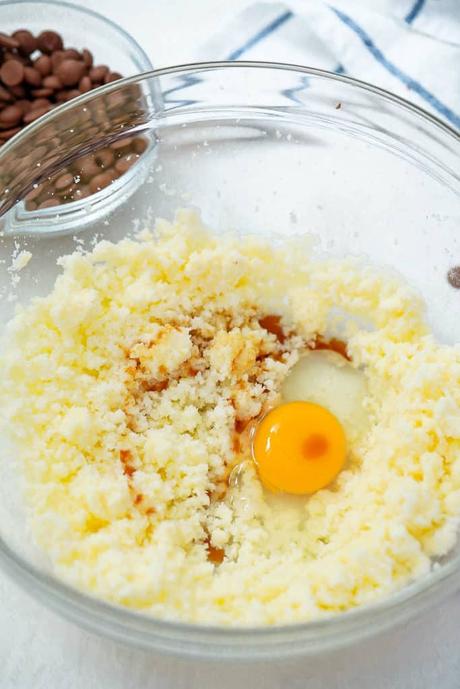 Add the Dry Ingredients: Add the flour and baking powder and stir in with a rubber spatula until just combined, and no lumps.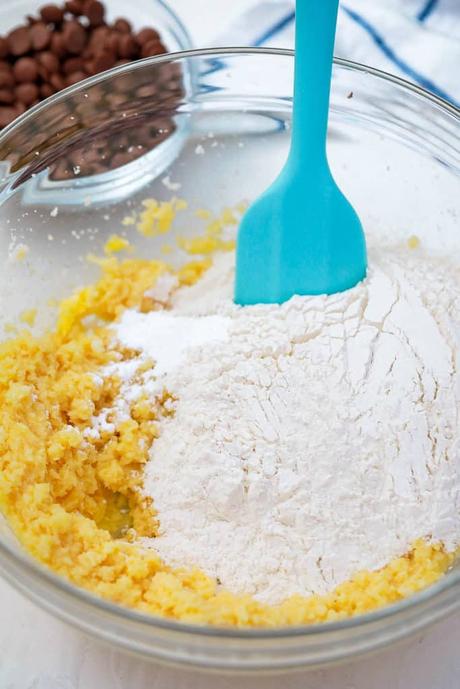 Fold in chocolate chips until evenly distributed.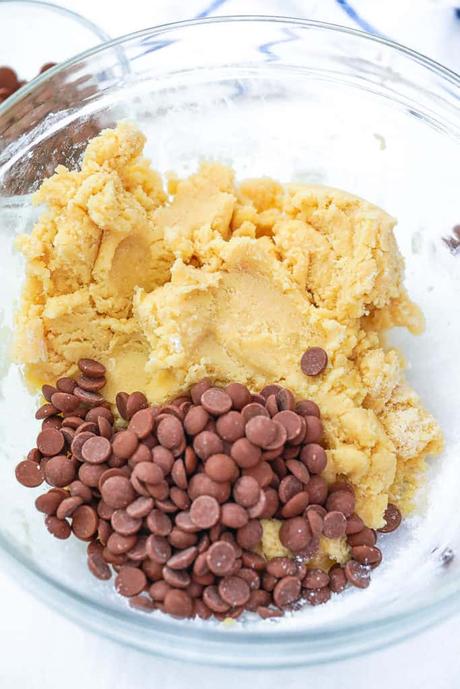 Scoop Batter: Using a 2 tablespoons cookie scoop, scoop out the chocolate chip cookie dough and arrange the dough balls 3 in apart on the prepared baking sheets.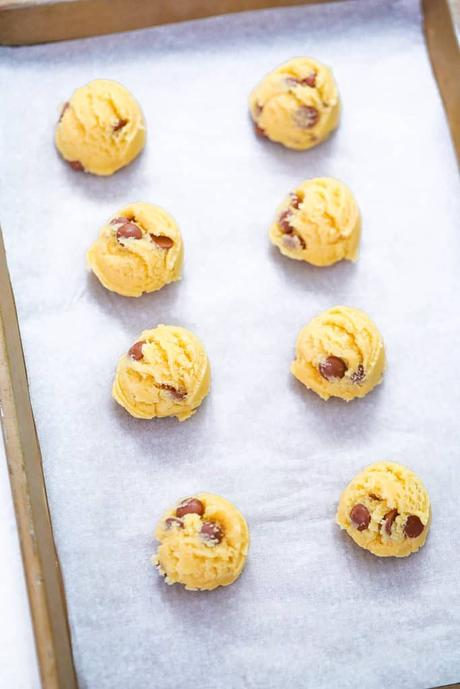 Bake for 11 to 14 minutes, until the sides are lightly golden brown.
Allow Cookies to Cool: Remove the cookies from the oven and let them cool on the baking sheet for 5 minutes, then transfer to a wire rack to cool completely.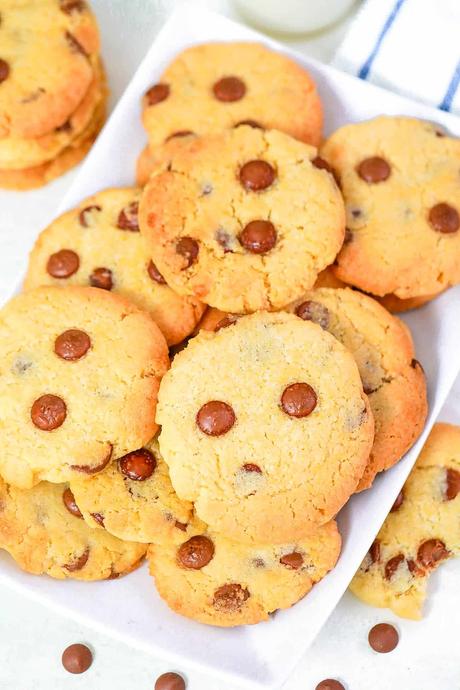 ❓Recipe FAQs
Why is brown sugar added to chocolate chip cookie recipes?
Brown sugar does a few things for regular chocolate chip cookies:
1) It gives the cookies a buttery caramel like finish.
2) The moisture in brown sugar helps to give your cookies that soft and chewy texture.
3) It keeps the cookies from spreading too much, and helps to keep cookies on the thicker side rather than being thin and crisp. White sugar chocolate chip cookies will spread more.
Do you need brown sugar to make chocolate chip cookies?
No! You don't need brown sugar. You can substitute brown sugar with several different other types, or you can even make your own with granulated sugar and molasses.
Some substitutes for brown sugar include: granulated sugar, golden sugar, muscovado sugar, coconut sugar, and even powdered sugar. But you can easily make chocolate chip cookies with only white sugar. It works as a 1:1 replacement.
How do you make brown sugar?
If you run out of brown sugar, but have white sugar and molasses you can make your own brown sugar. Molasses is a syrup created from white sugar, and has a caramel flavor.
To Make Brown Sugar At Home: Combine 1 cup of white sugar and 1 tablespoon of light molasses for light brown sugar, or add 1.5-2 tablespoons of molasses for a dark brown sugar. Light molasses works best, but dark molasses can also be used if needed! Note: Do not use backstrap molasses - it is too bitter!
Can I refrigerate the chocolate chip cookie dough?
Yes, you can refrigerate or freeze the cookie dough and bake later. Roll the dough into a long log, and wrap in plastic wrap. The dough will keep in the refrigerator for up to 4 days. When ready to use, place on the countertop for 20 minutes to allow the dough to come to room temperature. Then bake these easy chocolate chip cookies according to the recipe instructions.
Can I freeze cookie dough?
Roll the dough into balls. Place in the freezer on a baking sheet for 20 minutes. Remove from the freezer, and place the balls in a freezer safe bag. Freeze for 2-3 months. When ready to bake, remove from the freezer, preheat oven, place on baking sheet, and bake according to recipe directions.
🧊 How To Store
Room Temperature: Store the cookies in an airtight container at room temperature. They will be good for up to 7 days.
Freezer: It's super easy to freeze these soft chocolate chip cookies without brown sugar. To freeze, place the cookies in an airtight freezer bag. Make sure all air is pushed out of the bag. They will last in the freezer for up to 3 months. When ready to enjoy, simply place your cookie on the countertop to defrost.
💭 Expert Tips
For best results, measure flour using the spoon and level method. Spoon the flour into the measuring cup, and level with a knife. Flour gets packed into the bag, so spooning helps to make it fluffy, so that you don't end up adding more flour than you actually need.
Don't over mix the batter. Use a spatula to add the flour rather than the electric mixer.
Give the cookies plenty of space on the cookie sheet so that can spread.
Oven temperature is important! If your oven isn't calibrated properly, your cookies may need more or less time to bake.
For softer cookies reduce the heat to 325 degrees F, and bake for 11 minutes. If you want chewy cookies that are more crisp, bake for the full 14 minutes (up to 15 minutes).
You can easily double or triple this recipe if you want to make a big batch of these delicious cookies!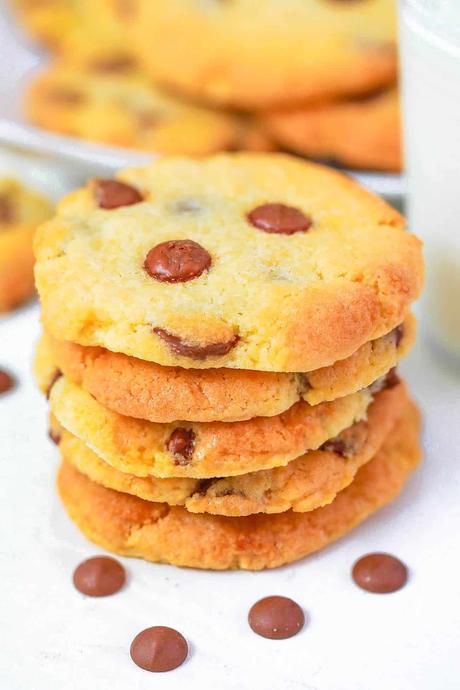 🍪 More Cookie Recipes!
📋 Recipe Card
Chocolate Chip Cookies without Brown Sugar