{{ Read more She Bakes! || About She Bakes! || She Bakes! Photos }}
---
This post is pretty long overdue. In reality, I got busy and kind of forgot about these cupcakes. I made a huge whack of a batch of them for both my friend Laura's and my Dad's birthdays, which are at the end of September and early October, respectivly. Lucky for me we were celebrating both the same weekend, so it was easy for me to bake for both… I just decorated them totally differently.
This recipe was the perfect one to pull together for a joint birthday baking endevour: when I asked Laura what kind of cupcakes she wanted, her reply was something along the lines of "chocolate, cherries, peanut butter, or any combo of those". Even luckier for me, my dad also loves chocolate, and he loves coke, which lead to the development of these babies: Chocolate Cherry Coke Cupcakes.
And oh man, were they good. Coke was baked straight into the chocolate cupcakes, as were diced marschino cherries and a wee bit of cherry juice. Next, a coke glaze was drizzled overtop of the cupcakes before I put a vanilla buttercream on top. To finish it off, I made a chocolate goo (this was LITERALLY the stuff you find on the top of a Tim Hortons' Chocolate Dip Doughnut) to drizzle over the icing before ending it all with a cherry on top.
Make these for the chocolate-and-cherry-coke-lover in your life and I PROMISE you won't be disappointed.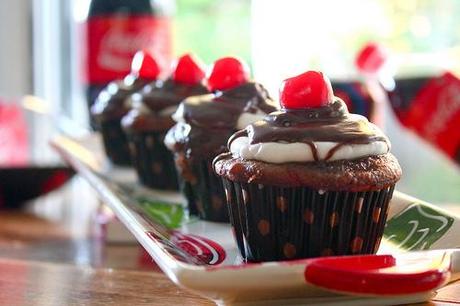 Chocolate Cherry Coke Cupcakes
18 minutes @ 350° | Makes 22-24
1 1/2 cups gluten-free all purpose flour
scant 3/4 tsp xanthan gum
3 tbsp. cocoa powder
1/2 tsp. baking soda
1/4 tsp. salt
3/4 cup sugar
8 tbsp. margarine
1 large egg
1/2 cup buttermilk**
3/4 cup full sugar coke
1 tsp. vanilla extract
1/4 tsp. maraschino cherry juice
3/4 cup chopped maraschino cherries
**NOTE: If you're like me, and don't have buttermilk just kicking around – put 1 tbsp lemon juice into a measuring cup, then fill with milk until the 1 cup line. Let curdle for 5-10 minutes… ta da! Buttermilk replacement.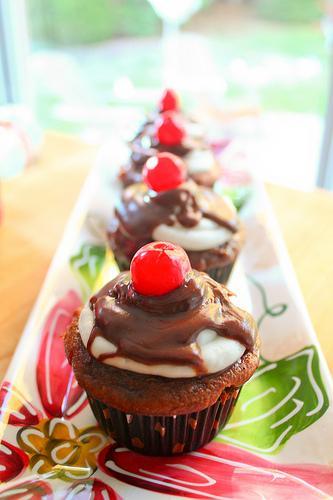 Preheat the oven to 350°, and line your cupcake trays.
Mix the xanthan gum, gluten-free flour, cocoa, baking soda, and salt into a bowl, and set the dry ingredients aside.
In another bowl, cream the sugar and margarine together until light and fluffy. Add in the egg, and mix. Set aside.
In a third bowl, combine the buttermilk, Coke, cherry juice, and vanilla extract.
Slowly mix the dry ingredients into the butter/sugar cream, alternating with the liquid ingredients. Be sure to start and finish with the dry ingredients.
Add the chopped cherries, and mix them in.
Bake for 18 minutes, or until a toothpick comes out clean.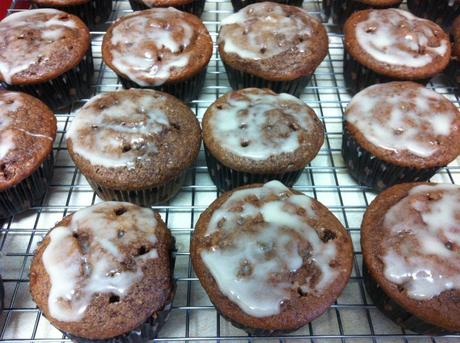 Coke glaze.
Coke Glaze
1 cup icing sugar
2 tbsp. coke
Mix the coke and icing sugar with a fork until a paste begins to form. Poke holes in the top of the cupcake, and drizzle a spoonful of the glaze over each.
Vanilla Buttercream Icing (Medium Consistency)
1 cup solid vegetable shortening
1 tbsp meringue powder
4 cups icing sugar
4 tbsp + 3 tsp water**
1 tsp clear vanilla extract**
**Note: for a cherry flavoured icing, replace the 1 tsp vanilla extract and 2 tbsp water with marachino cherry juice!
Cream shortening, flavour, and water together. Add the meringue powder and blend. Add the icing sugar cup by cup, mixing on medium speed until blended. Continue until you've added all the icing sugar, and continue to blend until the icing is creamy.
I used a #12 round tip to ice the swirl onto each cupcake.
Chocolate Doughnut Glaze ("Fudge" Topping)
3/4 cup  icing sugar
4 tbsp cocoa powder
3 tbsp water
2 tsp vanilla extract
Whisk together the icing sugar and cocoa powder, then mix in the water and vanilla extract. Mix vigorously until smooth. Drizzle over the iced cupcakes, and let harden. If you want to add "toppings" – like cherries – be sure to do so while the glaze is still sticky.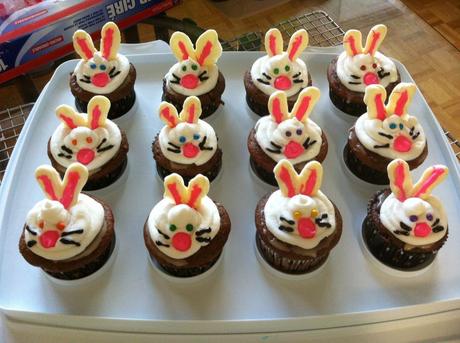 These are also cherry coke cupcakes – decorated like bunnies for my friend Laura's birthday party