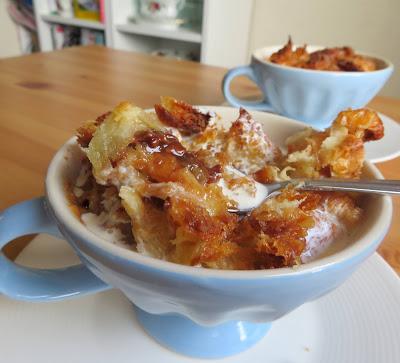 I had some stale croissants in the kitchen and a few chocolates leftover from our Christmas box that I thought should be used up. (Not that they have done off, but you know . . . I like to get rid of tempation if I can.) I decided to experiment use them up in a scrumptious Chocolate Box Bread Pudding for Two.  Lets end July in a positive way!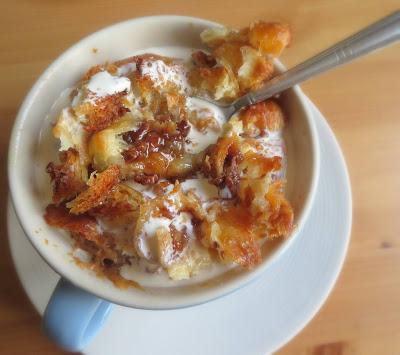 Plus it was a great way to showcase my newest tea/coffee cups.  I got these from the
Scandanavian Pantry. 
They're so cute. I am totally in love with Scandanavian design, always have been. I am also a lover of Nordic television dramas, but anyways, back to the pudding . . .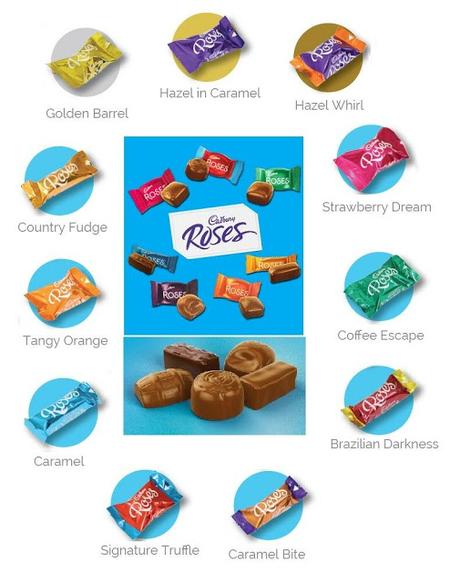 I had gotten two tins of these chocolates at Christmas, mostly because I was in love with the little tin that they came in.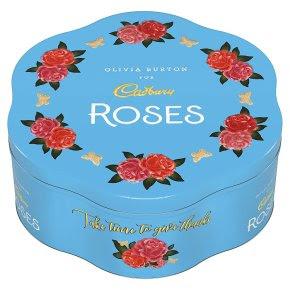 I mean, what's not to love about this . . . I thought they would make perfect little sewing boxes. I know I have far too many fingers in far too many pies.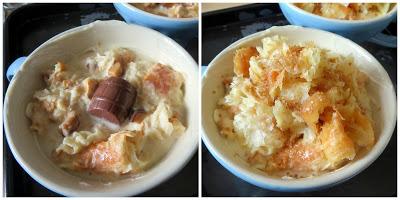 I chopped up four Country Fudge Chocolates and stirred them into the bread pudding batter, which was a mix of stale croissants, egg, milk, cream, sugar and vanilla. This sat for awhile so that the croissants could absorbe the liquid and then I divided it between the two cups, pushing a Golden Barrel (caramel) down into the center.  I then topped it with some more torn up bits of croissant which had been tossed with melted butter and sprinkled it with demerera sugar to give a nice crunchy topping.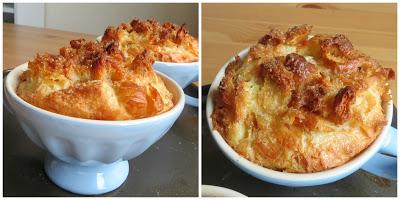 I believe Demerara Sugar is called Turbinado sugar in North America.  I had to take a photo as soon as they came out of the oven so you could see how nice they puffed up over the edges of the cups. So pretty.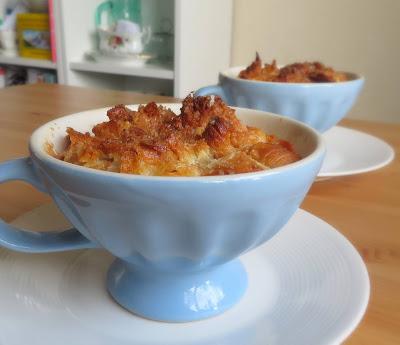 They will sink upon standing  . . .  not a lot, but some, that's perfectly okay and quite normal.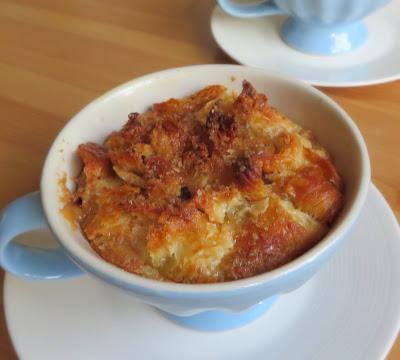 I was tempted to dust this with icing sugar but held myself back, surely this was sweet enough  . . .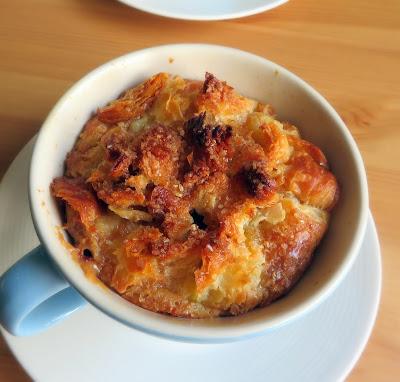 Just look at that lovely buttery crunchy topping  . . .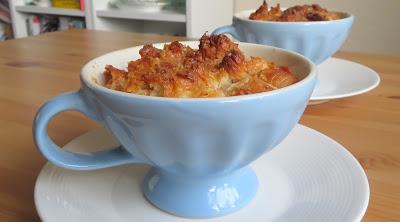 Nobody knows the special secret which is lurking beneath the surface  . . .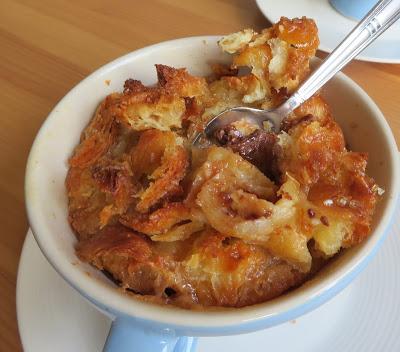 What a surprise that will be when they dig their spoon into the center . . .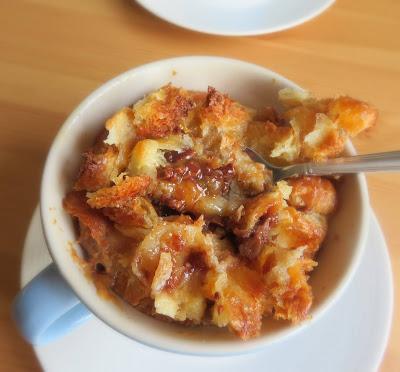 And pull up some of that melted chocolate and caramel . . .  so rich, so decadent.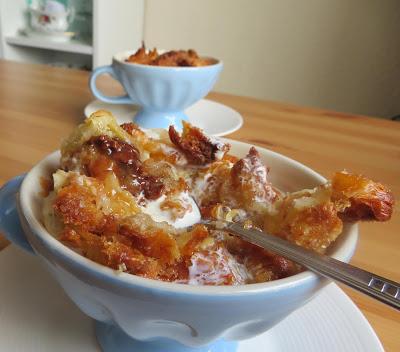 The skinny man I live with has to have cream, or custard sauce on his puddings, which is what they call desserts over here in the UK. They all get called puddings . . .  cake, pie, etc.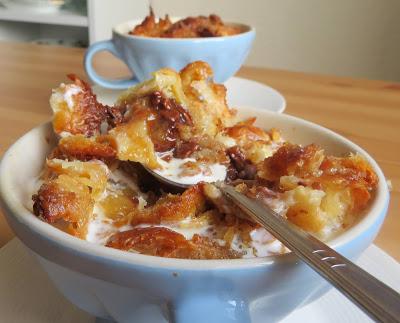 Just look at that  . . . and he hasn't even discovered the chocolate fudge bits yet  . . .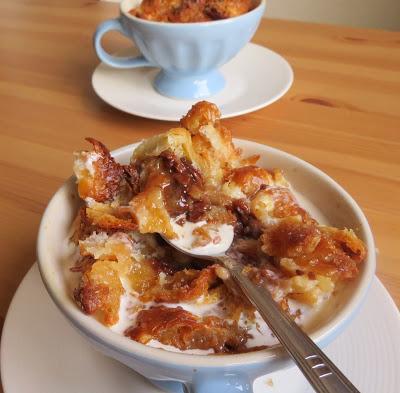 They are in there, I promise  . . . so, so SO tasty!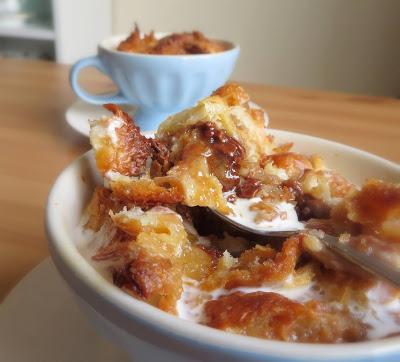 I was trying to think of what other kinds of chocolate you could use in their place.  Soft toffees could be chopped up along with coffee flavoured chocolates . . .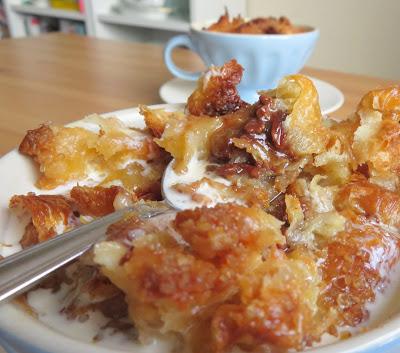 Then there is the chocolate orange which could be chopped and then in the center a whole chocolate filled with orange fondant  . . .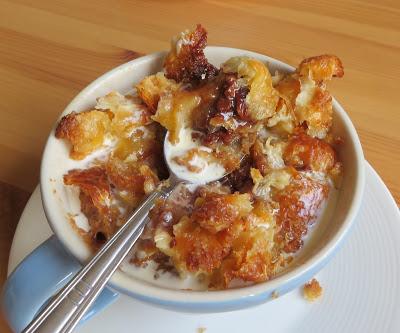 You really can let your imagination go wild here . . .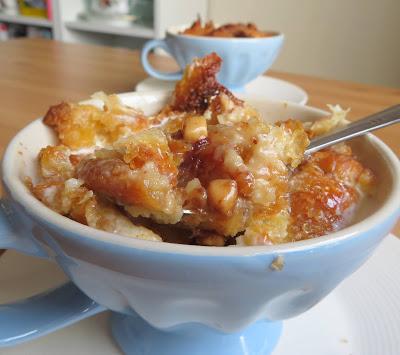 See the fudge bits in there.  Wowsa, wowsa eh!  Todd thought he had died and gone to heaven!  
Chocolate Box Bread Pudding for two
Print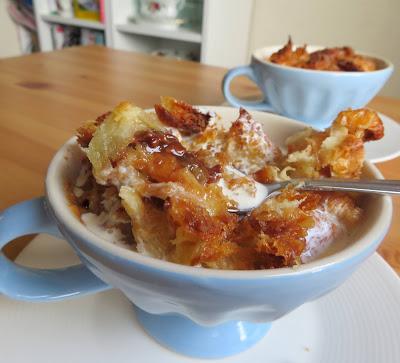 Yield: 2
Author:
Marie Rayner
prep time: 15 M
cook time: 30 M
total time: 45 M
Thoroughly decadent and no waste.  Rich and delicious.
Ingredients:
2 TBS butter, melted plus extra to butter cups
3 croissants, torn into 1-inch pieces
1 large free range egg
2 TBS caster sugar
120ml cream (1/2 cup)
60ml whole milk (1/4 cup)
1/2 tsp pure vanilla extract
6 leftover chocolates (four toffee fudge ones and two caramel barrels)
1 tsp demerara sugar
To serve: (optional)
pouring cream, clotted cream, ice cream, custard sauce
Instructions:
Preheat the oven to 180*C/350*F/ gas mark 4.  Butter two (6-oz) tea or coffee cups really well.  Place onto a small baking tray.
Measure out about 1/2 cup of the croissant cubes and tear into smaller bits and toss together with the melted butter in a small bowl and set aside.
Cut the fudge chocolates into small bits.
Whisk the egg together in a bowl along with the caster sugar until the sugar dissolves. (Caster sugar is a fine granulated sugar.)Whisk in the cream, milk and vanilla. Add the cubed croissants and fold in the fudge chocolate bits. Let stand for fifteen minutes.  Divide this mixture between the two buttered cups. 
Press a caramel barrel chocolate down into the center of each pudding. Top with the buttered croissant pieces, piling them over the chocolate to cover completely.   Sprinkle each with 1/2 tsp of demerara sugar.
Bake in the preheated oven for 30 minutes until puffed and golden brown. The pudding should be set.   Serve warm with pouring cream, clotted cream, ice cream, or  custard sauce.
notes:
Don't panic if it sinks a bit after it starts to cool. This is completely normal.
Did you make this recipe?
Tag @marierayner5530 on instagram and hashtag it #EnglishKitchenCreated using
The Recipes Generator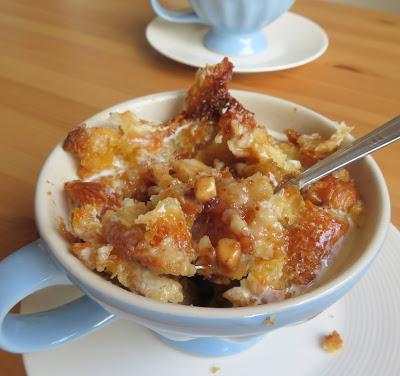 I wish I could outfit my whole kitchen in Scandanavian goodies, but then I would be worried each time Todd used something that he would break it. You know men can be quite careless . . . but we won't go there . . . 
Happy Friday! 

Follow my blog with Bloglovin