As I was preparing this recipe to try and noting that I need to buy bananas, hubby came home with a brunch. What perfect timing.  So need to wait 2 more days for the banana to ripe further.
Saw many had given this recipe a good review.  Actually, I learned this flour coat butter method from my baking school sometime back and it yields a really tender crumb cake.
So since I was craving some cake and I wanted to try this recipe and yet having it in chocolate will appeal more to the family.  So here is my adaptation, Chocolate banana cake.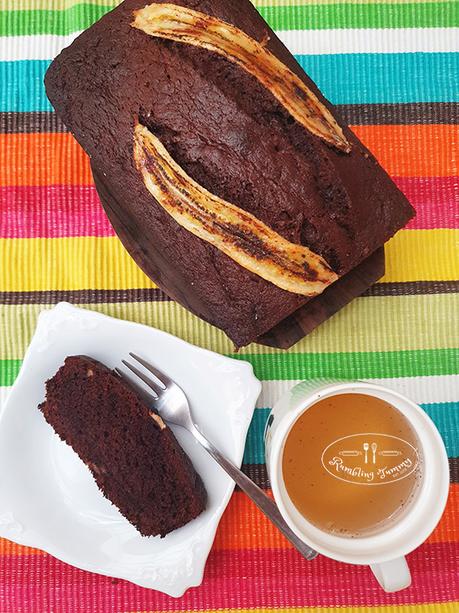 Learning:
The banana taste is not very evident, perhaps my cocoa powder is too much.  The crumb is nice but I overbaked it in this new oven.  Should have done 25+25+5 mins instead.  As 50 mins my cake still came out wet.  
Will try again with reduce cocoa powder.
adapted 
What you need:
150g bananas (increase to 200g next time)½ tsp salt½ tsp baking soda1 tsp banana extract
120g cake flour30g cocoa powder 1 tsp baking powder
130g castor sugar (increase to 150g)150g unsalted butter, slightly softened and cubed
2 egg yolks2 egg whites40g condensed milk
Method:
Preheat the oven to 170℃.  Grease and line 9X4" loaf pan.
1 pcs – sliced really thinly.  Sprinkle sugar and freeze.  (lined the tray with baking paper)
Mash the banana, baking soda, banana extract, and salt.  Set aside.
Sieve the cake flour, cocoa powder, and baking powder.  
Add in castor sugar.  Mix well.
Add in butter.
In another bowl, whisk egg white until stiff.
Whisk in the egg yolks and condensed milk.
Mix the mashed banana mixture into the egg mixture.  Set aside.
Using the same beater, beat the butter and flour mixture together (on low speed).  Be careful flour will fly if on high speed.
Add 1/3 of banana batter into the flour mixture and slowly beat until incorporated and do the remaining batter.
Pour batter into pan.  Drop a few times and smoothen the top.
Bake for 25 mins and start to brown.  
Place the frozen banana on top.
Continue to bake for 25 mins or until cooked.
Enjoy!


If you have enjoyed this post by Rumbling Tummy, be sure to follow her on Facebook, Instagram, Pinterest, Twitter