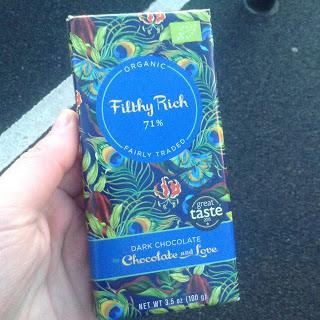 Today's review is for a bar I've had in the archives for a while, the Great Taste Award winning Chocolate and Love Organic Filthy Rich, which is fairtrade, suitable for vegans, contains 71% cocoa solids and is available from Sainsbury's. I chose the bar purely based on the name - I do love some rich dark chocolate! (I've previously reviewed their Coffee Dark Chocolate here).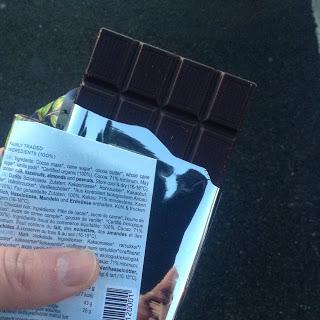 I've tried a few brands of dark chocolate over the years and I have to say this is definitely one of the better ones. The chocolate is great quality, tasting...rich (thank goodness!) and flavoursome as well as sweet and smooth. It has a nice balance of all elements, so it's neither too bitter nor too sweet, and certainly doesnt lack flavor. I can see why it's won awards! As much as I like Green & Blacks for their 85% dark chocolate this is a step above.
Overall, if you are a darker chocolate lover and want something a bit more interesting than Green & Blacks then this is a good bet. Also do check out some of the other flavours in their range, there's the lovely Orange and Mint varieties which are also also dairy free and vegan.
8 out of 10.
Ingredients: Cocoa mass, cane sugar, cocoa butter, whole cane sugar and vanilla pods. Cocoa: 71% minimum. No preservatives, colouring agents or emulsifiers like soy lecithin.

Suitable for vegetarians, vegans and coeliacs. Certified Kosher. GMO free as all organic certified products. May contain milk, hazelnuts, almonds and peanuts.