We woke up late but our little sweetie had already prepared our brunch.  So this Chocolate Almond Bun ended up for our tea.
Nothing beats a freshly baked bun!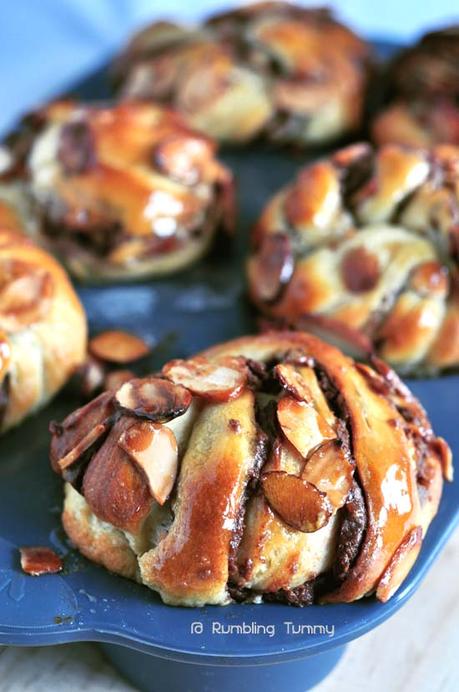 A little planning if to bake this as it need a pre ferment dough.  Last night, I just quickly make a batch so that I can bake some bread today.
Learning: The pre ferment bread is easy to handle but after incorporated into the main dough, it was really soft.
I need to wet my hand to shape them into a ball before the first proof.
Subsequently it was easy.
It was a welcome for the kids because of the chocolate fillings and hub also like it because of the nuts.  The texture is soft and because of the filling, it adds texture too.
Definitely a keeper!
What you need:
175g bread flour
100g warm water


½

 tsp yeast
1 tsp salt
5g milk powder

Method:
Dissolve yeast in warm water at 

37°C

.
Add in bread flour, salt and milk powder.
Knead until smooth.
Transfer to oiled bag, knot it and chill for overnight.
Main dough
What you need:
40g bread flour
40g cake flour
1 tsp instant yeast
15g sugar
1 tsp salt
25g honey
1 egg yolk
40g milk
40g unsalted butter
Almond flakes for garnish
120g chocolate spread
80g ground almond
Mix fillings until well combined.  Place onto a clingwrap and roll into a cyclinder.  Cut into 8 portions once firm.

Dough
Method:
Combine all ingredients except butter in a mixing bowl.
Cut pre ferment dough into pieces and add into the mixture.
Knead on low until a rough dough.
Add in butter and continue to knead until reached elastic stage.
Shape into a ball.  Cover and proof for 30 mins.
Divide the dough into 8 parts.  Punch down and shape into ball.  Rest for 20 mins.
Roll the dough into a disc and fill with the fillings, seal well.
Roll into a long oval.
Slit 5 cuts on the long side of the dough.
Slowly pull the dough long while swirling it into a bun.
Put the bun in a greased big muffin tray and cover.  Proof until double.
Brush with egg wash and sprinkle nuts.
Bake at 180

°C 

for 15 mins or until golden.
Enjoy!


If you have enjoyed this post by Rumbling Tummy, be sure to follow her on Facebook, Instagram, Pinterest, Twitter and Google+ .