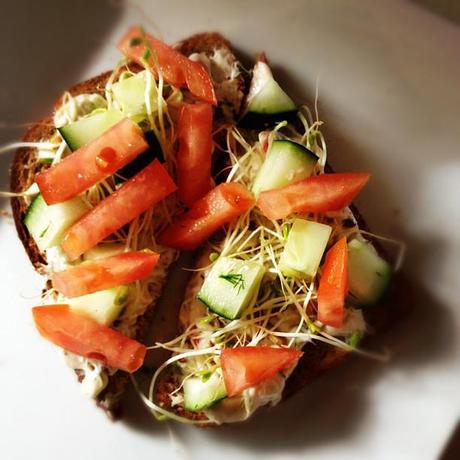 After six days of all inclusive food + drink at our resort, I have officially entered food detox. Whenever I come back from Mexico I crave chocolate cake after every meal. Probably because I eat chocolate cake with every meal while I'm there. Anyways, I was looking for a low-fat, low-calorie, high-protein lunch option and came up with this fabulous recipe for a sandwich spread using Chobani + Laughing Cow. Honestly one of the greatest things I have ever consumed. Top it with lots of fresh veggies and you're set! The entire sandwich comes in at roughly 130 calories, 8 grams of protein and 3 grams of fat. Below are ingredients, directions, and the full nutrition facts.
Chobani Vegi Spread
(Makes around 10 servings)
Ingredients:
3/4 Cup Plain Non-Fat Chobani
2 wedges Laughing Cow Light Cheese (any flavor, I used one Herb and one Tomato Basil)
2 Tbsp Fresh Chopped Dill
4 Tbsp Fresh Chopped Chive
1/4 Cup chopped Red Bell Pepper
1/3 Tsp Sriracha Sauce (or other low-sodium hot-sauce or seasoning of choice)
Directions:
Combine all above ingredients and stir until combined. Toast a single piece of whole-wheat bread, top with 1 Tbsp of Vegi Spread, 1 Tbsp unsalted sunflower seeds, fresh sprouts, chopped tomatoes and cucumbers and lightly salt if you desire.