Chivda
…
munch munch munch
…
below is the traditional Indian version but you can add any cereal flakes, dry fruits, nuts, seeds of your choice
…
make it nut free
…
seed free
…
up to you
…
some options: puffed rice, roasted chana dal, roasted chick peas, coconut flakes, almonds, cashews, sunflower seeds, rice krispies, dried cranberries
…
want a different name
?
How about "the healthiest deconstructed granola bar
…
ever"
!!!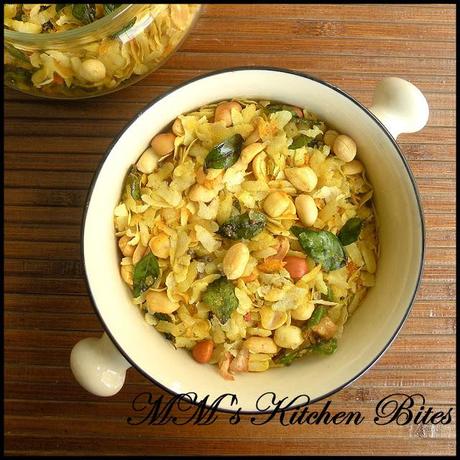 Chivda
Ingredients:
Poha/Beaten rice, the regular one or the thin one, 1 cup

Peanuts, raw or roasted, 2 tbsp

Raisins, 1-2 tbsp (optional, I don't add)

Oil, 1 tsp

Mustard Seeds, ¼ tsp

Curry Leaves, a few

Green Chilies, finely chopped, to taste

Turmeric Powder, 1/8 tsp

Asafoetida, a pinch (optional)

Salt, to taste

Sugar, ¾ tsp or to taste or skip it completely
Instructions:
Grind the sugar to a fine powder. Keep aside.
Dry roast the poha in a non stick pan till it crisps up. Keep aside.
If using raw peanuts, dry roast in the same pan. Keep aside. Skins off or on , up to you.
(Can use your microwave oven for both these steps, checking and stirring after every minute or so)
Heat oil in the pan and add mustard seeds and curry leaves. When the seeds start spluttering, add in the asafetida, green chilies, turmeric and salt. Mix well.
Lower the heat; add the roasted poha, peanuts and raisins. Mix till all the poha takes on the yellow colour.
Take it off heat and add in the sugar. Mix well.
Cool and store in an airtight container or grab whatever bowl you can get your hand on first (in my case, it was a soup bowl!) and munch munch munch
J