Maybe lucky for us artists that the Chinese are ushering in the Year of the Rabbit for 2011. The fourth sign of the Chinese horoscope , the Year of the Rabbit patronizes artists and scientists.  Year of the White Rabbit on the Chinese calendar, is going to be quieter as compared to 2010, the Year of the Tiger. And we all know last year was like trying to catch a tiger by his hairy tail, which resides just above the treatment plant.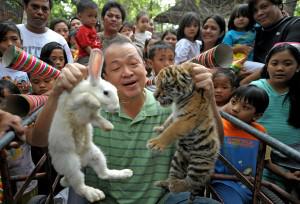 Goodbye Tiger Hello Rabbit
The Year of the Rabbit is the one that allows everyone to take a deep breath and get the solacement and refreshment the creative spirit so desperately needs. I for one noticed the dynamic changing already, and the official beginning of Chinese New Year isn't until February 3. Maybe wishful thinking on my part, but my brush is starting to embrace the changes.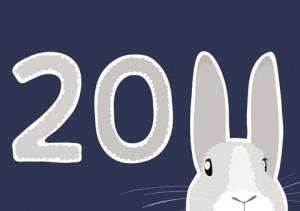 Year of the Rabbit 2011
The creative muse rather it be triggered by the worldly horoscopes or prompted by the Divine is surely welcome no matter what kind of creative person you are. So let's all take a deep breath and slide into 2011 on a more calmer note – thanks to the rabbit- allowing the creative elixir ebb and flow at its natural inclination. Which ultimately will trigger great thoughts, ideas, solutions and effervescence that will be revealed right before our very eyes. Maybe on your canvas (in my case) or through the camera lens, the pottery wheel, or performing arts.
I wish I had a stellar, rabbity, calligraphic, reddish hue painting to share on this blog. I'm sure it is forth coming and will end up on my site or on a future blog. I think it's time to stock up on some Michael Harding Genuine Chinese Vermillion, the one with the skull & cross bones prominently displayed on the back of the tube. Another color that is auspicious for this year is orange. Even the U.S. Postal Service is issuing a Year of the Rabbit 2011 stamp that features oranges (fruit). For the orange color in my soon to be created Year of the Rabbit painting I'm going to have to go with my Old Holland  Cadmium Yellow Deep and with a minor pigment adjustment it matches the orange of Madame Clicquot's Reims French Champagne. Around the Jones household it is the celebratory adult beverage of choice.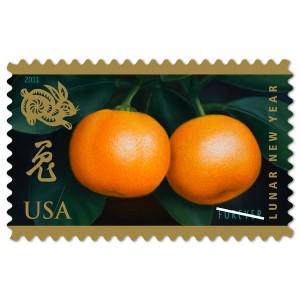 USPS Year of the Rabbit 2011 Stamp
How to start the Chinese New Year off right… The Rabbit is a household animal (and sometimes dinner!)  so people are advised to greet the Rabbit Year in a family circle. And another good excuse for popping a cork.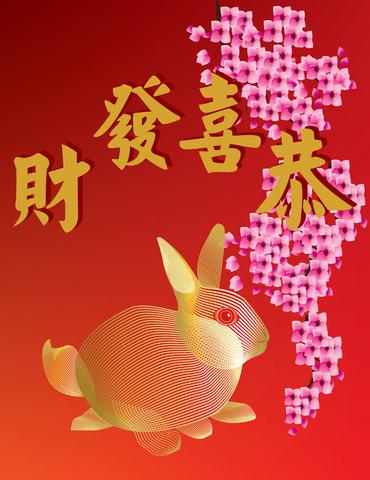 Celebrating the Good Luck for Artists Year of the Rabbit 2011