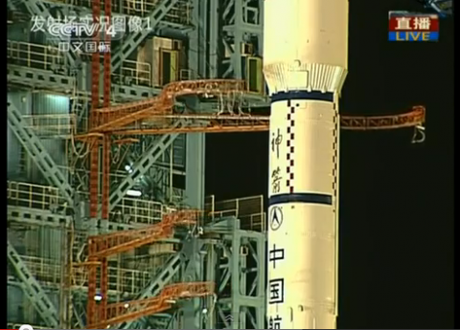 The launch of Tiangong 1. Photocredit http://www.youtube.com/watch?v=UIcL9aXpOYE
Is China going to be the new big man in space? In 2003, it launched a person into space, and completed its first spacewalk in 2008. Now, two unmanned spaceships – Shenzhou 8 and Tiangong 1 (known as "The Heavenly Palace")  - belonging to China have managed an automatic docking, more than 200 miles above the earth's surface. It's a big day for China's ambitions, and a move towards it having a manned space station within a decade. The United States of America and Russia are the only other two countries that have accomplished this.  (Russia has also just performed a similar docking trick.) The Washington Post reported that China's ambitions to join the International Space Station were stymied by the US, who suspected its military leanings.
Wu Ping, spokesman for the Chinese space program, said "It's fair to say that aerospace technology is closely linked to the everyday life of the people," quoted on The Washington Post.
Love at first dock. Stephen Clark on Spaceflight Now gave the technical details of the feat: it relied on "radar, laser and optical sensors". It happened at night, to avoid glare from the sun. Both together, the spaceships make a 60 foot vehicle that's 13 feet wide. In not at all sexual terms, the docking system is known as "androgynous" which allows  either spacecraft to be "active or passive." They'll stay together for all ove twelve days, before separating – but don't worry, they'll meet again for another docking on the 14th November – and this time, it'll be in daylight.
Sealed with a kiss. When the spacecraft launched at the end of September, the BBC gave a rundown of Chinese newspaper reactions. Shanghais' Jiefang Daily and Wen Hui Bao described the docking as a "kiss"; whilst People's Daily said China had stepped into the "age of space station" [sic].
Still got some catching up to do. Come on chaps, said The Washington Post took the line that China is now about where America was in the 1960s, when the Gemini program was underway. However, it's going further than the US did with every launch it does.
Let's be friends? It's all about collaboration - The Christian Science Monitor took the view that it boded well for international cooperation over space flight. China's expected to have the world's largest economy by 2030 – which is just when people in America are planning – or at least, envisioning – sending a manned space flight to Mars. It would only cost between $100 billion and $200 billion. On the other hand, it said, quoting Gregory Kulacki, a Chinese analyst, this docking shows that China's equally capable of going it alone.