China doesn't do Christmas so it brings the big guns out during the annual Chinese New Year celebrations, experiencing my first Chinese Spring Festival took me over the borderline and back again! From Hong Kong to Guangzhou via Macau I was on my traveling game as people traveled back home. Taking a road less traveled by 2016's Chinese festivities were next level!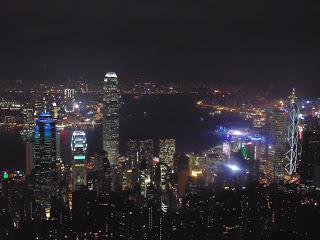 Zooming down from Wuhan on my third China high speed train to Shenzhen, I was beyond excited to be visiting Hong Kong, kicking off my 2016 Chinese Spring Festival holiday. Shenzhen didn't give me the best of vibes but Hong Kong welcomed me without stress, being a former British Overseas Territory I sensed British passports were favoured at that HK border crossing. Reuniting with my best one Kelly at her Lai Chi Kok family flat it was great to have made our promise to each other a reality! No hotel reservations were made for that portion of my Spring Festival trip as her parents had been so gracious to open their home to me. Settling into my Kowloon environment I enjoyed some home-cooked Shepherd's Pie, it tasted so good after living in China for nine months at that point! No VPN was needed, after changing my sim card I was back on the grid but Facebook could be freely accessed! I was living!
Dim Sum was on the menu for breakfast, meeting Kelly's maternal grandparents for a delicious breakfast was lovely, I truly felt part of that Hong Kong breakfast club! Hitting the road with our Octopus travel cards it was onto the next one for me and Kelly, choosing Lantau Island showed us the unpredictability of Hong Kong's weather as the Buddha didn't want to play ball! Skimming over the HK water we found ourselves in the heart of Central, Hong Kong Island's financial district fronted us with all of its concrete and glass! HSBC impressed me with the collapsible HQ and the echoes of the Colonial courthouse served HK's British past. I was loving the colourful HK city trams! Taking to the peak to conclude our random HK day I was blessed with an electrifying view of the world famous 'Victoria Harbour' away from the tourists that next level experience will never leave me! Temple Street Market told us our fortunes and served us some amazing tasting Thai food! Yes, HK is beyond!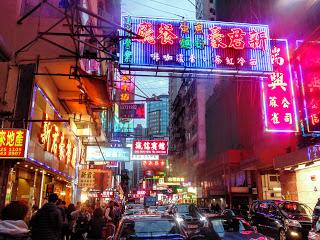 On an independent hype I covered some serious miles during my second official day in Hong Kong! Standing before the staggering skyline of Hong Kong Island from the Kowloon side I watched the choppy waters of Victoria Harbour do its thing! Navigating my back over to that side of HK I found Western Market, dating from the days of Empire that 18th century market was something that I wanted to see, adding to the fusion that is Hong Kong! Ginseng & Bird's Nest Street showcased a sea of health foods and tonics that must have been for good health? A working Hong Kong street nonetheless, I was on to the next sight! Leaving Sheung Wan for the New Territories, seeking something spiritual I found Fung Ying Seen Koon Temple, located with a normal Hong Kong estate surrounding this colourful temple with many tower-blocks it was a contrast for sure. No, it wasn't just the temple that looked gorgeous!
Concluding my second day I headed for Argyle Street, deep within the manic streets of Kowloon it was only a matter of time before the neon signs would be making an appearance, serving a bold impact I was truly mesmirised by that Oriental display! Giving Lantau Island a second chance, myself and Kelly took the coach back up to Ngong Ping Village to see if the weather was going to play ball. Getting my photos secured it felt good to see Lantau's Big Buddha in brighter circumstances, Kelly waited at the bottom of the towering staircase whilst I got the sights captured that I needed. Taking a stroll along the Wisdom Path was lovely, it was so calm and quiet it was strange to think that the daily chaos of city continued just over the mountains. Finishing up at Tai O fishing village I was more than satisfied to see more of Lantau's charm, that sight of normality was truly lovely! Reuniting with Kelly was amazing, teamed with my discoveries I had in HK was a dream come true!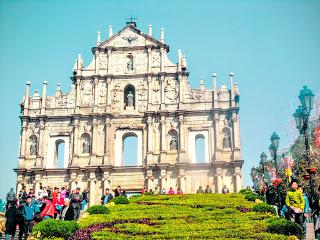 A white knuckle ride it wasn't but the hydrofoil crossing from HK's Tsim Sha Tsui docks had me worried, I don't like sea bound vessels at the best of times so I just wanted to be in Macau. The second of China's Special Administrative Regions I was ready to see a glimpse of its former Portuguese colonial splendour. Another seamless border crossing from Macau's Outer Ferry Terminal I made my way to my hotel, switching on the television to see what I would find shocked me, I found a Portuguese speaking channel that instantly took me back to my New Jersey Ironbound days! The Mainland Chinese tourists had descended upon Macau's Senado Square without hesitation, it looked like they were attempted to buy everything in their paths. Regardless of that I adored the Ruins of St. Paul's too much to care about that absurdity! Seeing Macau's bilingual street signs, I felt like I was almost back in old Europe!
The former days as a Portuguese Overseas Territory had definitely left an imprint on the architecture of Macau, away from its historic center I took some time to see the A-Ma Temple, this modern day SAR got it name from that Macanese temple, something to do with their first encounters with the Portuguese sailors? Making my way back towards Senado Square I walked through some quiet side streets that oozed European Realness, I had to take some time to realize that I was less than a twenty minute drive away from the border with Mainland China! I was feeling hungry for some Portuguese fusion food, trusting a European looking fusion restaurant on Rua da Felicidade was a winner for sure! I loved my life as I devoured my delicious serving of Bacalhau com natas served with fried cheesy bites was a winner, obviously washed down with some authentic Portuguese red wine. Being Chinese New Year I loved the red lanterns that were colorfully serving a festive scene!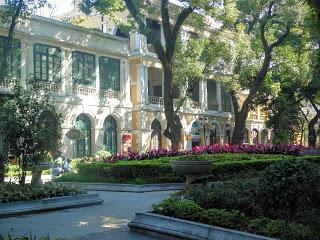 Back over the borderline there was a moment where I thought I wasn't going to make it back over the Chinese border at Zhuhai for some crazy reason! Without a seconds thought I was hurtling towards Guangzhou South Railway Station to experience one of Guangdong's super-sized cities for myself. Taking the first day to familiarise myself with the gargantuan metro system I waited for Chinese New Year's Day to get out and about properly. The Memorial of Dr. Sun Yat Sen was across the road from my hotel, being a special day it was free admission for visitors! Shamian Island showed me a slice of British colonialism alongside the Pearl River, it was a very picturesque sight for sure. Getting my life I stumbled across a side street that represented Old Guangzhou in its rawest form, something that I loved! The Canton also served me some uncomplicated Cantonese dishes for lunch, Cantonese food is ace! Yes!
New Year's Day for me is all about the hangover from the previous Eve but at Guangzhou's Hualin Temple it was a scene of worship and positivity. I had never seen a temple so busy, people were lighting three incense sticks at a time and offering up to the spirits to bless them for the next year, it such a sight of renewal and hope. I threw a few small Chinese notes like other people were doing, I was definitely entitled to the same luck as the rest of those people! Embracing some park life I dashed over to Yuexiu Mountain Park, it showed me more than I had bargained, weaving my way between the crowds I loved it! Guangzhou was proving the haters wrong as I had been told there was much going on in that Guangdong powerhouse! But the highlight of my Guangzhou weekend was my meeting with the Canton Tower, that sleek and sexy towering glamazon served her rainbow rays of neon light! No, I've not yet finished with GZ but I'll leave this Chinese Spring Festival re-up here!
新年快樂!
Joseph Harrison