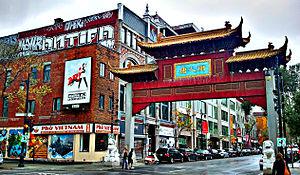 China Town ornate gate, Montreal, Quebec, Canada (Photo credit: Wikipedia)
Going abroad to travel, work, and even migrate is the most chosen options for people who wanted to have a greener pasture. I mean, hey; people will really prefer to become more practical when it comes to financial aspects. And since the need to travel abroad rises, a person's knowledge about the universal language is honestly not enough. Learning the language—or even languages—in the certain place you are planning to go to is a mandate. There really is an edge when you know foreign languages prior to English.
Just as The Chronicle Herald posted; in fairness to the people in Beijing, thousands of people are "trying to write their own ticket out of the country — in French." And for Yin Shanshan, a Chinese commoner who desperately wants to go to Canada, she "discovered a backdoor into Canada that involves applying for entry into the country's francophone province of Quebec". And unless she has good language skills with the local lingo, she cannot really migrate at all.
A large number of Chinese really are interested in migrating. In fact, they are taking every chance they can taker in saying "Bonjour, je m'appelle Zhang." As for Yin Shanshan, she takes it as her priority. She said the French class she takes in the port city of Tianjin near Beijing even includes primers on Quebec's history and its geography, including the names of suburbs around its biggest city, Montreal.
You must have thought that studying foreign language courses such as these out of obligation is tedious. Well, Yin said her French class is a lot of fun. "So far, I can say 'my name is . . . I come from . . . I live at' " and, getting straight to the business of settling down in the province: "I would like to rent a medium-sized, one-bedroom flat. "
Even though China is a growing country and it has an average prosperity so fat, more and more citizens are "rushing to the exits". Most Chinese are looking more to provide themselves and their families' better education. Also, they are also escaping from their country's long-standing problems, including hazardous pollution and contaminated food.
See how people are trying to travel and even migrate to other countries? That is why we are compelling you to learn foreign languages. Besides, this is also for your own advantage. If you are looking for options concerning how to learn French at language school, we will gladly assist you.