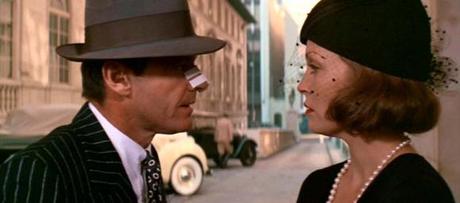 Jake (Jack Nicholson) chatting with Evelyn (Faye Dunaway) in
Chinatown
In the same year that Paramount was touting The Godfather, Part II as a Best Picture Oscar contender, the studio was cognizant enough of its potential to release Polish-born director Roman Polanski's brilliant crime drama Chinatown (1974). With a masterful, Academy Award-winning screenplay by writer Robert Towne (The Last Detail, Shampoo), superb art direction by W. Stewart Campbell (The Right Stuff), and finely detailed production values (Robert Evans is credited as the producer), it took the cinema world by storm. Movie critics fell over themselves with high praise for the venture.
And no wonder: that one-word title alone is enough to tell the tawdry tale of a well-to-do — and well-heeled — private gumshoe named J.J. Gittes (Jake to his "friends"), smartly played by Jack Nicholson (in a star-making role), and his seemingly innocuous involvement with Mrs. Evelyn Mulwray (Faye Dunaway, easily his equal), the wife of Hollis Mulwray (Darrell Zwerling), chief engineer for the Los Angeles Water and Power Department.
After a series of red herrings and blind alley-ways, Jake unwittingly stumbles onto a deadly game of cover-up by underhanded city officials, snot-nosed (and violent) gangster types, trigger-happy country folk, and wise-cracking police officers, all of whom know a whole lot more than they're letting on about the dirty dealings over at Water and Power.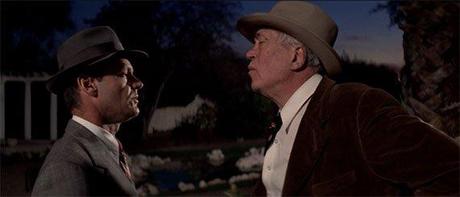 Jake Gittes talking to Noah Cross (John Huston)
As the fabulously wealthy Noah Cross casually informs Mr. Gittes, "You may think you know what you're dealing with, but, believe me, you don't." Truer words were never spoken. Cross is played by a smarmy but outlandishly entertaining John Huston (The Maltese Falcon, Key Largo), who is outstanding in a secondary role. Nicholson looks simply smashing in his immaculately tailored suits, wide-brimmed hats, and silk bathrobe (the film's costume designs were by Anthea Sylbert, an Oscar nominee).
And so is that snazzy roadster, too, but the fashionable getups and vehicles are all for show. Indeed, that's the dirty little secret of Chinatown: despite the obvious finery and ostentatious trappings of the rich and famous, the filth begins to pile up fast — to be honest, a little too fast for poor Jake to keep up with. After one too many revelations, the most startling of which will catch most viewers off guard, his carefully calculated world comes crashing down around him. Jake finds himself at sea in a hum-zinger of an ending, a tragic denouement of monumental (as well as oedipal) proportions.
With their masks lifted and the dirty laundry left hanging for all to see, the characters are revealed as the bizarre grotesques they've now become. It's nihilism writ large, as it were.
Most impressive are the camera angles, which happen to be the work of cinematographer John A. Alonzo (Scarface), who took his cues from Polanski and shot from behind and over Jake's shoulder. The feeling we get is of being dragged against one's will into his unseemly realm, to see for oneself what Jake is about to discover and, hopefully, unravel. We're accomplices — maybe even voyeurs — witnessing the complete disintegration of everything Mr. "Gits" (as Cross calls him) holds dear.
Everything about this classy feature, however, is top drawer, including the dynamite cast. Best of all is Nicholson's Jake, a fellow too smart to get caught with his pants down, but too dumb to prevent it from happening. Dunaway is so gorgeous to look at, and her arguments so compelling and strong, that we're immediately taken in by her conviction — a true femme fatale in every sense of the term, but to her own detriment. Her ultimate fate is hinted at, in one of the many superbly engineered and handled scenes, midway through the drama.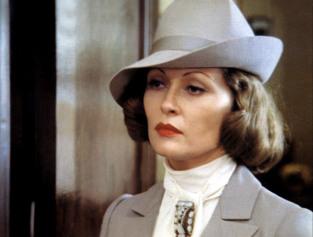 Fashionable Faye Dunaway as Mrs. Evelyn Mulwray
Perry Lopez brings just the right touch of sarcasm mixed with disdain to his role as the harried police inspector Lt. Escobar — always one step ahead of his quarry, but wisely taking two steps back to reflect upon the situation at hand. Another major character is the physical locations themselves, which contribute mightily to the overall sense that something's not right in this part of town (the film was mostly shot in and around the San Francisco Bay area).
Also featuring John Hillerman, Richard Bakalyan, Roy Jensen, Bruce Glover, sweaty Burt Young (Rocky) as Curly, and James Hong, Beulah Quo, Nandu Hinds as Jake's secretary Sophie, young Diane Ladd as the mystery girl, and Joe Mantell as Jake's partner Walsh, who gets to deliver the last word and closing "benediction" on the story's outcome: "Forget it, Jake. It's Chinatown."
Polanksi appears briefly as the nasty little hood that slices Nicholson's nose with a knife. As he goes about this distasteful business, Polanski utters another memorable line: "You are a very nosey fellow, kitty cat. You know what happens to nosey fellows?" OUCH! Indeed, we do.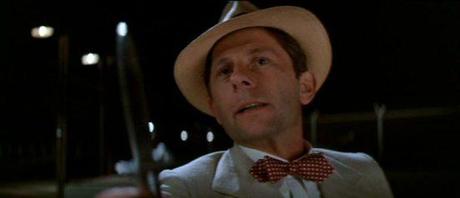 The Little Hood with the Knife (Roman Polanski)
The excellent and spare score is by the late, great Jerry Goldsmith, a gem of a composition that perfectly encapsulates this feature's melancholy noir aspects. The film was cleverly recycled as the basis for Gore Verbinski's animated Rango (2011), which includes a hilariously sinister takeoff on the Noah Cross character as voiced by Ned Beatty.
Copyright © 2015 by Josmar F. Lopes