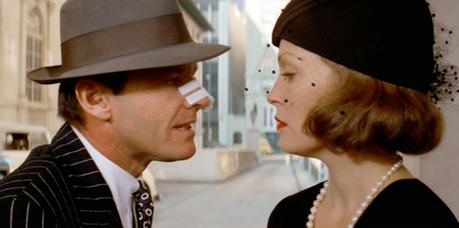 Roman Polanski's Chinatown (1974) is a very '70s film noir, the plot turning on government corruption, corporate greed and personal coverups. Describing it as a noir seems reductive though: Polanski plays beautifully off established genre tropes, creating a unique movie.
Los Angeles P.I. Jake Gittes (Jack Nicholson) accepts a job from Evelyn Mulwray (Diane Ladd) to investigate her husband (Darrell Zwerling), chief engineer for LA's Department of Water and Power. Jake discovers he's been had when the real Mrs. Mulwray (Faye Dunaway) arrives, threatening to sue. Gittes continues his investigation, getting roughed up by DWP goons and receiving a counteroffer from Evelyn's dad, entrepreneur Noah Cross (John Huston). Jake's stumbled across a conspiracy to buy California land and divert its water - but will anyone listen?
Chinatown has classic noir trappings, but Polanski subverts the expected aesthetics. There's no narration, with Robert Towne's laconic script eliding genre-mandated purple prose. More striking is Polanski's elegant direction, completely at odds with noir darkness. Virtually all of Chinatown takes place in broad daylight, John Alonzo's photography exploring elegant homes and beautiful deserts rather than seedy bars and dingy river fronts. Along with Jerry Goldsmith's evocative score, Chinatown evinces a period sparkle clashing with its pulp story.
Shorn of expository narration, Polanski instead focuses on visual storytelling. The opening half-hour features long, nearly-wordless sequences of Jake tracking Mulwray throughout Los Angeles County, scouting locations (dams, riverbeds) that become important. Meanwhile, Towne's script plants innocuous clues ("Bad for grass") that snowball into breakthroughs. Trips to a dam and an orange grove (defended by shotgun-toting Okies) reveal a coverup that casually endangers thousands of lives. But the villains are so well-entrenched that Jake can't win, even by exposing them.
Chinatown's coverups fit within its Watergate milieu: no stunner that "respectable" business leader Noah Cross isn't above-board. Jake is also of his time, a coarse antihero who only does the right thing to avenge personal slights. Still, there's a bite to Chinatown lacking in even the loopiest '70s thrillers. Besides the elegant aesthetics, Polanski laces the film with touches befitting a European art flick, from the elliptical dialog to Evelyn's sordid backstory and downer ending. The difference is Polanski's restraint, letting the tawdriness simmer rather than explode.
Jack Nicholson channels his tics into an intense performance, winning audience approval with his guile and resourcefulness. Faye Dunaway inverts the femme fatale arc, icy hauteur revealing vulnerability: she's the only character with unselfish motives. John Huston nearly steals the movie, relishing his invulnerability. The supporting cast features Perry Lopez as Jake's police pal; Burt Young as a client; Roy Jenson as Cross's goon; James Hong as Evelyn's butler; Polanski himself, giving Jake a nose job.
Any synopsis of Chinatown makes it sound like a pulp potboiler, which isn't fair. This is definitely a movie to be experienced: its class direction and elegant storytelling mark it as a masterwork.