Shanghai hasn't been the only surprise sprung upon me during my time in China, the northern province of Shanxi has served three stellar cities for the win! Surprising me with hanging temples, grottoes and banks with a smattering of shady nightspots, I definitely made those Shanxi moments count! Shanxi served three cities within two weekends with more to boot! Oh, Shan!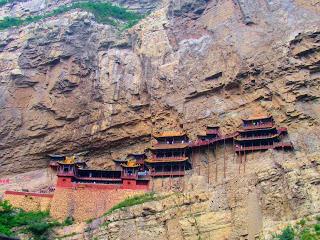 Losing no sleep I arrived into Datong's own airport to be greeted by my China Highlights tour guide and driver. Getting on the road soon after, it wasn't long before we arrived at Datong's 'Hanging Temple'. Steeped in history, built into Hengshan Mountains I was amazed by the state of the temple, some restoration had been carried out. I was more than content with not going up those narrow steps, the view from the bottom was more than spectacular! Dating back to the 5th century, I was impressed with that hanging temple, I needed a nap thats all I knew in that moment! Before lunch it was time to explore the area around Datong's 'Yingxian Wooden Pagoda'. The cold noodles were lovely, I got into my holiday mood with a cheeky Zongzi because it was the weekend of China's Dragon Boat Festival. Fixed together like a jigsaw, the wooden pagoda was once used as a lookout point. Datong had me on my toes for sure, S!
Driving into the city, I had booked myself a nice hotel for the weekend. Making use of the bath had to be done, when there's only a shower at home, it felt like I was in some palatial suite as I soaked in the bath! The area around my hotel was slap bang in the middle of the city, I had some exploring to do. Tracking down the nearest Wal-Mart had to be done, those imports shamed other foreign supermarkets without question! Getting some Australian import cider and some cooked chicken had me set for the night ahead, it was going to be a sedate affair because the early morning departure from Beijing had wiped me out when evening came. Beijing seemed like a million miles away, I always craved noise because Shunyi's so damn quiet! Earlier on I got myself on a rental bike, that gave me the chance to ride around the unassuming city centre, I sensed a lot of development had gone on in that Datong city area! Anyhow, my ex-Holiday Inn hotel was comfy, I was ready for the next day!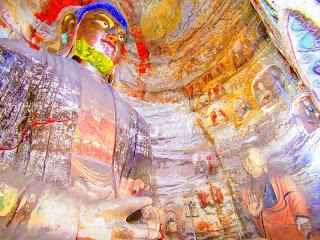 Starbucks breakfast completed, it was time for the second and final day of my tour in Datong City, Shanxi Province. Heading towards the 'Yungang Grottoes' had me excited, the pre-tour photos had me longing to see those vivid colours. The crowds didn't bother me because I had my senses in check, snatching my photos I made it clear to my tour guide that we could move on to the next place. The 'Huayan Temple' was easy breezy, the scorching temperatures kept the crowds away from the temples inner core. Moving on quickly, the 'Nine Dragon Wall' had me transfixed with its blue and golden design! I was schooled good and proper, I found out that China boasts several version of the 'Nine Dragon Wall', the most famous being in Datong. The morning so far had been fully packed with three worthy points of interest. Content but not, I knew that I wanted some more! To the rescue, my tour guide had one more place to show me. Go!
After climbing the short way to the top, I had a boss view overlooking Datong's cityscape from the newly renovated 'Datong City Wall'. My guide informed me that coal had been Datong's primary money maker but when the local government realised that the city boasted a series of show-stopping sights, it changed everything! The city wall was mad quiet, I was loving having that elevated path to myself. Taking it slow, I enjoyed the final part of my tour, the guide had been informative and knew what she was talking about. My weekend in Datong, the capital city within China's Shanxi Province had been fruitful, lots had been discovered and for that I felt that my China Highlights tour had been worth every single penny. Flying back to Beijing had to be done, I needed to complete one more month at work before my Montessori training kicked back in. With Datong done, I needed to see Pingyao and Taiyuan to complete my Shanxi Province trilogy! I wanted the Shanxi surprises to continue!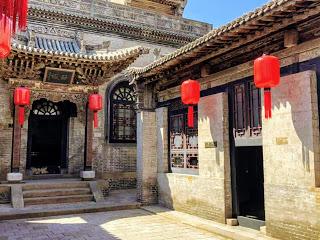 Pingyao called my name in August 2019, I managed to get a cheeky high speed train from Beijing West Railway Station to Taiyuan after work on one Friday night after work. Meeting with my guide and driver early the next morning outside my Taiyuan hotel was seamless, Pingyao's ancient past was at my fingertips! Checking out the famous 'Qiao Family Compound' first, I dodged the gaggle of local tourists to get my photos once again. My enthusiastic guide told me about the class divisions of the former compound. Certain influences from America could be seen through the architecture that influenced the door frames within one courtyard. I appreciated the well preserved and crafted 'Qiao Family Compound', keeping the pace moderate it was time for us to hit the road, the ancient city of Pingyao needed my attention! I was so ready for more Shanxi cold noodles, the hot weather had me appreciating the food! Yes!
Parking up outside the walls of Pingyao's 'Ancient City', it was so easy for us to access the period style pedestrian street. I loved the feel of the 'Ancient City', the cold noodles were waiting for me and with the heat it was a welcome choice. The locally made vinegar made my cold noodles taste so good, loved it I did! After lunch we walked towards the city wall, I lived for the small time chaos as the first bank of China showed itself to me. Before the days of China Merchant Bank and China Construction Bank, Pingyao gave China one of its first fully functioning banks. It was so interesting to see the developments that were made during those early years, the rate of expansion was insane considering the early start the bank had. The bank's history impressed me much, with that gem ticked off my list it was time to see the second of two city walls in Shanxi Province. The views were so different, definitely more authentic compared with Datong's offerings. Yes, that darling temple!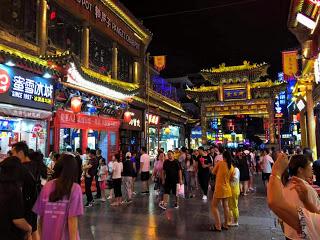 After napping in the car from Pingyao, the time had come to say goodbye to my guide and driver as the car arrived back at my hotel in Taiyuan. I took a short rest in my Yitel hotel room, feeling refreshed I got myself ready for my unplanned night out in Taiyuan. Consulting my go-to social media app, I asked around about the nightlife of a certain kind. The manager from the Pingyao tour company had suggested that I check out 'Mao'er Xiang' to see what foods were on offer. I lived for the lights and energy but didn't entertain any of the food. Opting for a Hui dish, I enjoyed my uncomplicated beef, potatoes and rice. My app consulting had paid off, I had a location to find later on that night by taxi. Feeling thirsty I called upon a drink at 'Joker Homie Pub' after seeing certain reviews on my Dianping app. I enjoyed a few beverages before moving onto the club with no name. I was loving the randomness of the night, T! 
The night took an amazing turn, I got frequented with a new contact for the night. Getting some more beers I found out quickly that the bar was managed by several Trans individuals, I loved the sense of difference because that has to be cherished in certain places on this earth. I made another contact, let's just say it snowballed into something that was very memorable for all the right reasons. Waking up the next day, I didn't feel good but the night had been a roaring success for many reasons. Getting down to the riverside to see the quiet Fen He waters gave me a sense of solitude. I committed myself to getting taxis for the rest of the day, I wanted to continue with my sightseeing before getting the train back to Beijing. I managed to get to the 'Twin Pagoda Temple' for my last point of call, I liked the closed interior garden with the pagodas in view. The previous night had left me feeling 'smashed' and 'spent', it was time to get the train back to Beijing before work.
Serving Shanxi Province!
Joseph Harrison