Despite what many think about China, the Middle Kingdom nation amazed me with three more outstanding cities during 2017. Stepping back in time for only a moment, Lhasa transported me to another world with its heavenly temples and seriously good Tibetan incense. Hangzhou served its effortless West Lake and Nanchang was my super snappy weekender! 现在走吧! Go, go!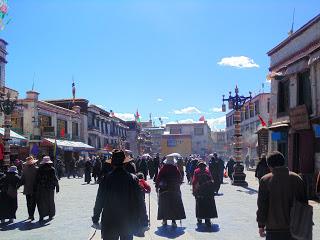 Taking my Lanzhou bound flight only took me half from Wuhan to Lhasa, I then boarded my overnight train to the capital of China's Tibet Autonomous Region, Lhasa. My four days in the world's most heavenly city was amazing, giving me all the right vibes to have me ready for the craziness of my then Hubei city residence. Whilst the temples, monasteries and palaces shone brighter than any star I had ever seen before, it was the electric energy that I felt as my group discovered Barkhor Street in the old side of the city. Paying mind towards the pilgrims it was the done thing to walk in the appropriate direction. I'm not religious but in the moment it was impossible to not feel a spiritual connection with what was going on around me. Up to that 2017 moment I had had the immense opportunity to travel within China but Lhasa had something intangible, Lhasa had its own mystery. I was living for Lhasa!
During my Lhasa trip I did not have any fast food, I kept things Tibetan with my food choices. I had never had any Tibetan food before that Lhasa trip, I first tried some curried potatoes on the first evening in a lovely relaxed tea house. Going further I tried a serving of Bobi, it was like a chapati but I had some stir-fried vegetables and some raita like yoghurt to add to my Lhasa lunch choice. The food was similar to Indian food in one way. Being British I love a good cup of tea, in Lhasa I found several lovely Tibetan tea brews. The yak butter tea tasted so smooth, in the tea houses of Old Lhasa it was such a treat to relax with a few cups of that deliciousness. Away from the show-stopping temples, monasteries and palaces it was effortless to capture a slice of Tibetan culture, I would be reminded of that style when I visited India in December 2018. Lhasa was a place that I won't ever forget, it took me two days to reach it but it was worth every moment! Until next time Tibet. Thanks!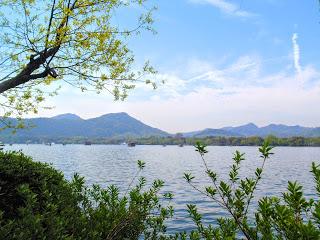 Hangzhou in China's Zhejiang Province allowed to experience a true changing of the season, that weekend trip beckoned the spring time season with such beauty and simplicity. Landing into Hangzhou without any delays, I dropped my bags at my hotel before I could get my sightseeing on! Hitting up the Lingyin Temple had me surrounded amongst some crazy busy scenes, I needed the temple to chill that crazy vibe out and then some! I loved that yellow temple, it was one of the temples that stood out for me because I had seen a fair few at that 2017 point. Taking a few moments after my temple visit I stumbled upon the Feilai Feng Grottoes, I loved that enchanted looking rock formation. I was half expecting to see a few fairies flutter about the grottoes because they possessed a mystical quality. With just enough time I made it to the light-show at Hangzhou's Wulin Square, my first day in Zhejiang was ace!
Bright and early the next day it was time for my China Highlights trip to experience Hanghzou's best bits. Hitting up West Lake definitely put the cat amongst the pigeons, after taking a short boat trip to the middle of the lake it was time see the view that would set my trip on fire! Living for the view that overlooked the 'Three Ponds Mirroring The Moon' allowed me to see another money shot from the Chinese RMB notes. Moving onto Chenghuang Pavilion gave me another effortless view over Hangzhou's beautiful cityscape. The local light snacks were just enough, I loved that pavilion. The final part of the day allowed me to pick my very own tea leaves within a famous tea plantation! Going back to the owners house allowed me to see the true way that tea is brewed and poured, she told me that I poured like a woman! No shame! Who would have known that I would be making another kind of move back to Zhejiang a few years after that lush weekend trip! No, I definitely didn't know!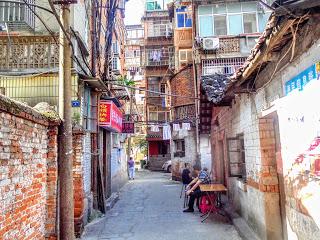 Taking the night train after school one Friday evening allowed me to execute my 'Nanchang Weekender!' Before my China hiatus would begin I wanted to visit as many provincial capitals within China's southern central region before Beijing became my new China home. Arriving into Nanchang before the strike of midnight allowed me to see the city center at its quietest. Heading out early on the next morning I found myself at the Pavilion of Prince Teng, the metro helped me out for that part. Taking a bus from that city center location I grabbed some lunch at a local non-assuming restaurant, it was nice to be in a calmer place, Wuhan had me crazy with its nonstop pace and crowds! Scanning a bike I peddled the short distance to find the Qingshan Lake and Park, the metro line wasn't in operation at that point so I had to get inventive. The quietness of the lake and park was great! I wanted noise! To the square!
The focal point of Nanchang's city center didn't look like the square I had imagined that I would get to see that summer weekend! Nanchang's famous 'August 1st Square' (八一广场) was in the midst of a huge rejuvenation project, I snapped my photo from a distance with the traffic in the forefront whilst the square sat nicely in the background, it was utter chaos but I loved it! Stumbling across an alley way that looked mad old, I found some seriously old residential buildings that dated back to the Qing Dynasty as far back as 150 years previous to that 2017 moment. A local man asked me in English if I wanted to see one of the courtyards because he wasn't sure why I was in the alley, I explained that I was curious and he thought that was great! Xiaotaohua Alley looked amazing! Enjoying some local noodles was the right thing to do, I didn't pay McDonalds any mind! Ending my night with a Russian ice cream before going back to my hotel felt right! It was a great unplanned weekend!
三个中国城市
Joseph Harrison