Since I started off my chilli growing season last month it's been relatively quiet but rather interesting.
Of the 49 seeds sown in last month's post only 14 seeds germinated, then I lost 2 more to wilting which left me with just 12 plants.  Having sown the seeds correctly (as far as I believe), and kept them to temperature I'm beginning to think that of all the seeds I ever sow, chillies have the lowest germination rates.
The second batch of 49 seeds sown have produced a slightly higher germination rate (currently 24 have germinated).  Although I used compost on this set to sow with.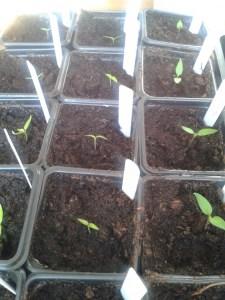 The second set consisted of 7 varieties each with 7 seeds sown:
Aji Crystal
Trinity
Mushroom Yellow
McMahons Texas Bird
Naga Jolokia
7 Pot Yellow
Paper Lantern
Of the 24 that germinated I ended up potting 16 of the stronger plants.
Unfortunately none of the new seed chillies (McMahons and Mushroom) germinated.
Having done some further research on growing methods I've made growing matters more complicated by putting chinense seeds with annums.  The difference in germination lengths and heat requirements isn't helping me get better germination rates.
See, I've learnt even more new things about chillies without even realising!  It's good stuff.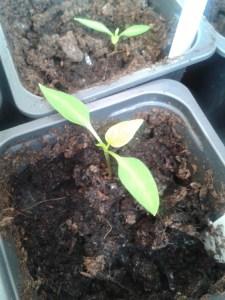 So, now I shall be doing my third batch of chilli seeds mindful of my latest experience.
First off I shall be needing a thermometer, preferably a soil thermometer to check the actual temperature that the propagator is able to give.  If it's anything less than 28-30 C required for chinese varieties then I'm going to have to get rather creative and start insulating the base of the propagator to help increase soil temperatures as spending out on a more expensive propagator is out of the question at the moment, especially as this one does work (for some seeds).
Secondly I need to grow the same varieties at the same time.
Thirdly I need to do this quickly because I'm wasting vital and expensive seed not having paid attention to growing techniques.
I think I've said this in he past but by holding off any sowings until end of Feb/beginning of March does make a huge difference to germination rates, for me, just because the room temperatures are simply more stable as longer length of daylight add to the overall mechanisms by which germination can take place.
I say it every year and yet there I am sowing at the beginning of Feb because I'm too impatient!  So either I buy the necessary equipment that allows germination to take place in January (not really an option because looking at the equipment it would cost a small fortune), or I wait!
It probably sounds like I'm telling myself off and indeed I am – knowledge is key when it comes to chillies and I'm not adhering to it so I'm loosing potential plants and time at this rate.
Anyway, the good news is, the thermometer came earlier this week and just yesterday I got sowing my third and final set of chilli seeds.  Wish me luck

What varieties are you growing this year?  Are you more into the hot 10 or the heirloom varieties?