On a month long vacation and while downloading vacation photos found a few photos which I should have posted before taking off…but the lazy me forgot
L
…
sooo, doing so now
…
the first one of the lot is Chili Fish
…
quick fix, spicy and tangy snack or side dish with a typical Indo-Chinese meal
…
enjoy
…
will try and post more as and when I can
…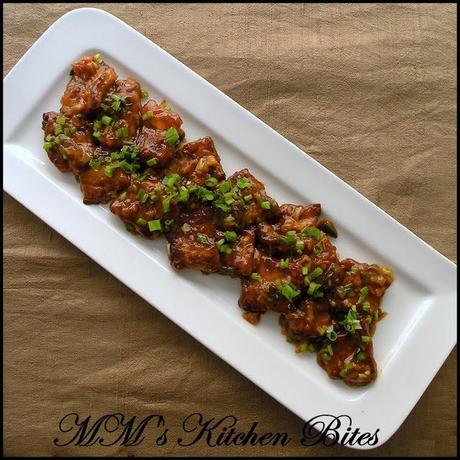 Chili Fish
Ingredients:
Fish, boneless fillets, 250gms (I used Sole; you can use any firm white fish)

Oil, 1 tbsp
For the marinade:
Corn starch, 1 heaped tbsp

Dark Soy sauce, 1 tbsp

Pepper, ½ tsp
For the sauce:
Spring onions/Scallions, white bulb and green tops finely chopped separately, 4

Fresh ginger, finely chopped, 1 tbsp

Garlic, finely chopped, 1 tbsp

Green chilies, finely chopped, 2-3 according to taste

Light Soy sauce, 2 tbsp

Tomato ketchup, 3 tbsp

Red Chili sauce, 1 tbsp

Corn starch, 1 tsp mixed in Cold Water, 1/3 cup

Oil, 1 tbsp
Instructions:
Clean and wash the fish fillets. Pat dry and cut into small pieces.
Add them to a bowl with all ingredients mentioned under marinade. Ensure all fish pieces get coated with the marinade mix. Let it rest for about half an hour.
Over medium high heat, heat 1 tbsp oil in a fry pan. In a single layer, shallow fry the fish pieces till golden brown on both sides. Drain and transfer to a serving plate.
Start with the sauce
…
In the same pan, add 1 tbsp oil.
When the pan is nice and hot, toss in the ginger, garlic and green chilies. After about 15-20 seconds, add in the finely chopped white portion of the scallions. Sauté till they go soft.
Add the light soy sauce, tomato ketchup and red chili sauce. Mix well.
Add in the cornstarch mixed with water to the pan. Stir well and let it come to a boil.
Switch off the heat and toss in the fish. Mix well but with a very light hand so that the fish gets coated with the sauce but doesn't break.
Serve immediately topped with finely chopped green portion of the scallions.
Notes:
If you want the fish to be super crispy, make a thick batter with half corn starch and half maida/regular flour, a pinch of baking powder, soy sauce and chilled water. Dip the fish fillets in it and deep fry in hot oil. Pour the sauce over the batter fried fish just before serving.