Chili Chicken
…
I think of Chinese food in India and this is the first dish that pops into my head
…
I try and think of other fancier stuff but the image refuses to go away
…
Does it happen with you as well
?
Or am I one of those 'special' ones
??
J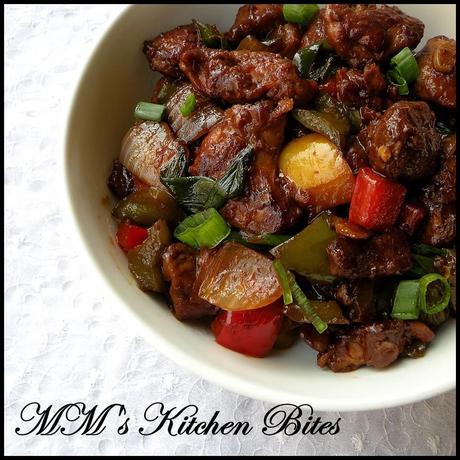 Chili Chicken
Ingredients:
Chicken thighs, boneless and skinless, 300 gms

Garlic, 6-7 cloves

Green Chilies, 3-4

Onions, quartered and petals separated, 2 medium

Coloured Bell Peppers, cut into bite size pieces, 1 cup (optional)

Spring/Green Onions/Scallions, only the green portion, chopped into inch long pieces, 2-3 (optional)

Dark Soy Sauce, 2 tbsp (adjust according to the brand you use)

Chili sauce, 1 tbsp (you can use green chili sauce or

red chili sauce or

Sriracha sauce, adjust according to taste)

Oil, 2 tbsp + 2 tbsp

Spring/Green Onions/Scallions, only the green portion, finely chopped, for garnishing, 1

Salt, only if needed, to taste
For marinade:
Corn Starch, 2 tbsp

Dark Soy sauce, 2 tbsp

Ginger paste, 1 tsp

Garlic paste, 1 tsp
Instructions: 
Wash and clean the chicken. Remove all the extra fat and cut into bite sized pieces.
Marinate the chicken with corn starch, soy sauce, ginger paste and garlic paste for about half an hour to overnight. If you are marinating overnight, get the chicken back to room temperature before you start cooking.
You can finely chop the garlic and green chilies. I like to pound them lightly just to break them up lightly in a mortar pestle or with the back of a knife.
Heat a large wok or frying pan over high heat. Heat 2 tbsp oil and add in the chicken. Toss the chicken around and keep turning the pieces so that they cook evenly. The chicken would be done in about 5-6 minutes. Lower the heat take the chicken out and keep aside.
Get the heat back to high (and keep it there) and add in the remaining 2 tbsp oil.
Add in the garlic and half of the green chilies. Be careful as this could splutter.
Once the garlic starts to change colour, add in the sauces and mix around.
Toss in the onions and let them cook till they soften up. Add in the bell peppers and toss around for a minute or two.
Add in the chicken and the remaining green chilies. Toss and mix everything well together so that the chicken absorbs the sauces. Add in the long spring onions and switch off the heat. Again toss around so that the greens also get coated and go soft in the residual heat.
Serve immediately, garnished with finely chopped spring onions.
(You can have it as snacks or as part of a meal. I served it with Ginger Fried Rice – recipe here)
Notes:
You can use chicken breast as well, cut into long strips or even small pieces of chicken on the bone (on the bone is how this dish was originally

 made)
Adding colured peppers is again not how it was done originally- only onions. The fancier versions additionally had only capsicum added in with onions.