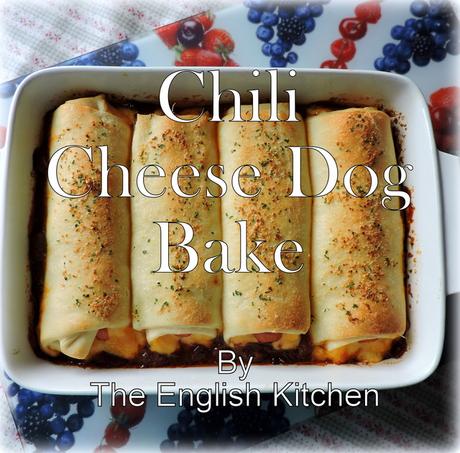 I love hotdogs.  I know they are not exactly gourmet food, and I know that they are a bit garbagy junk foody with what goes into them.  I don't care what goes into them.  I like them.  They taste good to me, and they have their place in my kitchen, as a once in a while treat. When I was a child we often had hotdogs for supper on Friday nights and my mom made the best hot dogs on the planet.  People used to vie for an invitation to dinner on hotdog night, no word of a lie!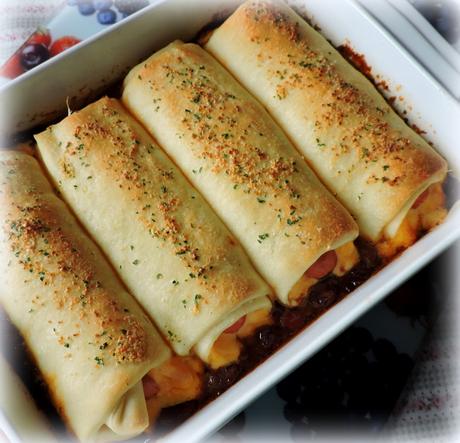 She used to use a grill that had removable plats which were a waffle maker on one side and a grill on the other. She would spread the buns with butter and toast them in the grill until they were crisp and golden brown on the insides and then she would split the frankfurters almost all the way through and fold them open like a book and grill them until they were golden on both sides also.  Nothing ever tasted as good as those hotdogs.  Just the thought of them makes me hungry.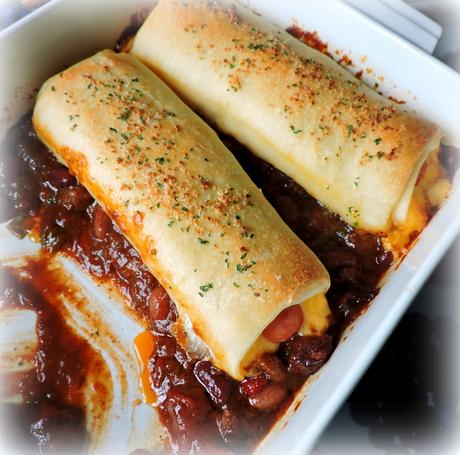 I have a great fondness for chili dogs also, which is why when I saw this delicious casserole on Pinterest I knew I just had to make it.  Chili Cheese Dog Bake.  What sounds bad about that!  Nothing, I tell you!  NOTHING!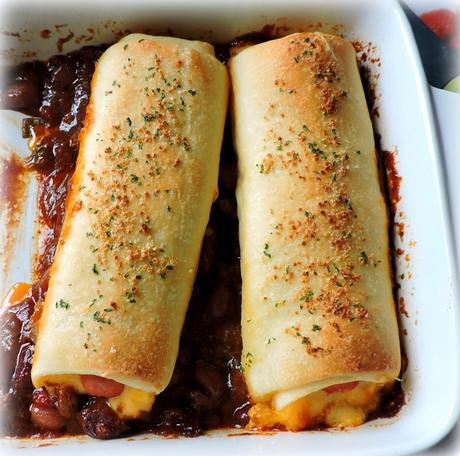 The ones I saw on Pinterest were attributed to My Incredible Recipes.   i have actually seen it on several food blogs, but I believe that the Original recipe however is from Pillsbury, and uses their products. We don't have pillsbury products over here.  We have Ready Roll, which do croissant rolls, whichare similar but not quite the same.  I think they do a pizza crust also, or at least they used to.  I haven't seen it for quite a while.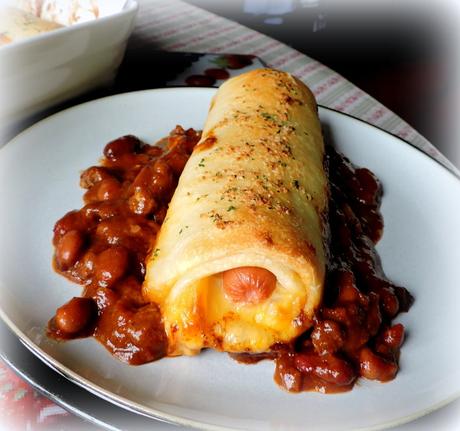 In any case this is delicious.   I used two cans of chili for the base.  One can seemed a bit stingy for four people.   If you are going to do a chili dog, have some chili there for crying out loud!  So two tins of chili work well.  Or you could use your own homemade chili which would be even better.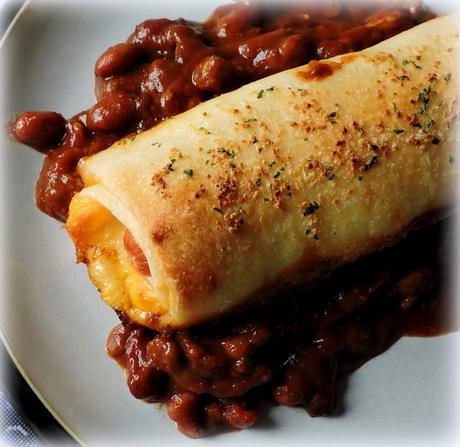 I used Gino De'Campo refrigerated pizza base, which was just the right amount for four chili dogs . . .  and cheddar cheese strings.   It all worked very well and this was very delicious indeed!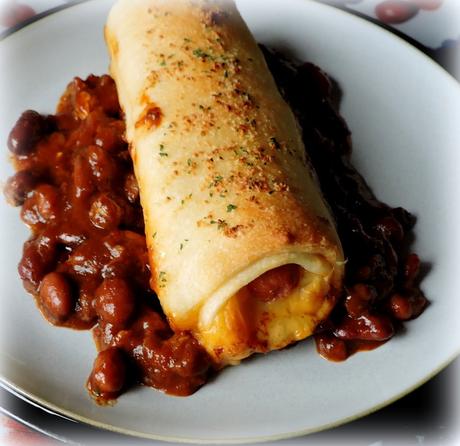 It makes exactly four Chili Cheese Dogs, but trust me when I say that one of these is very filling and I cannot imagine anyone being able eat two, especially if you have salad or chips on the side.  We both thought these were delicious!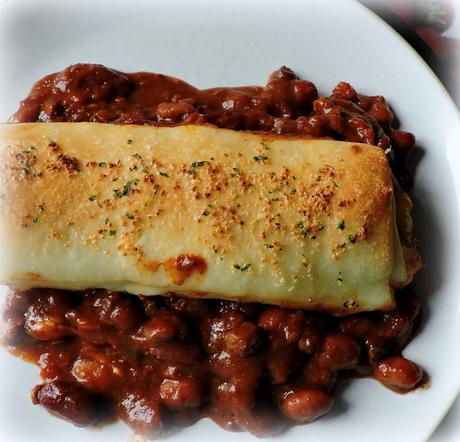 *Chili Cheese Dog Bake*Serves 4Printable Recipe  
This is a delicious recipe which I adapted from My Incredible Recipes who borrowed it from Pillsbury.  It was really yummy and I think would be a great family pleaser!  
4 smoked frankfurters (I used Herta)(You can freeze any leftover frankfurters for another time)5 string cheese (cheddar)1 can of refrigerated pizza dough(I used Gino DeCampo, 400g family pizza base, whichcut perfectly into 4 rectangles.)2 (400g tins) of chili con carne (2 14-ounce tins)2 TBS butter, melted1/4 tsp garlic powder1/4 tsp onion powder1 tsp parsley flakes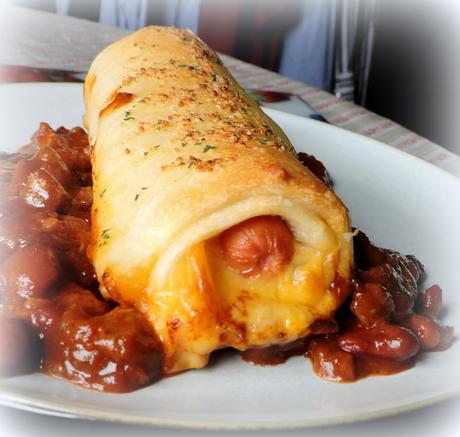 Preheat the oven to 190*C/375*F/ gas mark 5.  Butter a 6 by 10 inch baking dish or lightly spray with low fat cooking spray.  Spread the chilli out into the dish evenly.  Unroll the pizza dough and cut into 4 equal sized rectangles.  Cut the string cheeses in half lengthwise.  The fifth one will be used to make up the length of the hotdogs in the four main ones, so cut it again cross wise into 4 bits, divided in half)  Lay a  frankfurter at one short edge of each rectangle with 1/2 slice of cheese string placed on either side of it, plus one fourth of the fifth one to make up the length.  (If your hotdogs are short you may not need a fifth one.)  Roll up beginning at the hotdog side, to cover the hot dog and place on top of the chili in the baking dish, seam side down.  Mix together the melted butter, garlic and onion powders and parsley flakes.  Brush evenly over top of the rolls.  Bake in the preheated oven for 20 to 25 minutes until the dough is well risen, the chili is bubbling and the rolls are golden brown.  Enjoy!
Note - The original recipe only called for one tin of chili.  I felt that it needed more and so I have used two tins.  Even better, use leftover homemade chili.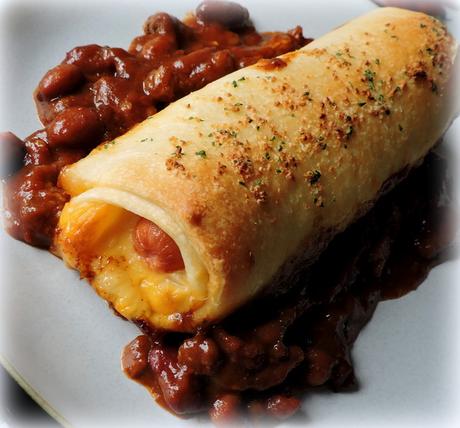 I do hope you will make this.  It is a real family pleaser,  I guarantee and the perfect way to end the month!  Bon Appetit!