Behold, children are a heritage from the LORD, the fruit of the womb a reward. (Psalm 127:3)
Children are a blessing and the verse above refers to children born to biological parents.
Many verses speak about children. The Bible makes it equally clear that all children (especially orphans) are to be regarded as vulnerable and to treat them kindly. Jesus holds them in high regard. They are to be trained up in the way they should go. They should not be provoked. They should be unhindered in their approach to God and His laws. They are to be protected else a millstone hung around the neck of one who causes them to stumble. They are a crown to the aged and streets full of happy children playing are a sign of God's favor. They are an answer to prayer. Orphans ("the fatherless") are objects of care and concern.
With all the attention given children, we know that the Lord cares for them. In thinking of kids, we often restrict ourselves to thinking of the family. I propose that anyone who works with children has a God-given privilege to adhere to the Bible's verses regarding them, as well. The children are a heritage for the parents, but also for the teacher, the foster mother, the nanny, the social worker, the nursery school administrator, the playground monitor. Each and every child is a gift from the Lord, to each person the Lord has assigned to watch over them.
Then Esau looked up and saw the women and children. "Who are these with you?" he asked. Jacob answered, "They are the children God has graciously given your servant." (Genesis 33:5).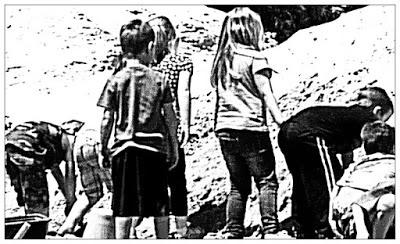 Children are a gracious gift, If you work with children in any way, you are blessed.