It's still childhood cancer awareness month. We're still fighting cancer. If you don't follow me on Facebook, you may have missed that my last organization to highlight this month was St. Baldrick's. They contacted me and asked me to do a piece for their blog for childhood cancer awareness month, and I happily obliged. You can read it, and learn more about this amazing organization, here.
Today I'm highlighting another of my favorites, the American Childhood Cancer Organization. By now, you're probably aware that the federal government gives a whopping 1% of the cancer research funding to children. I still can't wrap my head around that one.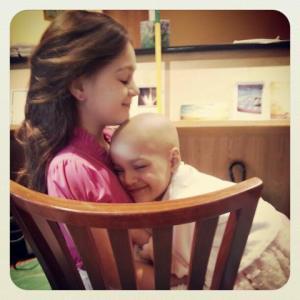 Still my favorite picture. We're fighting to change the face of childhood cancer.
That's why it takes families like ours, and groups like the ones I've been talking about, to really impact childhood cancer. The ACCO has one mission: to change the face of childhood cancer treatment. To refuse to say, "80% is good enough." When 1 out of every 5 children dies, that is most certainly not good enough.
They're coming at this silent monster from every side: raising awareness, raising funds for research, and advocating for legislation that won't leave our children on the back burner.
One of their big fundraisers – which we are hoping to do in Punkin and Goo's school this year – is PJammin, a pajama day where kids and grown ups pay $1 (or more if they wish), to wear pajamas to school. You can do this fundraiser anywhere – businesses, churches, schools, etc. It's fun, easy, and not only raises money for pediatric cancer research, but helps give us an opportunity to share about pediatric cancer.
There is so much more to it than many people – previously, myself included – realize.
This week we had to stay at the hospital longer than expected. Why? Because Goo had a cold. When you hear "cancer," most people know about chemo and radiation. They don't know that every time your child's temperature hits 100.3*F, you have to go to the emergency room, where needles will be inserted into the port in your child's chest, blood samples (and nasal swabs, and urine samples) taken, and mass amounts of antibiotic will course through their veins. If their blood counts are okay, you may be allowed to go home, and come back the next day for more mega-antibiotic. If they're low, you're not going anywhere. This happens every. single. time. they get a fever. It's scary, and traumatizing, and unbelievably exhausting. (Because we all know that the only time a child can possibly spike a fever is in the middle of the night). It wreaks havoc on the other kids left at home, and your little hero. Cancer is a big fat jerk.
Organizations like ACCO need to work because while treatment is getting better, no new drugs have emerged in 20 years. Twenty years of struggling with "cures" that can lead to lifelong infertility, brain damage, and secondary cancers. Call me crazy, but if your cancer treatment causes cancer, 1% isn't cutting it. .
So click over to ACCO. Have a pajama day. And raise some awareness – and research funds – for childhood cancer.
We need it.