Who we are as children can shape the person we grow up to be, I believe that my childhood was fabulous! Correction, I was destined to be fabulous! From my diva demands to my Spice Girl loving early days I certainly wasn't a Wannabe because I shall always be the real thing! Child! You better recognise!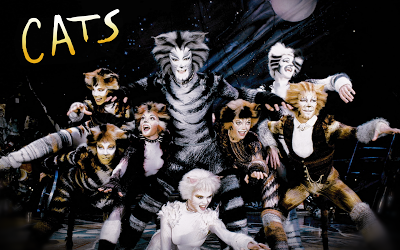 I wasn't your average little boy because their are things that were unique for the average boy. From a very young age I had an obsession with Musicals, I lived in London until I was five years old so I had my fair share of days at the theater. I had my favorite shows which I simply had to see over and over again  I loved CATS, my favorite characters would have to be Mr. Mistoffelees and also Grizabella who I believe was played by Elaine Page. It just wasn't the Jellicle cats that caught my eye I loved the rollerskating musical extravaganza that was Starlight Express, I vividly remember running around the living room at my Nan's house pretending to be Pearl and Dinah! I must of seen that show at least four times along with a more recent viewing of the 3D version, which I didn't care for compared to the original show I saw in the 90's. I did also love Joseph and The Technicolour Dreamcoat, If I remember correctly it was Jason Donovan that played Joseph the time I saw this musical. Who knew that one day I would take to the stage at the Grand Theatre, Wolverhampton for Kuumba Arts Movement's debut performance of Hats Off: The Musical well some years later from attending my first theater shows. I still love a good musical, the last show I saw was Hairspray: The Musical at Birmingham's Hippodrome Theatre in June of this year. 

I was the boy that always dragged my feet whenever I saw the Barbie aisle at Toy 'R' Us but I never ever got one! I suppose it still baffles me at twenty two years of age why I was allowed to have a play-set Kitchen from Argos but never a doll! I guess I must not be resentful for that absence of a Barbie doll because I look at them now and think she's a bit of a basic! I do remember having a few Action Men figures, especially one that came with its own snowmobile I don't which one would of been worse to not have really? Back to my Kitchen play set, which by the way I loved and I remember the fuss that went around my Mum going to Argos to buy it for me. Surely by this time the alarm bells should of been ringing loud and clear?! I say that all of my favorite toys from my childhood did no harm but planted a seed for the not to distant future. It was written in the stars that I could become a formidable and fabulous housewife as my days making pretend chicken at my Kitchen play set will definitely come in handy! As for my other favorite childhood toys I'll let you're imagination put two and two together, can you guess? Wasn't I one fabulous little boy?! The signs were surely there from a young age! 
Did you ever have a favorite toy from you're childhood? I must admit that I did like Hot Wheels cars but I was a mad one for trains and planes! I absolutely adored Thomas The Tank Engine and through my young years I acquired an impressive collection of train figures that would probably fetch a good amount of money, but who wants to cash in on their childhood memories? I certainly do not want to do such a thing!  
Music played a large part of my fabulous childhood for I loved a select few of pop groups! I'll begin with my ultimate favourite, I loved the Spice Girls so much I dragged my Mum to the cinema to see their film Spiceworld: The Movie! I can remember us being two of the five people that were in the whole cinema but I loved every second of this film and I must only been aged seven at the time. I played the Spice Girls PlayStation One game and got to the final level each time! I must admit that I even had the Spice Girls Chupa Chups collection tin, if that's not a sign that I was an avid fan then I don't know what to think of my Spice obsession?!
It wasn't just the Spice Girls that I loved for I had a whole array of pop music favourites from the late 90's to the early 00's. Steps were my second favorite group, I went to see them in concert in Birmingham and loved every second of their show! I remember a certain song from 1996's Eurovision Song Contest that I was throwing some shapes to this March at the Camel Club in Huddersfield, it's got to be Gina G's 'Ooh Ah ... Just A Little Bit' I just can't help myself! 'Saturday Night' by Whigfield has to be another favorite as I can remember many time dancing to this song when it would feature on the radio or television when I was younger. To make up for my lack of a Barbie doll I loved and still love Aqua's 'Barbie Girl' its just plastic fantastic! My final music confession must be the Irish pop band B*Witched, this pop quartet burst onto the music scene with their debut single 'C'est La Vie' which to this day reminds me of St. Patrick's Day, well I have to remember the day somehow! I loved B*Witched so much I got my auntie to take me to see them in-concert in Manchester, what a interesting journey that fared to be!
Don't Be Bitter If You Never Got A Barbie Doll!
Joseph Harrison