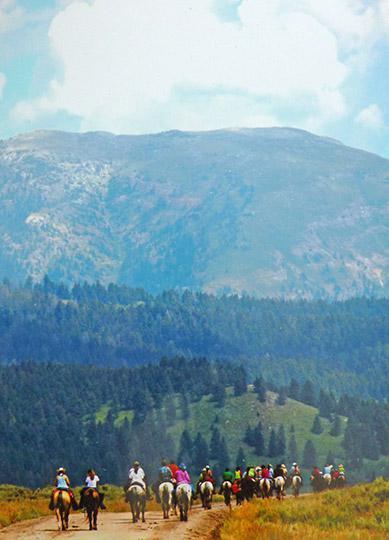 Into the wild...
"Next year? Next year...?"
People kept asking as we all ~ wistfully ~ said good-bye.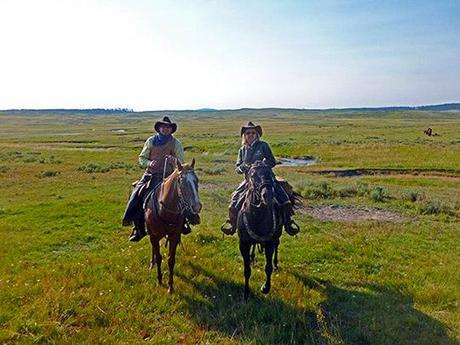 Yours Truly riding my horse, Sable, with Kirk and Snuffy.
This was a reunion, of sorts. 175 lovers of spotted horses converged on Yellowstone National Park for the annual Chief Joseph Trail Ride. The only horses allowed on this ride are registered American Appaloosas.*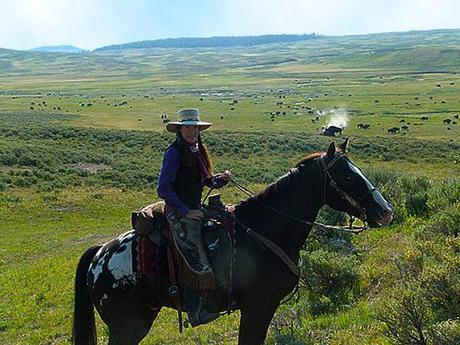 Janet and Phantom posing in front of the giant buffalo herd.
For the first time, in 26 years, and probably the last time, ever, the National Park Service invited us to ride through Yellowstone's stunning back country, along the historic Nez Perce Trail. Where we encountered a 500+ herd of wild buffalo.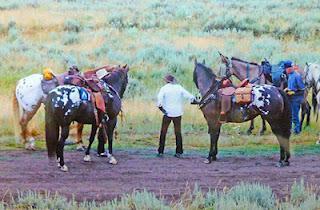 I always put my hands on my hips when I haven't the faintest idea what I'm doing. Gives folks the impression I do! :)
What an amazing experience! Had to giggle a bit when we came back out on the busy road and saw tourists gleefully photographing one lonesome buffalo. I didn't have the heart to tell them what they were missing.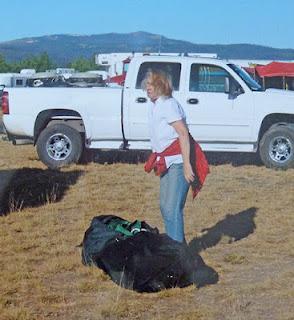 Seriously? You don't have a valet to carry this bag?
I didn't photograph buffalo at all, because I don't care about them. I think the National Park Service should invite Wild Mustangs to graze on these hallowed grounds.
Wouldn't that be a sight to behold?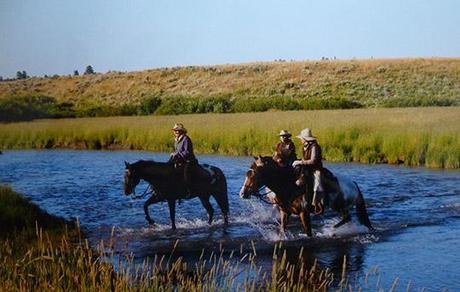 Me, again, early morning water crossing. I had no idea 4 a.m. existed until this trail ride.
It was not an easy ride. They never are. We cover 100 miles in 5 short days along the historic route traveled by the Nez Perce Native American tribe.
Of course, no one bothered to tell me, or Janet, that we had to be fed, packed, saddled and ready before the sun came up. (If they had, it's doubtful we'd have gone!)
Wild Fireweed
I'm not very good at photographing people. I spent my long days in the saddle capturing Yellowstone's amazing wildflowers.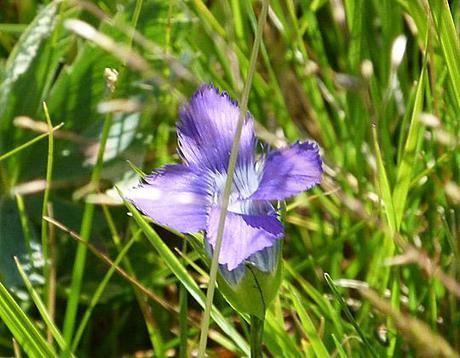 Wild Gentian
And, here's a whole bunch more!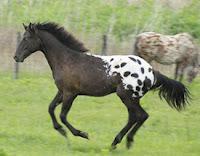 * It takes 13 years to complete the Chief Joseph Trail Ride, spanning western wilderness from Oregon to 40 miles shy of the Canadian Border, where this group was forced to surrender to the US Calvary.
** The Nez Perce Native American tribe bred these stunning spotted horses for agility and endurance. Read more on their history.