Blogging Marathon# 26: Week 2/ Day 1
Theme: Soups & Salads
Dish: Protein Based - Chickpea Salad
We are onto our 2nd week of
marathon
for this month. My theme for this week is "Soups & Salads" and to add interest and make the theme a little more challenging, Valli wants us to make soups & salads that use one star ingredient for each dish. Today's dish has a "Chickpeas" as the star protein rich ingredient. I picked this theme because with my husband traveling on business for the past couple weeks I've been cooking for just myself. Salads fit right in since making a single serving salad is much easier than cooking something.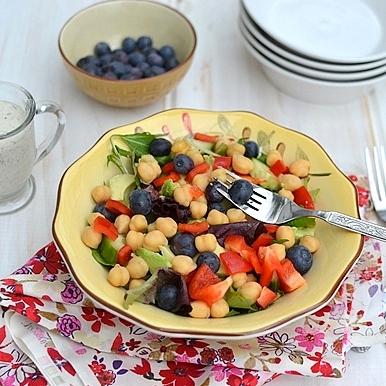 This salad is full of fresh crunchy vegetables and fruits and the dressing is yogurt & tahini (ground sesame paste) based. I love adding sweetness to my salads in the form of fresh or dry fruits. Blueberries, sliced strawberries, chopped apples, pears, grapes are great in salads and so are dried cranberries, raisins and other not too sweet dry fruits.
Tahini is one of my favorite ingredients, I love the nuttiness and the creaminess it imparts to any dish. So when I saw this
Tahini Buttermilk dressing recipe
from Kalyn's Kitchen, I pinned it right away to try it soon. I used nice thick greek yogurt instead of buttermilk since I didn't have buttermilk on hand. I guess the dressing will be tangy with buttermilk, but I liked the creaminess that Greek yogurt gave to the dressing. Dressing also uses some
Sumac
, a middle eastern version of Indian aamchoor (dry mango powder). I was lucky that one of my dear Turkish friend bought me some Sumac from a turkish grocery.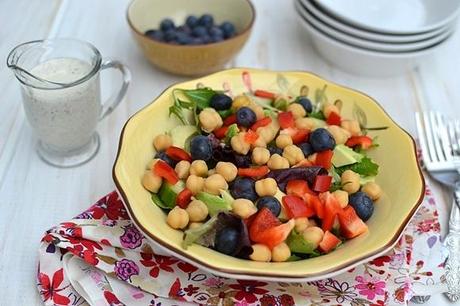 Ingredients
:
For the Salad
:
Chickpeas - 1 cup cooked (I used half of a 16oz. can, rinsed and drained)
Cucumber - ¼cup, diced
Red Pepper - ¼cup, diced
Blueberries - ¼cup
Avocado - half of a medium fruit, diced
Mixed greens - 2cups
For the Dressing
:
Greek Yogurt - 3tbsp
Extra virgin Olive oil - 2tbsp
Tahini - 2tbsp
Lemon juice - 2tbsp
Red wine vinegar -1tsp
Sumac - 1tsp
Dried Mint - 1tsp
Garlic - 1 clove minced
Salt and Pepper - to taste
Method
:
Make the Dressing: Mix all the ingredients in a small bowl. Add 1-2tbsp water to get the desired consistency. Recipe makes quite a bit of dressing and it tastes great on falafel or with any middle eastern inspired dishes.
Make the Salad: Toss all the ingredients gently and top with the creamy dressing. Enjoy!!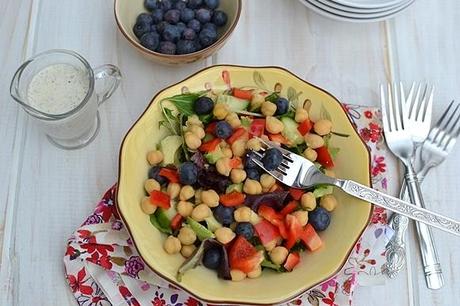 Lets check out what my fellow marathoners have cooked up today for
BM# 26
.