This post may contain affiliate links. Please read my disclosure.
This quick and easy Chickpea, Tomato and Feta Salad is kid friendly, vegetarian and gluten-free. It's the perfect healthy side dish for a picnic, potluck or just a quick weeknight dinner!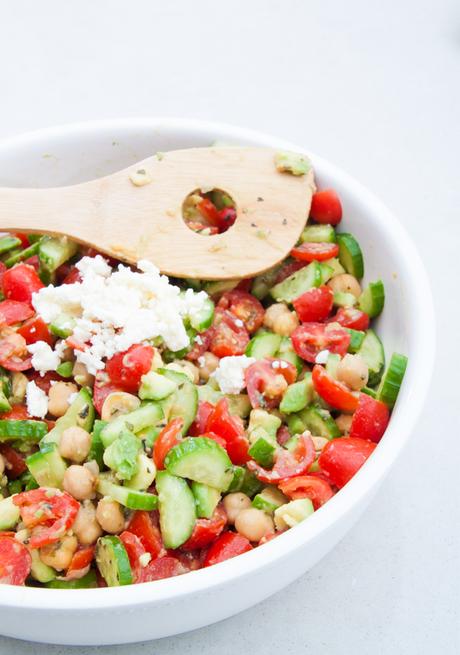 We've been doing a lot of picnic-ing these days. The weather has been absolutely perfect for it: warm, sunny, with a light breeze but not too hot or humid! It also helps that the parks around our neighborhood have tons of nice shady picnic spots, and eating outside with kids means less mess to clean up!
And of course, since I'm obsessed with salads this summer, what else would I make for a picnic other than... a salad? 🙂
How to make Chickpea, Tomato, and Feta Salad
This recipe is super simple. It's full of fresh veggies, summer tomatoes, chickpeas, feta and spices. No cooking required: just chop your veggies, toss and serve. It's even better a few hours later once the salad has had a chance to marinate in the dressing a bit!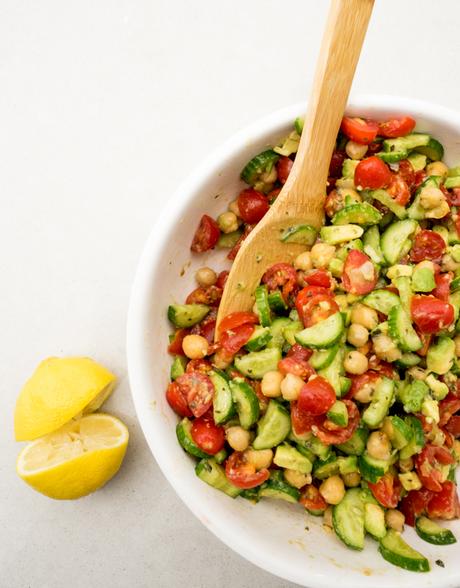 How to serve this Chickpea, Tomato, and Feta Salad
You can use this salad in so many different ways:
What makes this salad healthy?
Serve it over mixed greens for lunch
Stir in a cup of cooked quinoa for a more hearty dish
Use it as a filling for a pita or a wrap (which is also a great way to use up the leftovers).
Serve it as a side dish for a bigger spread - it's a perfect make ahead dish to take to a picnic, pot luck or barbecue!
This salad is a really well balanced dish. The chickpeas provide protein and fiber, key for those of us following a vegetarian diet. The tomatoes are a great source of vitamin C, K, potassium and folate and the cucumber is great for promoting hydration. Healthy fats from the avocado and B vitamins from the feta round out this good for you and hearty salad.
An easy way to make homemade salad dressing
Making salad dressing at home is so simple, and it's much healthier (and cheaper!) than store bought. All you need is olive oil, an acid (vinegar, lemon juice, etc.), salt and pepper. You can dress it up with fresh herbs, garlic, etc. but at its core - it's just those 4 ingredients! This simple dressing is packed full of flavor, using a mixture of lemon juice, herbs, olive oil and garlic. You can whisk the dressing, or even easier: put all of the ingredients in a mason jar and give it a good shake.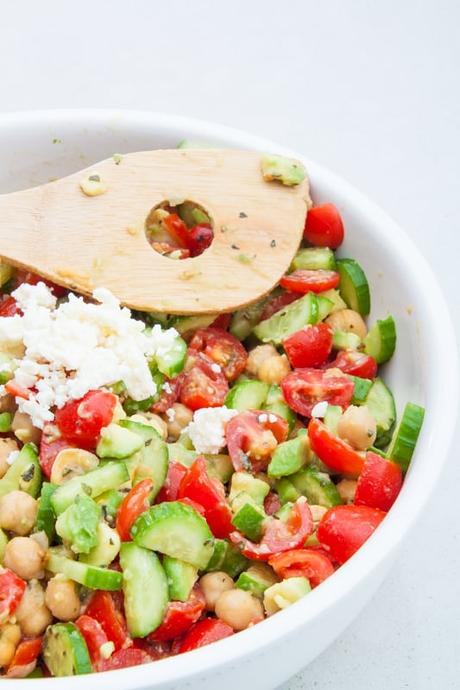 Top tips for making Chickpea, Tomato and Feta Salad
Be sure to try these other healthy salads!
Use the freshest ingredients you can for maximum flavor.
Drain and rinse the chickpeas before using them.
Keep the salad in the fridge in an airtight container, it will keep for up to 3 days, but is freshest 24 hours after making it.
To let the flavors fully sing, leave the salad to marinate in the dressing for at least two hours.
You can mix up the fresh herbs in the salad dressing - I chose basil and oregano but you can try parsley, dill, or even marjoram!
Chickpea, Tomato, and Feta Salad
If you have tried this chickpea, tomato and feta salad recipe, or any other recipe on my blog, then please rate it and let me know how it turned out in the comments below! You can also FOLLOW ME on FACEBOOK, TWITTER, INSTAGRAM and PINTEREST to see more delicious, healthy, family friendly food!