Make ahead chickpea, barley and butternut squash jar salads will have you looking forward to lunch all morning! Vegetarian, ready in under 1 hour, and tastes amazing, even on day 4.
When it comes to lunches, salads are one of my all-time faves. I love this Kale Barley Salad with Feta and Honey-Lemon Vinaigrette as well as these Ranch Chicken Jar Salads, but today's chickpea barley and butternut squash jar salads might just take the cake!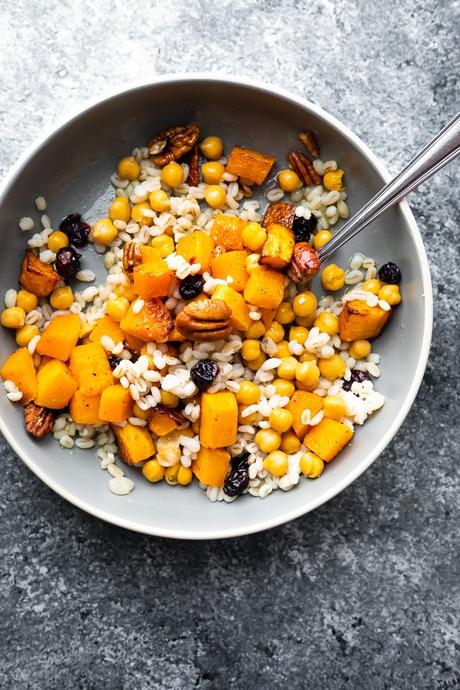 Why assemble your salad in a jar? It's all about layering, people! Put the dressing at the bottom to keep it away from ingredients that can end up limp or soggy when stored in liquid. In this case, it keeps our barley nice and chewy.
These chickpea barley meal prep bowls are one of my favorite vegetarian lunches, complete with healthy grains, proteins, veggies, and extra goodies for flavor!
Reasons you'll ♡ these chickpea, barley and butternut squash jar salads
they are vegetarian and can be made vegan
they work perfectly for meal prep and taste great even on day 4
they are a complete meal with healthy grains, veggies and protein
Don't forget to pin this recipe to save it for later!
Continue reading:Chickpea, Barley and Butternut Squash Jar Salads