This post may contain affiliate links. Please read my disclosure.
This chickpea and potato curry has the delicious flavors of Chana Masala with some veggies for a thicker-stew-like consistency. Made with onion, potatoes, chickpeas, tomatoes, and cilantro this is a well rounded healthy one pot meal. Healthy, vegan, kid-friendly, and gluten-free!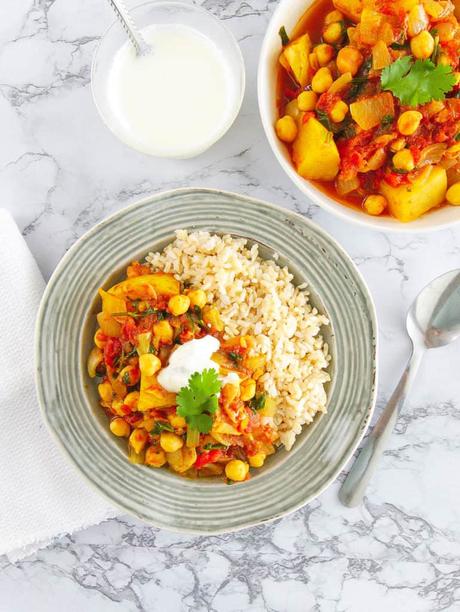 I love making Indian food at home. But most of the time, Indian food can be quite the operation - with multiple pots, pans and serving dishes to get the flavors just right. I wanted to make a recipe that had all of the delicious flavors of Indian dishes I love (like Chana Masala), but that was much quicker and and more of a one-pot meal. This chickpea and potato curry was exactly what I needed! It's vegan, gluten-free and kid-friendly - and pretty quick to pull together. We served it with brown rice and yogurt on the side!
Kitchen Tools and Equipment You'll Need to Make This Chickpea and Potato Curry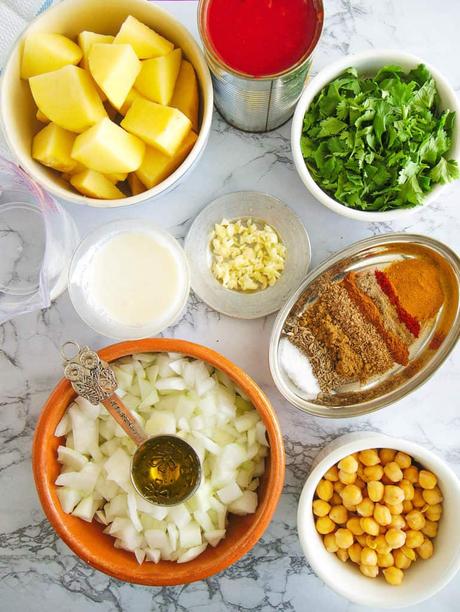 How To Make This Chickpea and Potato Curry - Step by Step
Step 1: Chop all your veggies. Heat oil in a Dutch oven (or a large pot) over medium heat.
Step 2: Add onions to the pot and cook, stirring often, until fragrant and beginning to brown, 5 to 6 minutes. Add garlic and cook, stirring, until fragrant, about 1 minute.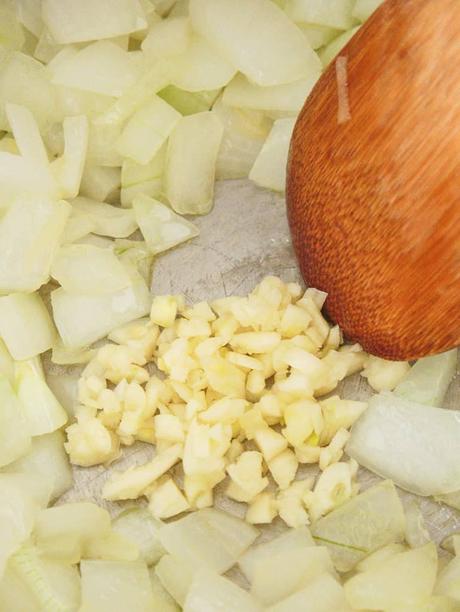 Step 3: Add cumin seed, ground cumin, coriander, cinnamon, cardamom and curry powder; cook, stirring, until fragrant, 30 to 60 seconds.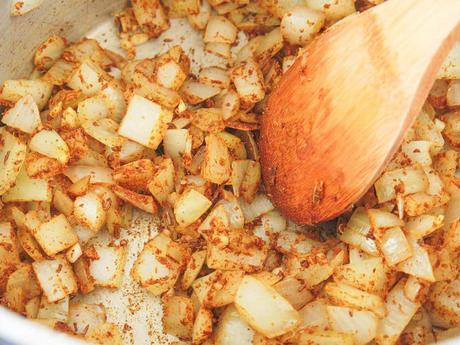 Step 4: Add potatoes, carrots water and salt; bring to a simmer. Cover and cook for 10 minutes.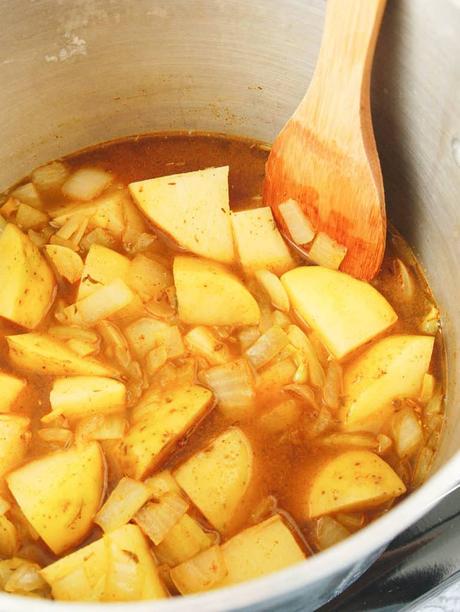 Step 5: Add chickpeas and tomatoes; stir to combine.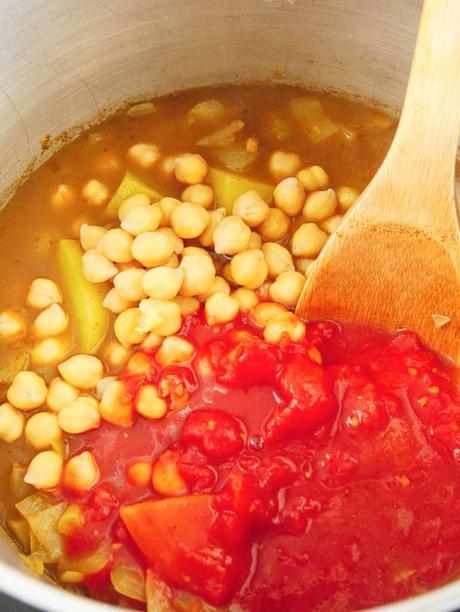 Step 6: Bring the stew to a simmer. Reduce heat to low and simmer, partially covered, stirring occasionally and adding 1/2 cup water, if needed, until the potatoes are tender, 30 to 35 minutes. If using baby spinach, add when there are 5 minutes remaining in the cooking process. Stir in cilantro at the end.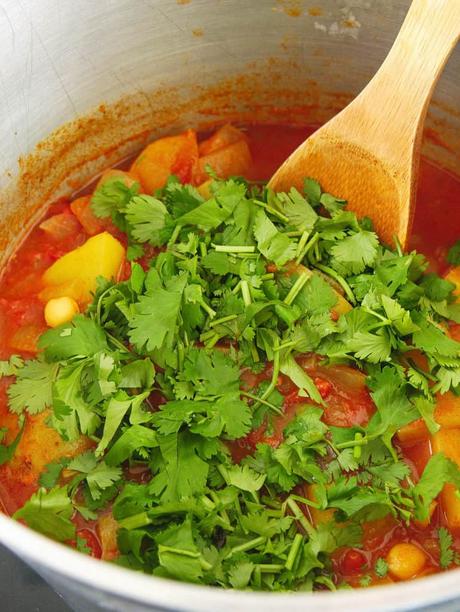 What makes this Chickpea and Potato Curry healthy?
Low-Calorie: One large serving of this chickpea potato stew has less than 250 calories. You can easily go back for seconds and it will keep you full and satisfied!
Plant-Based Protein: One serving has 9 grams of plant-based protein.
High Fiber: Chickpeas are high in fiber. Fiber helps to lower cholesterol thus decreasing the risk of heart disease. This curry has 9 grams of fiber.
Vitamins and Minerals: Chickpeas are high in fiber and plant-based protein. They are also a good source of potassium, vitamin C, and vitamin B-6. Potatoes also contain a good amount of fiber as well as Vitamins C, B6, Potassium and Manganese. Spinach is rich in Vitamins B6, B9, E, C, K, Iron and Calcium. And tomatoes provide a healthy dose of the antioxidant lycopene!
Will kids enjoy this Chickpea and Potato Curry?
This chickpea and potato curry is full of flavor yet it's not spicy making it a kid friendly meal. The chickpeas and potatoes have a firm consistency which is usually acceptable even for picky eaters. If your kids are especially sensitive to spice, you can always reduce the amount of spices to suit their tastes. Serve this on top of a whole wheat bun with a little drizzle of yogurt for added moisture and your kids will gobble it up.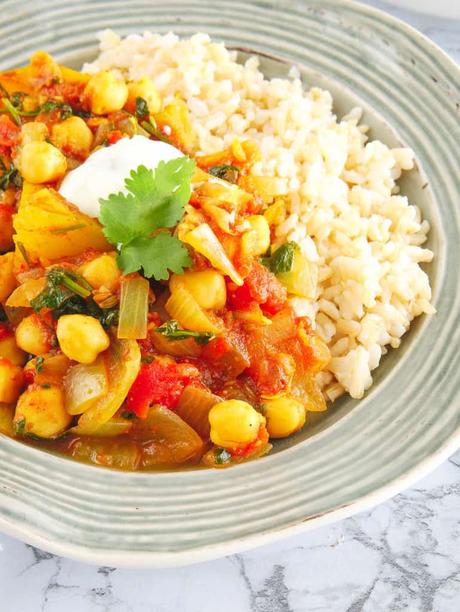 Are canned chickpeas healthy?
Chickpeas from a can and chickpeas prepared from dried beans contain very similar nutritional content. However, canned chickpeas differ from home cooked chickpeas in a few ways.
Fewer Calories and Carbs: Canned chickpeas have slightly fewer calories and carbs than home cooked chickpeas.
More Fat: Canned chickpeas have slightly more fat than home cooked chickpeas.
Less Protein and Less Fiber: Canned chickpeas have slightly less protein and fiber than home cooked chickpeas.
Vitamins and Nutrients: The vitamins and nutrients in chickpeas such as folate, iron, manganese, phosphorus, zinc, copper, and magnesium have 5-10% less than home cooked chickpeas.
Higher in Sodium: Canned chickpeas are higher in sodium than home cooked chickpeas.
BPA: If you buy canned chickpeas that aren't labeled BPA free there's possibility for BPA exposure. Make sure to always rinse your canned chickpeas before cooking with them!
How do you prepare dried chickpeas?
If you'd like to prepare your own chickpeas at home here is a step by step method to make the perfect chickpeas every time.
Soak: Soak the dried chickpeas for a minimum of 8 hours, but preferably overnight. Cover the chickpeas with 2 inches of water in a large enough bowl to allow the chickpeas to expand.
Drain: Before you cook the chickpeas, drain the water the chickpeas were soaking in.
Cook: There are three ways you can cook your chickpeas (stovetop, slow cooker, or instant pot).
Stovetop Method: Cover pre-soaked chickpeas with 2 inches of water in a medium pot. Bring the water to boil, reduce heat, and simmer for 25 minutes for firm chickpeas, and 40-50 minutes for softer chickpeas.
Slow Cooker Method: Transfer chickpeas to slow. For every 1 cup of chickpeas add 6 cups of water. Cook on high for 4 hours, or low for 8 hours.
Instant Pot Method: Cover chickpeas with 4 cups of water for every 1 cup of chickpeas in the instant pot. Set to manual mode. Cook on high pressure for 12 minutes for firm chickpeas, or for 20 minutes for softer chickpeas. Allow pressure to naturally release.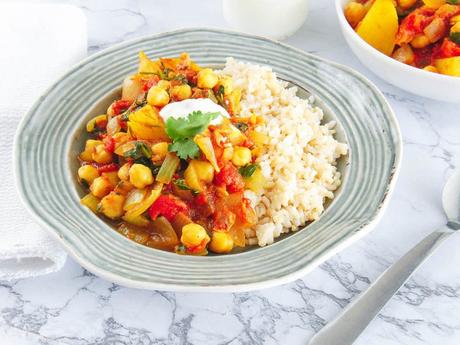 What to Serve with Chickpea and Potato Curry
You can eat this chickpea and potato curry plain. It's a well rounded one pot dish. However, you can serve it with rice, naan, plain yogurt, or on a whole wheat bun topped with yogurt for moisture and chopped onions for texture.
Chop all your vegetables first for easy preparation.
Ideally use a dutch oven, if not make sure you have a big enough pot.
Use a combination of cumin seeds and cumin. If you only have ground cumin use 1 ½ teaspoons total as cumin seeds are not as strong in flavor as ground cumin. Make sure to toast the spices until they are fragrant.
You can always switch up the veggies in this recipe, or additional veggies of your choice and reduce the amount of potatoes.
Add or reduce the spices to fit your taste.
Use fresh spices whenever possible. They have a more distinct flavor.
Serve this with brown rice, millet, quinoa or any whole grain on the side. You can also serve this with a sprouted wheat tortilla or whole wheat naan and plain Greek yogurt!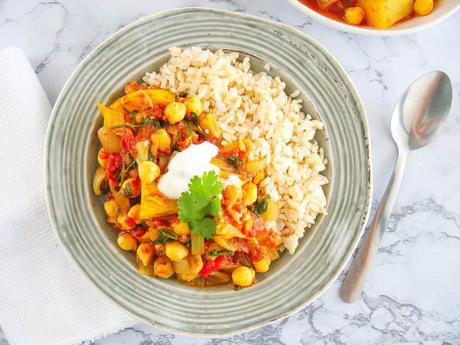 If you have tried this Chickpea and Potato Curry recipe, or any other recipe on my blog, then please rate it and let me know how it turned out in the comments below! You can also FOLLOW ME on
FACEBOOK
,
TWITTER
, INSTAGRAM and
PINTEREST
to see more delicious, healthy, family friendly food!
Top Tips For This Chickpea and Potato Curry
Check Out These Other Delicious Indian Recipes
Chickpea and Potato Curry