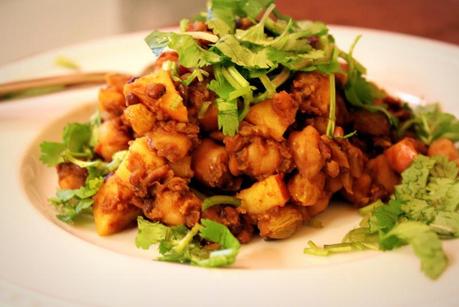 It's time for a trip down memory lane.
This was the first recipe I ever cooked – about 2.5 years ago when I first started experimenting in the kitchen.
I remember how unsure I was, how nervous I was that it wouldn't be edible.
I also remember that it took me over an hour to make this, because I was SO slow at chopping veggies, and I went back to check the original recipe like 50 times in between steps. (It really only takes 30 minutes or so to make)
Oh and the old pictures on this post were… quite ugly  :-P  As the husband put it when he looked at the old pictures on this post, he said, "Wow, that looks like mush."
That was before I discovered the magic of my DSLR.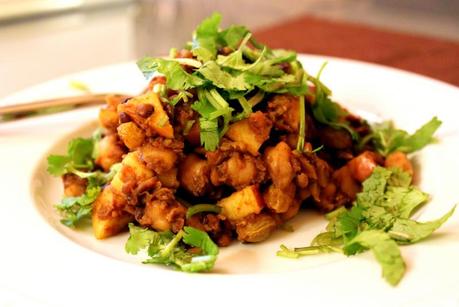 What a difference two years make. It doesn't look like mush anymore!
And it definitely doesn't taste like mush. I was so glad I finally re-created this recipe so I could re-take these photos to do it justice. It was also fun to re-create it to add a few more of my twists on the original recipe.
The original came from the Vegetarian Times Cookbook. I tried finding it on their website but looks like it's no longer available. My modified recipe is below – I basically made some of the cooking steps easier and increased the spice level.
The Ingredients
1 cup uncooked lentinls1 16 ounce can of chickpeas1 small red onion (diced)1 clove garlic (minced)1.5 Tbsp oil1 Tbsp curry powder1/4 tsp cayenne pepper4 tsp soy sauce1/3 cup golden raisins1 cup water1 apple chopped2 Tbsp chopped cilantroBrown Ric1 cup uncooked lentils
(I use the Trader Joes pre-steamed lentils – makes the prep time much quicker! I also use about 3/4 of the packet to increase the nutritional value of the dish! Picture of the steamed lentils is below)
1-1.5 cups pre-cooked beluga/black lentils or French green lentils (I like the kind from Trader Joe's – picture below)
1 16 ounce can of chickpeas, rised and drained
1 red onion (diced)
4-5 cloves garlic (minced)
1-1.5 Tbsp minced ginger
1 Tbsp canola or olive oil
2 Tbsp curry powder
1/4 tsp cayenne pepper
4 tsp soy sauce
1/4 cup golden raisins
1 cup water
1 Fuji apple chopped
2 Tbsp chopped cilantro
Brown rice or Naan for serving
Here are the lentils I used in case you're curious: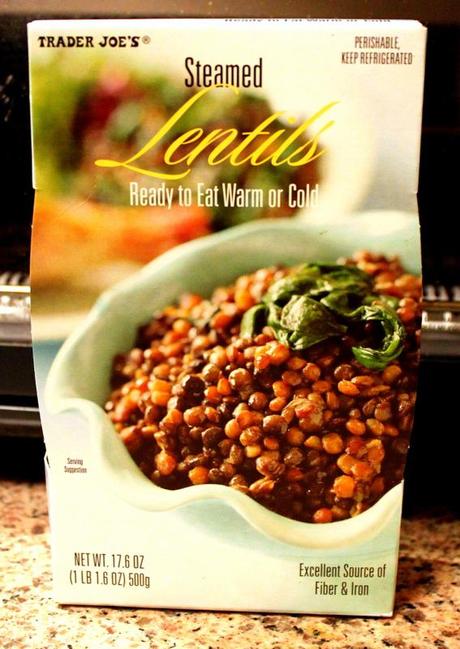 The Directions
Step 1: Chop the apples, onion, garlic, etc.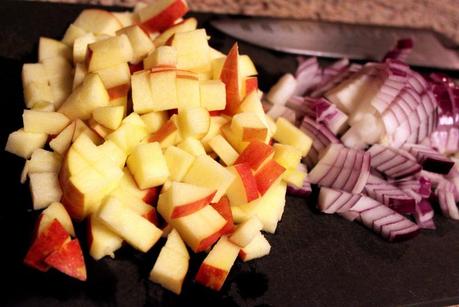 Step 2: In a large saucepan: Cook the onion and garlic in the oil, stirring, over medium-high heat for 3 min.
Step 3: Add the curry, ginger, cayenne and cook 1 minute. Add the lentils and chickpeas and cook, stirring, 1 min more.
Step 4: Stir in the soy sauce, raisins and water and cook 15 min, stirring often, until all the water is absorbed. If you like softer chickpeas, cook it for up to 30 minutes. Add the apple during last 3 minutes of cooking.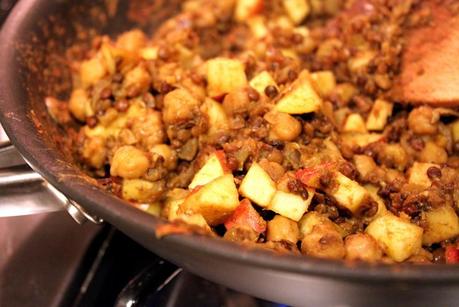 Step 6: Just before serving, sprinkle with cilantro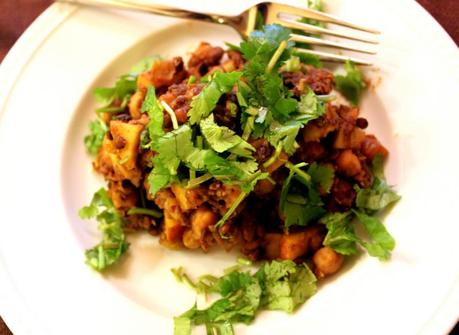 You can serve this with Naan, Brown Rice, Whole wheat tortillas, or just eat it straight. It's also a fun filling for "Indian style burritos" or as a "sloppy joe."  Any way you serve it, it will always taste delicious! The husband loves this recipe, and despite all of my stressing two years ago, it turned out to be really tasty the first time around too!
Hope you enjoyed my trip down cooking-memory lane. For all of those new cooks out there, this recipe is for you.