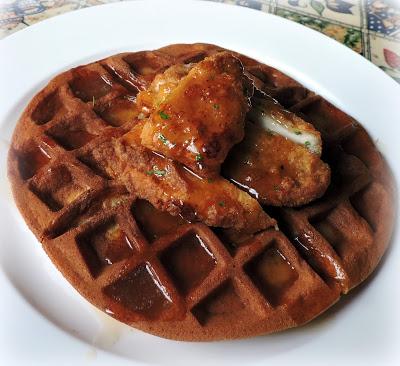 Do you remember the Mini-Series that was on the telly a few years back starring Kate Winslet, called Mildred Pierce?  It was a cracker of a series. It was the story of an overprotective, self-sacrificing mother during the Great Depression who found herself on her own, having separated from her husband.  She ended up opening a restaurant of her own and falling in love with a man, all the while trying to earn her spoiled, narcissistic elder daughter's love and respect.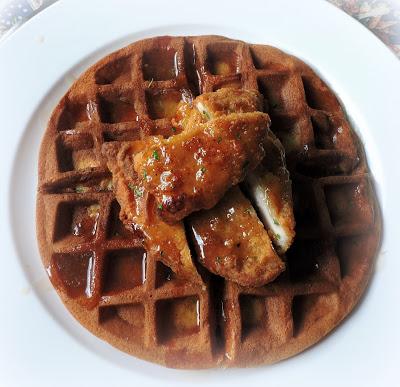 Her restaurant ended up being a huge success and the main thing on the menu was "Chicken and Waffles."   I have to admit being greatly intrigued by a dish called "Chicken & Waffles," and I thought to myself  at the time they must be incredibly delicious if they caused such a success for her restaurant and made her wealthy, like what happened in the show.  Now, I know that that it was just a television series, but ever since then, I have wanted to try these chicken and waffles!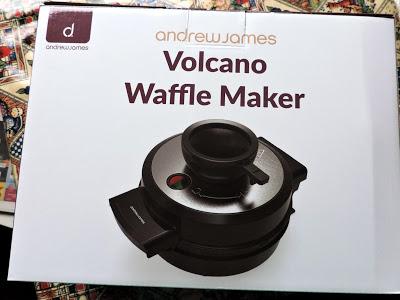 The people at Andrew James recently asked me if I would like to try out their new Volcano Waffle Maker.  I thought to myself, Chicken & Waffles, here I come.  I jumped at the chance.  I wanted to try this particular dish, and I was totally intrigued at the concept of a VOLCANO Waffle Maker.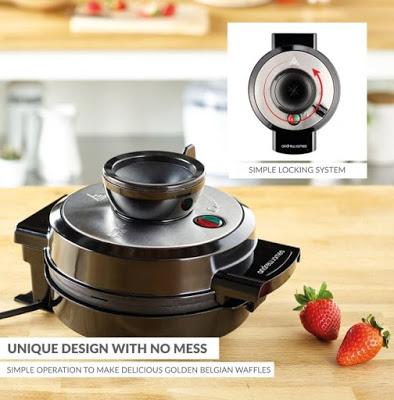 This Waffle maker boasts a unique design with a simple operation which promises to make delicious Belgian style waffles with no mess.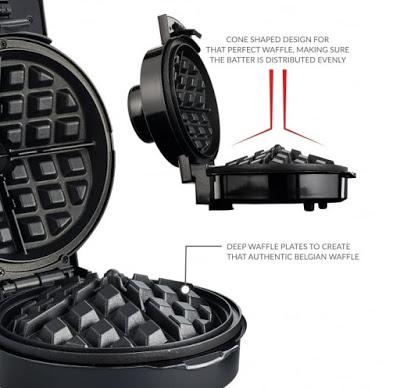 It has non-stick cone shaped plates, designed to enable the even distribution of the batter and even cooking with nice deep holes.   It also promised no mess.  I have always found with my old waffle maker its hard to judge how much waffle batter to put in. Too little and you end up with skimpy waffles, too much and it ends up oozing out the sides and making a huge mess, which is difficult to clean up.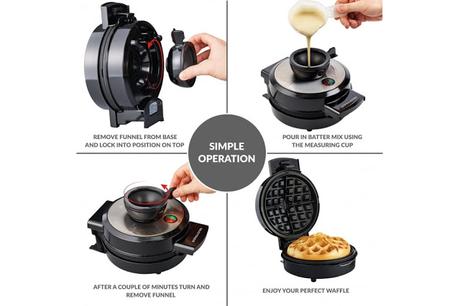 This unique award winning design with its volcano shaped plates, cooks your waffles from the bottom up like lava rising up a volcano's centre, and making a tasty waffle cone.  I found it really easy to use.  You just detach the funnel from the bottom (where it stores when not in use) and lock it into place on top, pour in your waffle batter and let them bake.  The handy measuring cup makes sure that you don't use too much batter, just the right amount.  It was kind of fun to watch.  It bubbles up like lava in the funnel as it cooks.  You can look down in and see the waffle cooking!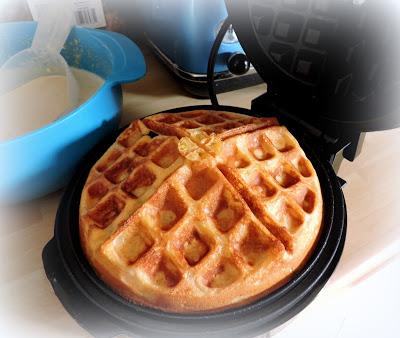 Perfect results. I was so pleased!  No fuss, no mess, perfect waffles, golden brown and crisp. It takes about 5 minutes to cook each waffle.  After use you simply store the funnel back on the bottom of the machine and the cord also stores easily so that it doesn't take up too much storage space in the kitchen. Its also easy to clean.  The waffle machine itself simply wipes clean and the funnel and cup wash easily in warm soapy water. Altogether I am really pleased with this machine.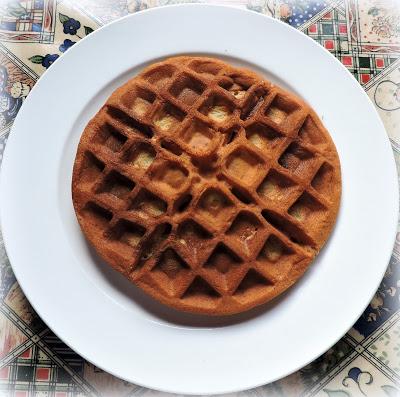 It baked beautiful crisp waffles with deep holes in them, ready to hold whatever you are serving with them.  I baked Cornmeal waffles because I was doing Chicken & Waffles.  I thought cornmeal waffles would go well.   This waffle batter makes for nice crisp waffles, that would also be great with a fruit compote if you weren't keen on doing the chicken.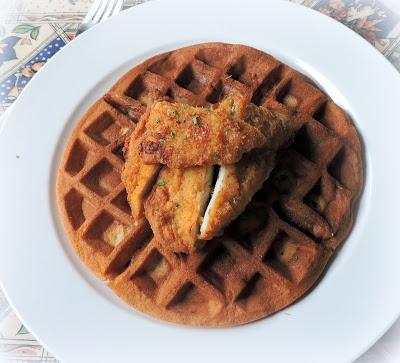 The chicken is nice and crisp . . .  moist and tender on the insides, crisp on the outside.  The coating for them  is lightly spiced with ground cumin, thyme, paprika and garlic. You could do chicken tenders, but I had breasts, which I then just cut into strips when I was ready to serve them.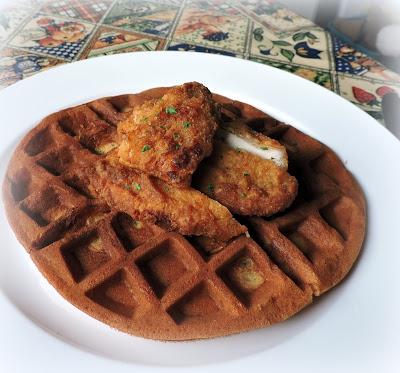 Just lay them out there on top of those crisp beautiful waffles  . . .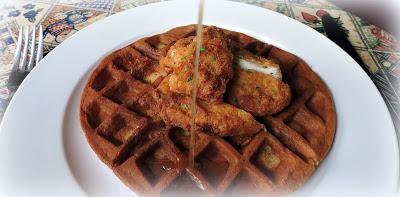 And then gild them with that beautifully spiced maple syrup.  I warmed the syrup with a bit of butter and some hot sauce, just for a bit of interest.  Oh boy . . .  some good!!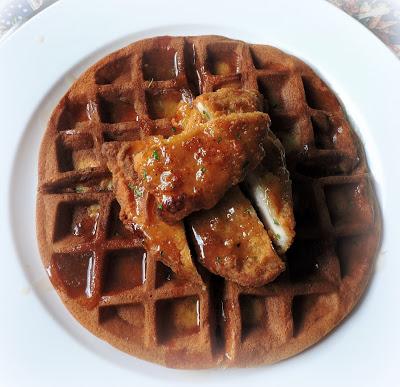 I only used 1 1/2 tsp of hot sauce, and I used the green tabasco which is a bit milder, but you could use more or a spicier variety if you wanted to.  The heat went surprisingly well with the sweet smokiness of the maple syrup.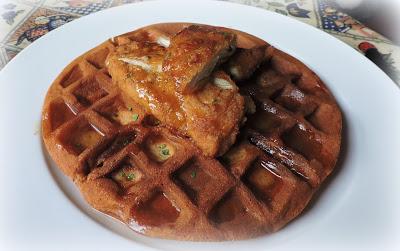 All together these were really, REALLY lovely.  I am not sure how authentic they were, but that really doesn't matter  . . .  it only matters that they were enjoyed.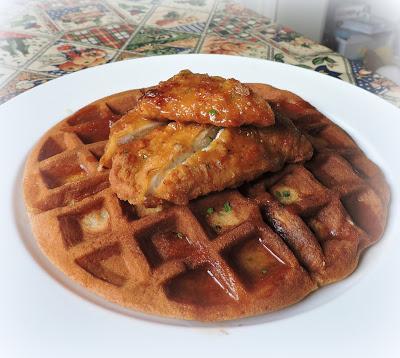 And they were certainly enjoyed, and now I know what all the fuss was about. Chicken & Waffles. You have to try them!  Scrumdiddlyumptious!  We had them for supper.  I am not sure if they are a breakfast or a supper dish, but I reckon they would be welcome no matter when you serve them!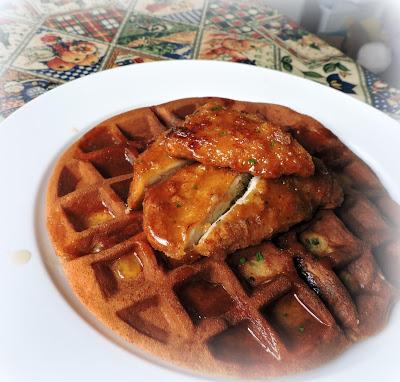 *Chicken & Waffles*Serves 4Printable Recipe  
From what I understand this is an old American favorite.  I created my own recipe based on what I had to hand.  Inspired by the film Mildred Pierce. 
 For the chicken:
4 boneless, skinless chicken breasts
70g flour (1/2 cup)
4 tsp sweet paprika
2 tsp ground cumin
1 TBS chopped fresh thyme leaves
1 tsp salt
freshly ground black pepper to taste
garlic powder to taste
2 medium egg whites, beaten lightly
olive oil for frying  
 For the Waffles:140g plain flour (1 cup)170g cornmeal (1 cup)2 tsp baking powder1/2 tsp bicarbonate of soda1/4 tsp salt480ml buttermilk (2 cups)2 large free range eggs, lightly beaten85g honey (1/4 cup)1 tsp vanilla4 TBS butter, melted  
 For the Syrup:240 ml maple syrup (1 cup)1 TBS melted butter1 1/2 tsp Tabasco sauce (I used the green one)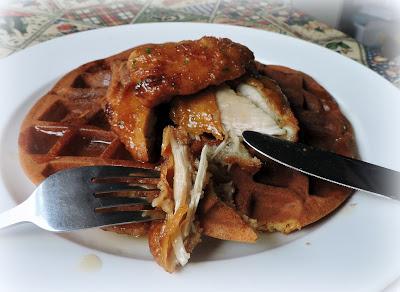 Trim any fat off of your chicken breasts and slice each one in half horizontally.  Mix the flour, paprika, cumin, thyme, salt, pepper and garlic powder (if using) together on a large plate.  Whisk the egg whites together in a shallow pie dish.  Dip the chicken breasts into the flour mixture, into the egg whites, and then back into the flour mixture to coat them well.  Repeat until all the chicken has been coated.  
Heat olive oil to the depth of 1/4 inch in a large skillet over medium heat until hot.  Add the chicken pieces in a single layer, being careful not to crowd the pan.  You may need to do this in batches, adding more oil as needed.  Cook for three minutes, then flip over and cook for two minutes or so on the second side, until the chicken is golden and crispy and cooked through.  Keep warm in a low oven until all the chicken has been cooked and your waffles are cooked. 
To make the waffles, whisk together the flour, cornmeal, baking powder, soda,and salt.  Beat together the eggs, buttermilk, honey, and vanilla. Add the wet ingredients to the dry ingredients combining together just until mixed. A few lumps is fine. Stir in the melted butter.  
 Brush your waffle maker with a bit of cooking oil. Heat and cook your waffles as per the instructions for your particular model of waffle maker. They should be brown and crisp when done. Keep the waffled warm in a low oven (in a single layer so that they stay crisp) with the cooked chicken until all of your waffles have been cooked. 
Warm the maple syrup together with the butter and hot sauce. 
Cut your chicken into strips and serve hot on top of the cooked waffles with the spicy warm maple syrup for pouring.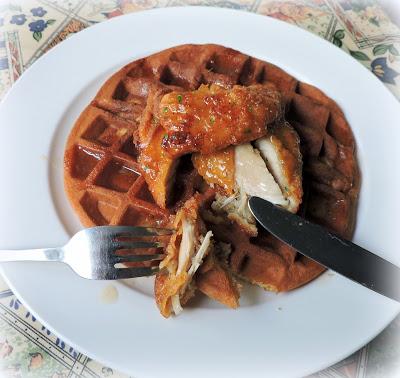 I have to say I am really, really pleased with the Andrew James Waffle Maker.  I highly recommend it.  It makes excellent waffles, and is easy to use, easy to clean, and easy to store.  It gets two thumbs up from me!  To find out more or buy one yourself, do check out the Andrew James Page.
Follow them on Facebook. Follow them onTwitter. Follow them on Instagram. 
If you would like to see a video of it in action, do check it out on YouTube. 
Many Thanks to Andrew James for sending me this lovely Waffle Maker to try!!
Disclaimer - Although I was sent a waffle maker free of charge for the purpose of review, I was not required to write a positive review in exchange.  Any and all opinions are my own.