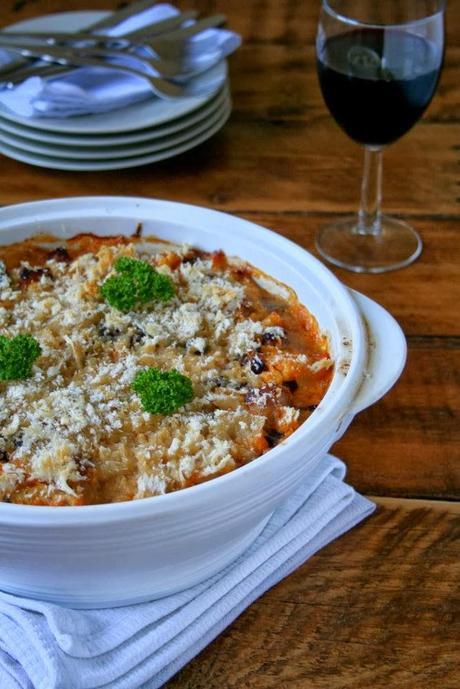 This month I decided to participate in my first "I Made It" challenge which happens monthly over at Lavender and Lime. I think it's a fantastic idea, getting us foodies into the kitchen and challenging ourselves with dishes we may never have attempted or mastered before. No prizes, the main goal is to have fun! Each month a new dish is chosen, and September's challenge was hosted by my friend Joanne over at The Food Crew. When I heard that Jo had chosen cassoulet as the dish of the month I was very keen to participate. Partly because I love French food and partly because I was still in challenge mode earlier in the month!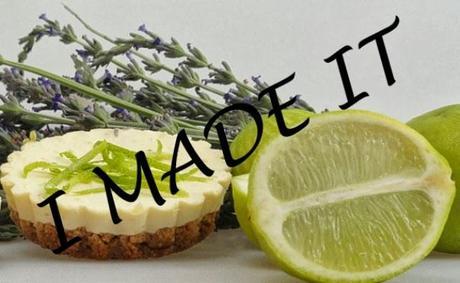 You can read more about this months cassoulet challenge over at Lavender and Lime and at The Food Crew, and perhaps you'll be inspired to participate in future challenges!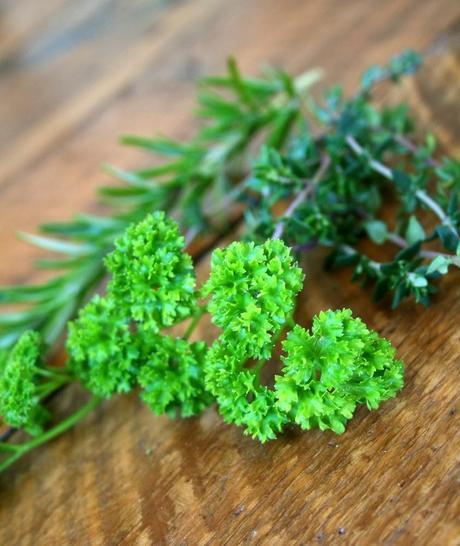 This was my first attempt at cassoulet (and I am still far from being an expert!), which is essentially a hearty French casserole made with meat and beans. I tackled it in much the same way as I write any of my recipes - starting with a list of ingredients and a plan for how I was going to prepare the dish, and then just diving into the cooking, making adjustments and notes as I went along. Initially I was concerned that my ingredients weren't traditional enough, but upon further research I found that there are actually countless versions of this classic recipe out there - and this is mine. While cassoulet is easy to make in terms of the skill required it does take some time, as the different parts of the dish are prepared separately and then put together at the end. I opted to used a mixture of tinned beans rather than having to soak dried ones, and also chose chicken rather than duck confit which you'll see in many recipes. I also omitted the traditional bouquet garni (in fact my dish was probably anything but traditional by the time I had finished!) and instead decided to add a selection of fresh chopped herbs along with some bay leaves. Please check in again tomorrow when I'll be making an exciting announcement about October's I Made It Challenge! 
_________________________
CHICKEN & SAUSAGE CASSOULET
Serves 4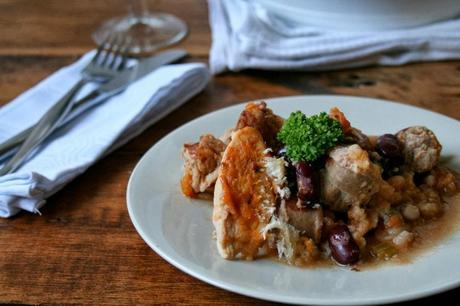 1 tbsp butter
1 onion, halved and sliced
4 garlic cloves, thinly sliced
1 celery stalk, sliced
250g bacon, diced
4 chicken breast fillets, sliced diagonally
8 pork or lamb sausages (about 500g) 
6 large tomatoes
750ml chicken stock
3 bay leaves
1 tsp chopped parsley
1 tsp chopped rosemary
2 tsp chopped thyme
salt
pepper
1 x 400g tin white cannellini beans
1 x 400g tin red kidney beans
250ml fresh breadcrumbs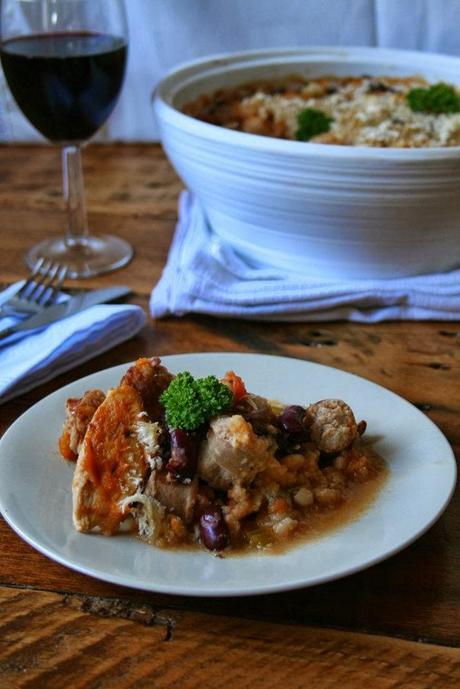 Step 1.) Melt the butter in a large, deep saucepan. Add the onion, garlic, celery and bacon. Cook for 3 minutes then remove from the pan and set aside. 
Step 2.) Add the chicken breast slices to the same pan and brown. Remove from the pan and set aside. Step 3.) Brown the sausages in the same pan. Remove and allow them to cool slightly before cutting into 2cm slices. Step 4.) Blanche the tomatoes and chop into chunks. Place in the saucepan along with the onion mixture, chicken and sausages. Add the chicken stock, bay leaves, parsley, rosemary and thyme. Season with salt and pepper. Stir, then allow to simmer for 40 minutes. Step 5.) Preheat your oven to 160°C. Drain the cannellini beans and red kidney beans and mix together in a bowl. 
Step 6.) Use a slotted spoon to place half of the meat in a large casserole dish. Next spoon half of the bean mix in a layer on top of the meat. Add the remaining meat, then top with the remaining beans. Top the casserole dish up with some of the cooking liquid. 
Step 7.) Sprinkle the breadcrumbs over the top. Bake for 45 minutes until the breadcrumbs are golden and the cassoulet is bubbling at the sides.