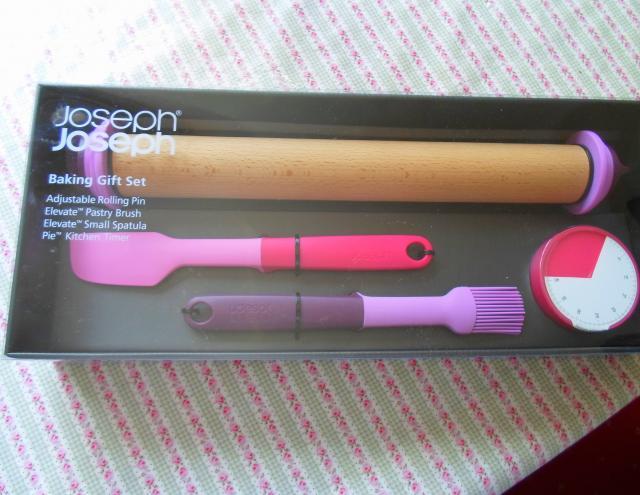 I don't know about you, but I am right in love with the Joseph Joseph line of cooking and baking utensil products.   They are always such fun and in such brilliant colours!  I could spend hours looking at all of the line which is available at our local Garden centre, and often do to Todd's chagrin, but then . . . I don't complain when he spends hours looking at man stuff . . . ok . . . so maybe I  do a little bit . . .
I have a huge wish list of wants from Joseph Joseph so when I was recently contacted by Find Me A Gift and asked would I like to try out their new 4 piece baking set, I jumped at the chance!  It was like all of my Christmas's Birthdays, Anniversaries had come at once!  Lucky moi!
This brightly coloured set comprises four highly practical baking items from Joseph Joseph's award-winning kitchen utensil range. Finished in a striking pink and aubergine colourway, the set comes presented in a stylish gift box.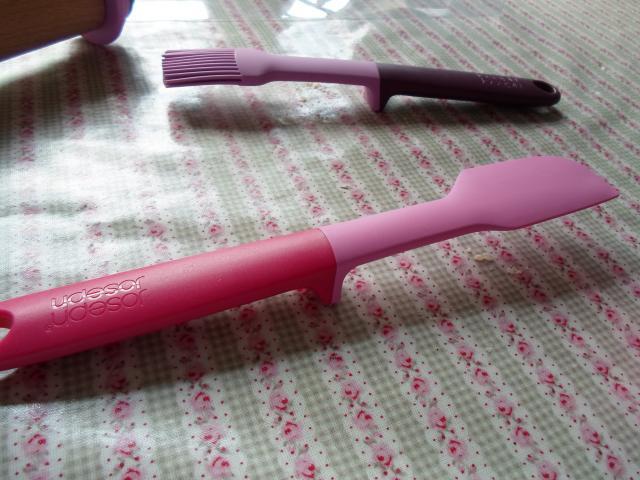 Included in the set are a very uniquely elevated pastry brush and spatula, which have weighted handles and  really cool integrated tool rests, which help to keep the mess up off the table.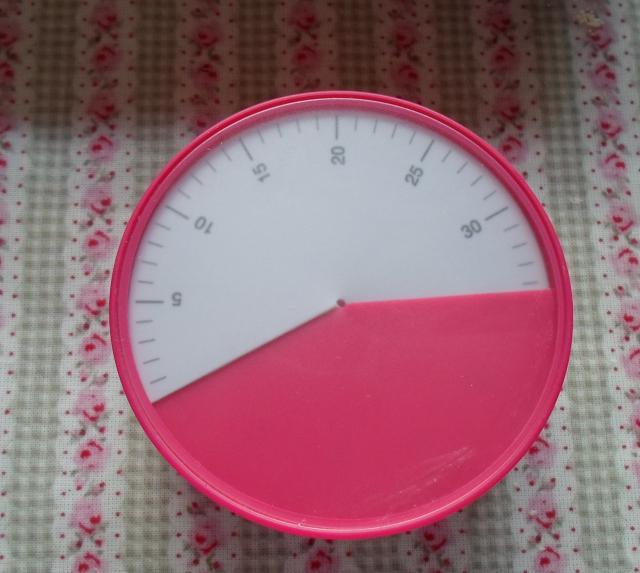 There is also an unusually shaped one hour baking timer, in bright pink, which I found really easy to use.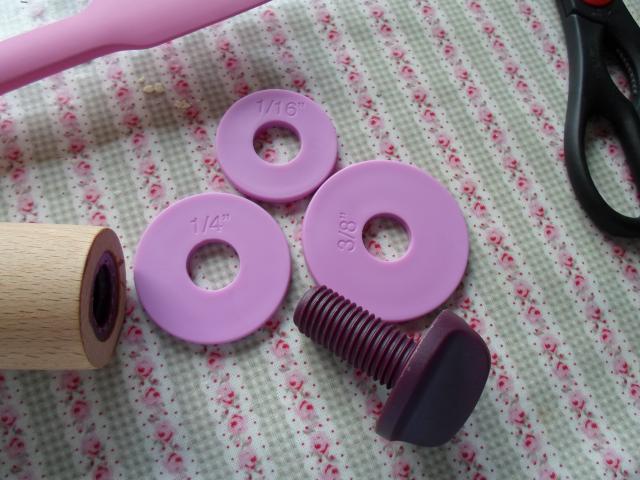 The thing I loved the most though, is this fabulous rolling pin.  Made of beech it is adjustable, with three sets of removable discs which allow you to roll out your pastries, biscuits and other doughs to three different heights, with the measurements showing in both inches and millimeters!
 This allows you to roll things out to an exactness which removes any guesswork!  I found the discs really easy to change as they are quite simply held in place with a kind of screw thingie.  As easy to use as nuts and bolts!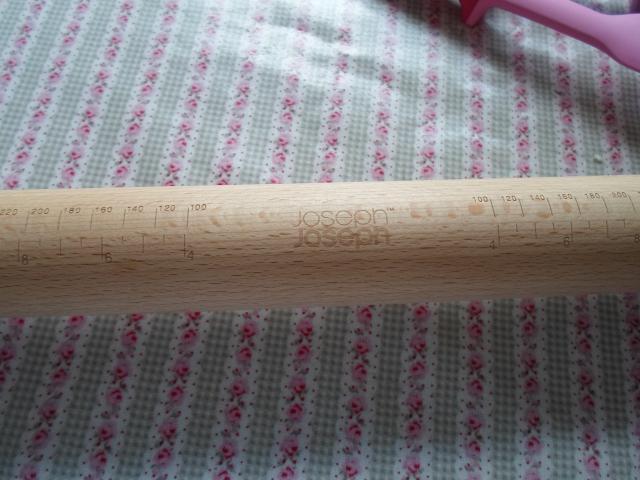 There are other measurements printed on the actual rolling pin as well, which easily help you to measure out whatever it is you are rolling, eg 12" round, 15" rectangle, etc.   These are also in both measurements.  I love this rolling pin . . . I absolutely love it.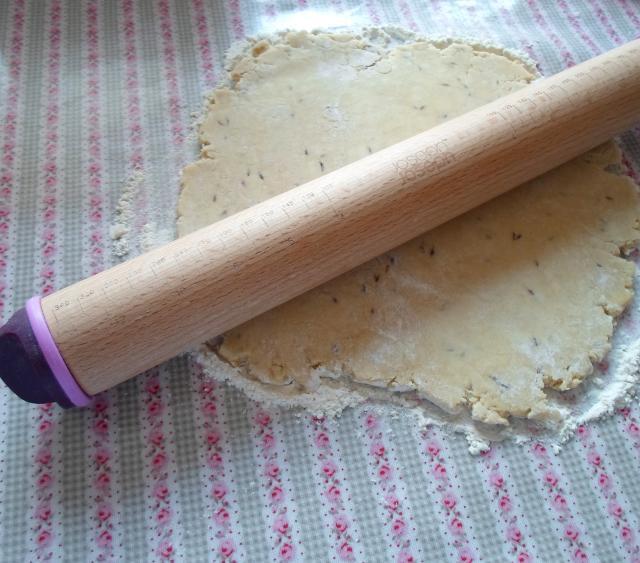 Of course I could not wait to put it all to good use.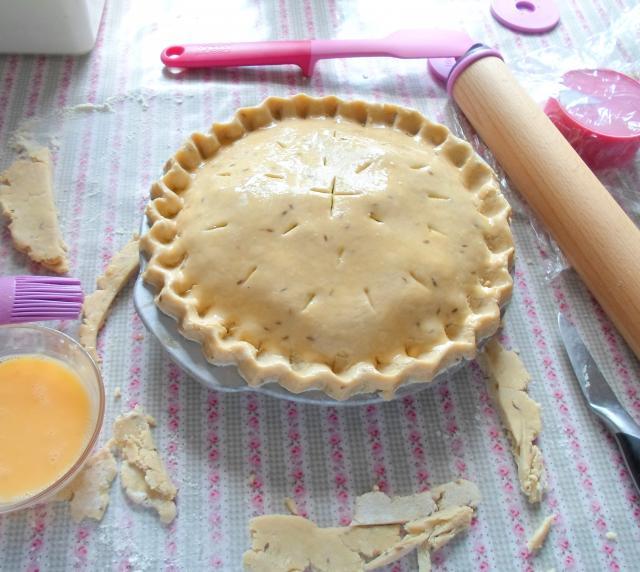 I just adore Samosas.   When my oldest son was at Uni, I often would stop at the local market on a Saturday morning and pick up some samosas for us to share.  He loves them too.   I would ring the doorbell to his flat and when he answered the intercom, I would reply . . . "Speedy Samosa Delivery!"   He never failed to let me in.  Samosas are Indian snack food/appetisers . . . kind of like little curry turnovers.  You can get veggie ones, or lamb ones.  (My friend Joy makes fabulous lamb ones!) Most usually they are fried.  Beautifully spiced and flavoured.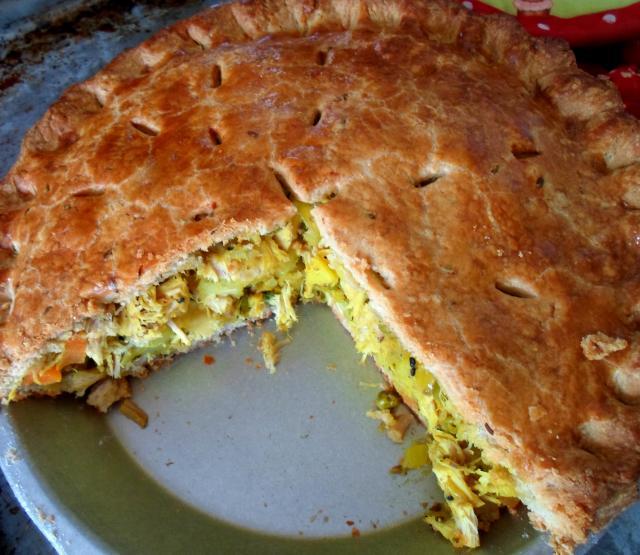 It isn't much of a stretch really to incorporate those flavours into a tasty pie.  I had some leftover roasted chicken that needed using up and I thought a chicken pie would be nice . . . and then I thought, why not a Samosa pie.   Win/win!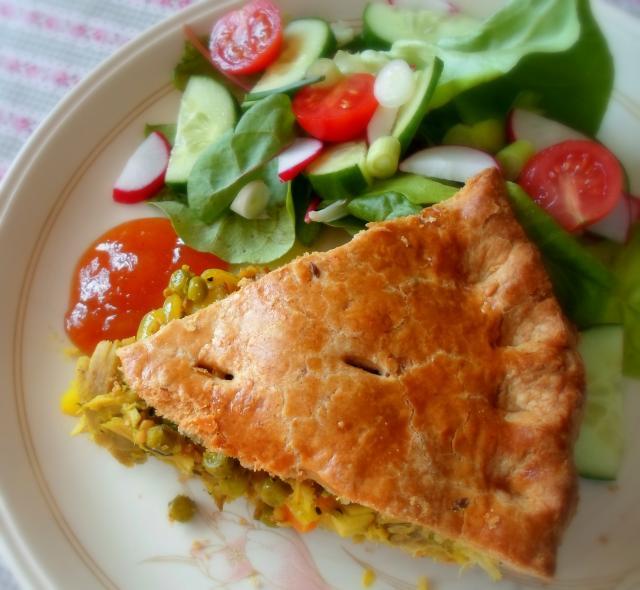 The crust is just lightly spiced with a bit of cumin and uses butter, so it's rich and  beautifully coloured.  Sturdy enough to stand up to the hearty filling, and yet  flake, flake, flaky!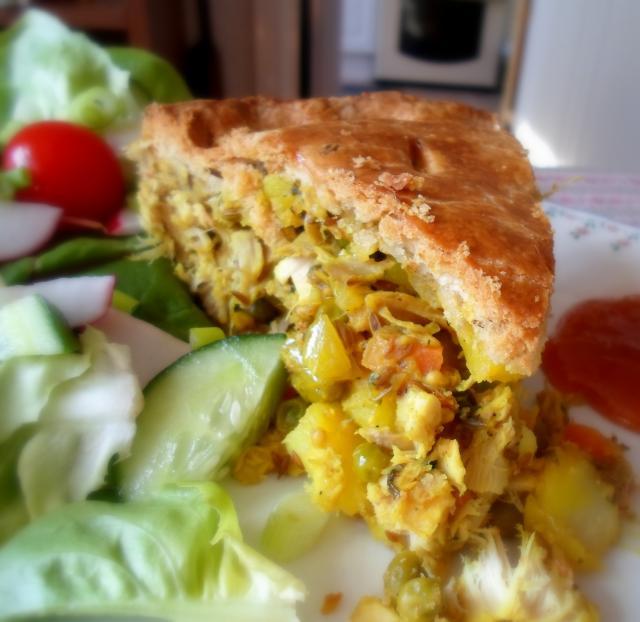 The filling contains the most usual samosa fillings . . . tender pieces of potato and onion, garlic, some cooked carrot, baby peas . . . cooked chicken . . .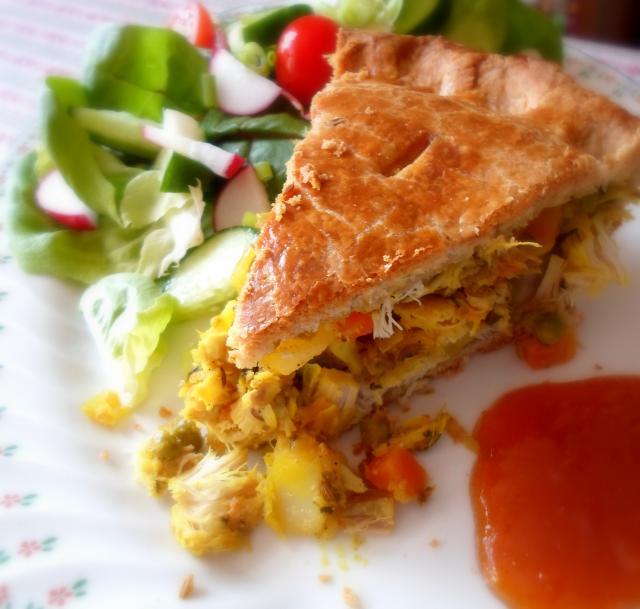 Beautifully flavoured with a tasty mix of aromatics and spice . . . coriander, ginger, fennel, cumin, mustard, fenugreek, tumeric (for colour) and cayenne for some heat, this tasty pie pleases on many levels, both sight, smell and taste . . . and with picnic season having arrived it would make a great pie to take on a picnic.   I served it simply . . . with some salad and mango chutney on the side.  Deeeeeeeee-licious!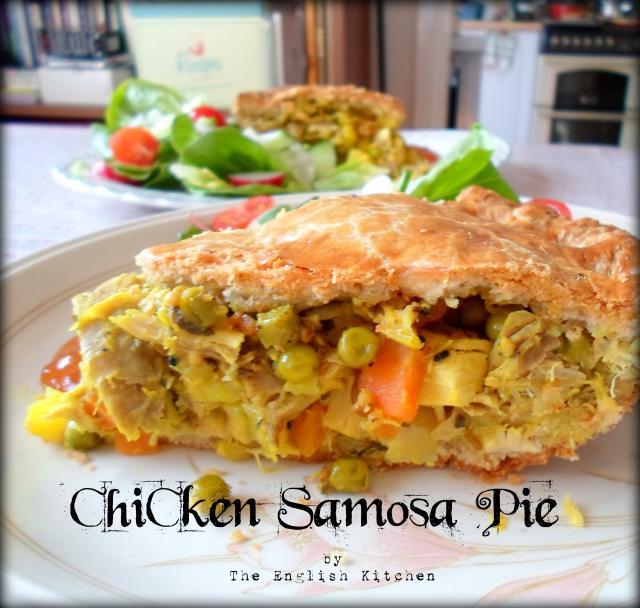 *Chicken Samosa Pie*
Serves 8Printable RecipeYour favorite Indian snack in a dinner pie!  Couldn't be easier or tastier!2 large potatoes, peeled and diced (2 large)1 large carrot, peeled and diced1 TBS vegetable oil2 cups of chopped cooked chicken1 tsp fennel seeds1 tsp cumin seeds1 tsp brown or black mustard seeds1/2 tsp ground tumeric1/2 tsp coriander seeds1/2 tsp fenugreek seeds1/4 tsp cayenne pepper1 medium onion, peeled and chopped2 cloves of garlic, peeled and minced1 TBS grated fresh ginger root1 cup frozen peas1/2 tsp salt2 TBS chopped fresh coriander leaves2 TBS fresh lemon juice
For the pastry:250g of plain flour (2 1/2 cups)1 1/2 tsp cumin seeds1/2 tsp salt150g  cold butter, cubed (2/3 cup)160ml of milk (2/3 cup)1 egg beaten, to glaze the pie with
First make the pastry.   Sift the flour into a bowl.  Whisk in the salt and cumin seed.   Drop in the butter.  Rub it in with a pastry blender or your finger tips until it resembles fine bread crumbs.   Add the milk and stir with a fork to form a dough.  Divide in two and shape each into a round flat disc.   Wrap in plastic cling film and chill while you are making the filling.Place the potato and carrot into a pot of lightly salted water.  Bring to the boil and cook until tender, about 10 minutes.  Drain and place in a large bowl.  Heat the oil over medium heat.  Add the chopped onion.  Saute to soften.  Add the seeds and stir fry until very fragrant.  Tip in the salt, cayenne pepper, garlic and ginger root.  Cook and stir for about a minute.  Add the cooked chicken, frozen peas, coriander leaf, and lemon juice.   Taste and adjust seasoning as desired.  Allow to cool completely.Preheat the oven to 200*C/400*F/ gas mark 6.
Roll out one disc of the pastry to a 1/8 inch thickness round, large enough to line a 9 inch pie dish, with some overhang.  Spoon the cooled chicken filling into the crust.  Roll out the other disc of pastry to 1/8 inch thickness, making it large enough to cover the filling with some overhang.  Brush some beaten egg on the edges of the bottom  overhang and top with the other round of pastry to cover.  Press the edges closed.  Trim off with a sharp knife and flute the edge decoratively.  Brush the top of the pie all over with some beaten egg.   Cut some vents in for steam.  Bake on the bottom rack of the preheated oven for 50 to 60 minutes, until golden brown and tasty!Cut into wedges to serve.  Mango chutney is a good go-with!
This delightful Joseph Joseph Baking Set usually retails for up to £40 at most shops but you can get it right now on Find Me A Gift for the low price of only "29.99!"  That's a real steal!
Many thanks to Find Me A Gift and the lovely Emma for sending this to me!  (Psst!  With Father's Day coming up soon you should really check out the Find Me A Gift site.  They have ooodles of nice things to choose from on there to suit every price range.  They even have a really cool gift finger personal shopper page, which you can find here!)