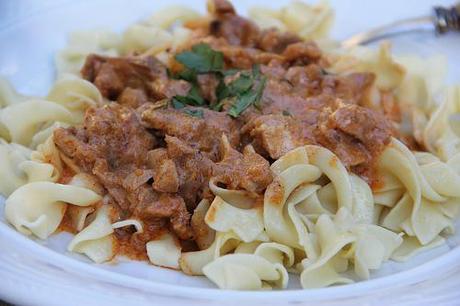 Aunt Beth's Chicken Paprikash
I have been reviewing Chef Anita Lo's, "Cooking Without Borders" this week, and I have enjoyed the STC published cookbook on so many levels, especially the enticing photography by Lucy Schaeffer.
For my second recipe, I chose to prepare "My Aunt Beth's Chicken Paprikash", inspired by Lo;s Hungarian nanny, Sister Elizabeth Angel.
Sister Elizabeth would spend time with young Lo, while the older siblings were off at play. She had Lo foraging for berries, watching the "Galloping Gourmet", and she showed her how to chop wood and build a fire. Mostly, Sister Elizabeth taught Lo how to make chicken paprikash.
This dish is inexpensive, fast and filling. A true comfort food, which sits on a bed of buttered egg noodles. My finicky teen did not turn up his nose, and his plate was clean in the blink of an eye. I often make beef stroganoff which this dish resembles, so I might have mentioned to him that it was the same, but with chicken, when in reality it is quite different, but none the less comforting and delicious.
It is now time to announce the "Cooking Without Borders" Cookbook winner! Selected by random.org, it is Melissa S from @wyoming.com! Congratulations!
Thank you to all who participated. I enjoyed reading each and every comment. There will be many more giveaways, not just with 30A EATS, but also with Virtual Potluck, so stay tuned!
Ingredients:
3 tablespoons sweet Hungarian paprika
2 tablespoons ground sea salt plus more for seasoning
Black pepper to taste
8 chicken thighs, boneless, skinless, and trimmed of fat
3 tablespoons neutral-flavored vegetable oil
1 large onion chopped
1 cup sour cream
3 tablespoons all purpose flour
2 tablespoons chopped fresh parsley
1 pound dried egg noodles cooked
Preparation:
Combine the paprika, 2 teaspoons of salt, and pepper, then toss with the chicken to coat. Heat a pot over medium-high heat, add the oil, then add the onions. Lower the heat to medium-low and cook until translucent. Add the chicken and turn to coat with the oil. Add just enough water to cover, *or low sodium chicken broth like I did, and simmer for 20 minutes.
In a small bowl, combine the sour cream and flour. Add to the pot and stir. Increase the temperature and bring to a rapid boil; stirring constantly for 5 minutes, breaking up any lumps. Season to taste with salt and pepper and sprinkle with parsley. Serve over freshly cooked egg noodles.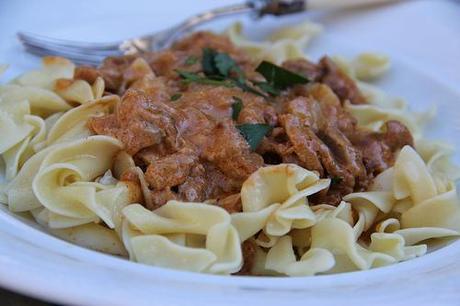 Chicken Paprikash